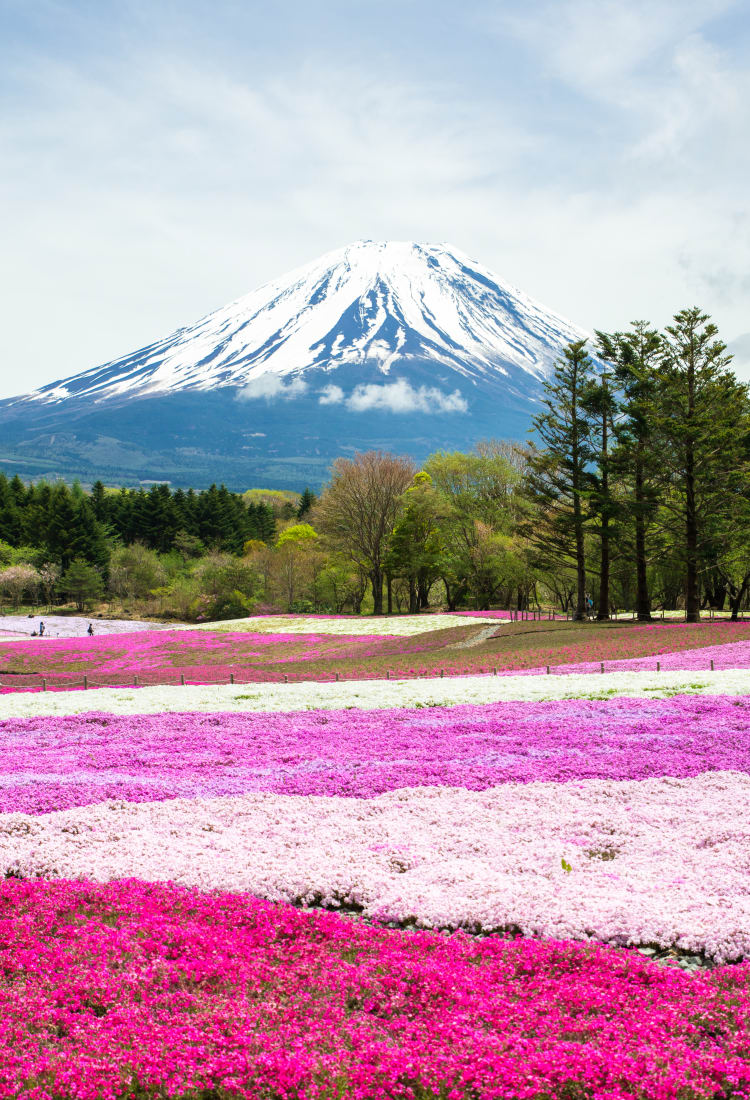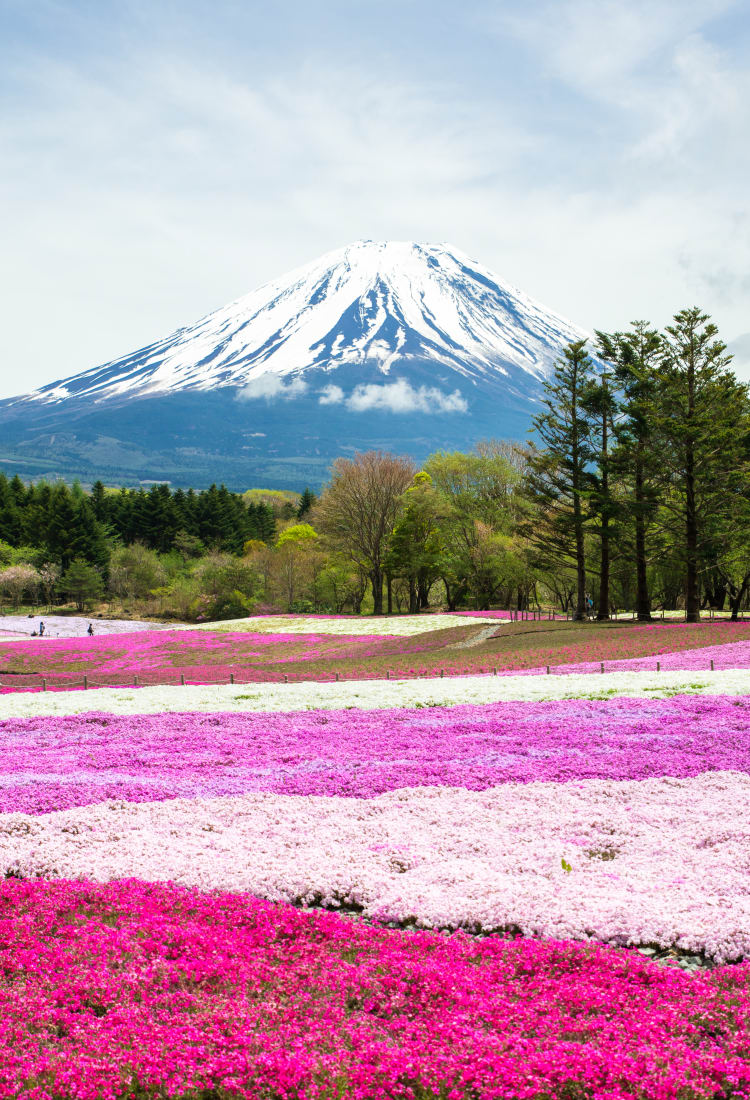 Tokai
Yamanashi
Mt. Fuji, wineries, orchards and mountain temples and lakes
Discover this landlocked prefecture, with mountains floating in a sea of clouds and roads leading to the heart of rural Japan
The
Yoshida Trail
, the main climbing route to the summit of
Mt. Fuji
, begins in Yamanashi Prefecture. The
Fuji Five Lakes
in the surrounding area are great places to explore the forests, caves, small museums and local food and craft. The region's pure waters—used to make fine sake and whisky—are the most prized in all Japan. Orchards filled with cherries, strawberries, peaches and other fruit cover the land, while Yamanashi's vineyards produce much of Japan's wine. Discover peace and solitude of Yamanashi's little-known temples and shrines set in the mountains.
You can reach the Yamanashi area on the JR Tokaido Shinkansen from Tokyo, Kyoto, Osaka, Nagoya and beyond, as well as on regular JR trains and highway buses and by car.
Shinjuku Station is the usual starting point for a journey to Yamanashi. If you are coming from Kyoto, Osaka or Nagoya, take the JR Tokaido Shinkansen to Shizuoka Station, change to the JR Tokaido Main Line for Fuji Station, and then board the northbound JR Minobu Line. You can use your Japan Rail Pass for the shinkansen and other slower JR trains. Highway buses run regularly between Shinjuku and the most popular destinations in Yamanashi and take around the same time as a regular train.
Don't Miss
Climbing Mt. Fuji from the 5th Station on the Yoshida Trail
Visiting Lake Kawaguchi and the Fuji Five Lakes area
Staying at the world's oldest onsen hotel, Nishiyama Onsen Keiunkan
The stunning vistas of orchards and vineyards in the Kofu Basin
Explore Yamanashi by Area
Trending Attractions in Yamanashi
Hoto Noodles

Similar in appearance to udon but made from the same dough as dumplings, these soft, warming noodles are often served with vegetables in a hearty miso stew.

Yamanashi Peaches

Yamanashi cultivates many peach varieties that can be enjoyed at different times of the year, such as Hikawa Hakuho, which is small and sweet, and Hakuho, which is delightfully juicy. Local souvenir shops offer an array of peach-based goods. For the sweetest peach, pick it right off the tree between June and August at one of the many groves.

Yamanashi Wine

Yamanashi began producing wine in 1870 after a local man returned from France with the winemaker's art. Yamanashi is seeking to become a center of wine-based tourism. Wines produced here go especially well with Japanese cuisine, which has helped to spread the word.

Koshu Hand-Carved Seals

Koshu tebori insho are hand-engraved signature stamps. Insho seals made in Koshu are made from distinctive materials such as crystal, water buffalo horn and boxwood.

Koshu Lacquered Deerhide

Koshu inden is a type of leathercraft that involves decorating soft deerhide with urushi lacquer. A technique once used to adorn samurai suits of armor, today it typically is used on bags and wallets.

Koshu Crystalware

Koshu crystalware are carvings made from crystal and semiprecious gemstones. Using traditional methods dating back to the 18th century, including the polishing methods used for diamonds, master craftsmen cut, grind and polish intricate works of art.
Spring

In addition to cherry blossoms, orchards burst into swathes of color here. During the Shingenko Festival, see 1,600 warriors parading through the streets.

Summer

The official climbing season on Mt. Fuji starts in July. Fireworks explode in the night sky, and the fruit-picking season begins in earnest.

Autumn

Vivid red and gold leaves dazzle visitors to Shosenkyo Gorge, Kiyosato and the Fuji Five Lakes. The bountiful harvest supplies precious grapes to wineries.

Winter

Snow-capped Mt. Fuji shines pink in the afternoon sun, locals seek the comfort of outdoor hot spring baths, fireworks light up the night over Lake Kawaguchi, and sake breweries make award-winning spirits.