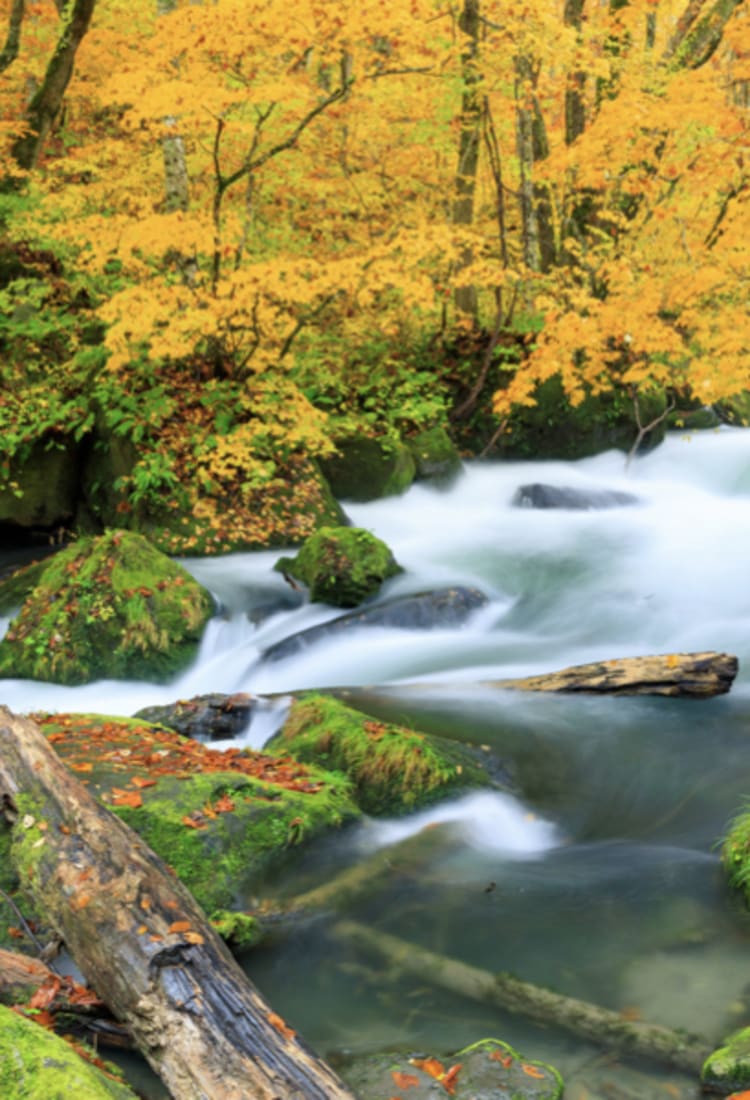 Indulge in a journey overflowing with art and color, nestled amidst scarlet leaves and blue water
Indulge in a journey overflowing with art and color, nestled amidst scarlet leaves and blue water
The city of Towada in Aomori Prefecture is located in the Tohoku region of northern Honshu and known for its abundance of picturesque sights. Most glorious of all are its autumn scenes with their stunning palettes of color. Crystalline waters flow amidst scarlet leaves, enhancing their beauty even more. The rich blues of deepwater lakes feel as if they could suck you in from your lookout point. Step into a colorful artistic masterpiece painted by Mother Nature herself.
Mountain streams enhance the brilliance of autumn leaves with their changing moods
---
Towada has many scenic locations, but the Oirase Gorge is one that you absolutely don't want to miss. And while it's gorgeous in any season, it truly shines in early summer when the fresh leaves come out (mid-May to early June) and in fall when the leaves turn color (mid- to late October). Fall is particularly captivating, with its reds, yellows, and oranges splashing the entire gorge with so much color that you feel as if you've stepped into a painting.
Oirase Gorge contains a mountain stream that flows out of Lake Towada, a crater lake that is the third deepest in all of Japan. Its crystalline waters are released into a single river whose pure flows undergo countless changes and transformations to create all kinds of scenic beauty. Coupled with Lake Towada, Oirase Gorge has been nationally designated as a special place of scenic beauty and a natural monument. Old-growth forest and rare mosses grow here in abundance.
Visitors love this area for the extensive roads and walkways provided along the river, making it easy to take in the sights by car or on foot. The paths extend for 14 kilometers from Nenokuchi at the Oirase headwaters, to Yakeyama downstream. Ishigedo makes the perfect starting point for a course that takes you upriver.
If you do decide to take the Ishigedo route, you're guaranteed to see several picturesque sights on your way through the gorge. The Ashura Current truly looks alive as its pristine waters dance among the rocks in its path, while the massive Choshi Otaki Falls plummets across an impressive 20-meter span. The Samusawa Stream looks as if it is made up of countless tiny waterfalls as it glides over its many rocks. A stroll along Oirase is an ever-changing feast for the eyes, no matter where you look.
Venture beyond the gorge for even more beautiful discoveries
---
A trip to Oirase Gorge is deeply satisfying in itself, but there are two more delightful areas to discover if you head upstream and downstream of the main river.
The first is located past Yakeyama, north of Oirase, at Lake Tsutanuma—home of a vibrant "vermillion vista" that make it look like the sides of the mountain are ablaze. The ancient beech forests here appear drenched in yellow paint until the morning sun hits them, creating a rich reddish hue. This entire scene is reflected on the surface of the lake, adding a beautiful symmetry to the view. The "vermillion vista" at Tsutanuma is a special sight that can only be seen during early mornings at the lake between mid- and late October. The exact time depends on the weather, but many people begin waiting as early as 3 AM just to catch a glimpse of it. Peak autumn leaves are simply not to be missed in this area.
The second area is beyond the headwaters of Oirase along the shores of Lake Towada. Lake Towada is a crater lake formed from volcanic activity, with a circumference of 46 kilometers and a depth of some 327 meters, and it is known for its rich blue color. The water is so clear that you can see more than twelve meters down, creating a distinctive azure hue that sparkles like a gemstone. The shores of Lake Towada are dotted with lookout points that offer spectacular views of this "azure vista". Two of the best are the Hakkatoge Lookout and the Kankodai Lookout, both of which provide a panoramic perspective on one of Mother Nature's artistic masterpieces.
Oirase Gorge, Lake Tsutanuma, and Lake Towada are around thirty minutes apart by car, and you can spend hours at each one if you take your time strolling around and enjoying the view. If you've got the time, the best thing to do is to plan to visit them on different days.
Enhance your trip with an art-studded stroll through the city
---
No matter how impressive the autumn leaves are in Towada, it would be a shame to end your trip without venturing beyond its natural beauty. On either end of your trip, make sure to enjoy the food, sights, and accommodations that the town itself has to offer. There are several hot spring facilities near the Lake Tsutanuma area, and finding one tucked away in the forest where you can soothe your tired body from all the walking is pure delight.
The Yasumiya area south of Lake Towada has numerous restaurants, accommodations, and souvenir shops, making it a convenient stopover for travelers. You can even board pleasure cruisers here to get the most out of your time near the lake.
Another great activity to add to your Towada adventure is art appreciation. The weather is relatively mild during peak leaf-viewing season, with the bitter cold of winter yet ahead. The Japanese consider art to be one of the special pleasures of fall, so it's a season that's full of artistic events to enjoy.
The city of Towada has actually made art a cornerstone of its urban development concept, and exhibits can be found all around town. Anyone who is charmed by the artistic splendor of nature seen in the autumn leaves is sure to find enjoyment in these human-created works of art as well.
The Towada Art Center is the highpoint of your artistic exploration here. It sits along Kancho-gai, Towada's Main Street. Designed by Ryue Nishizawa, a world-renowned Japanese architect, the building has a distinctive exterior that resembles stacked boxes.
Choi Jeong Hwa's colorful Flower Horse, studded with blossoms and bursting with energy, greets visitors at the entrance. Another highlight is Ron Mueck's Standing Woman, a lifelike sculpture standing four meters tall. These and other modern art pieces infuse the permanent collection with vitality, while regular exhibitions ensure that there's always something new to discover.
Between the glorious fall leaves and stirring artwork, your journey to Towada is sure to leave you energized and full of life.
Contact information
Towada Tabi (downtown area)
Towada Tabi (Oirase area)
Towada Tabi (Lake Towada area)
Towada Art Center