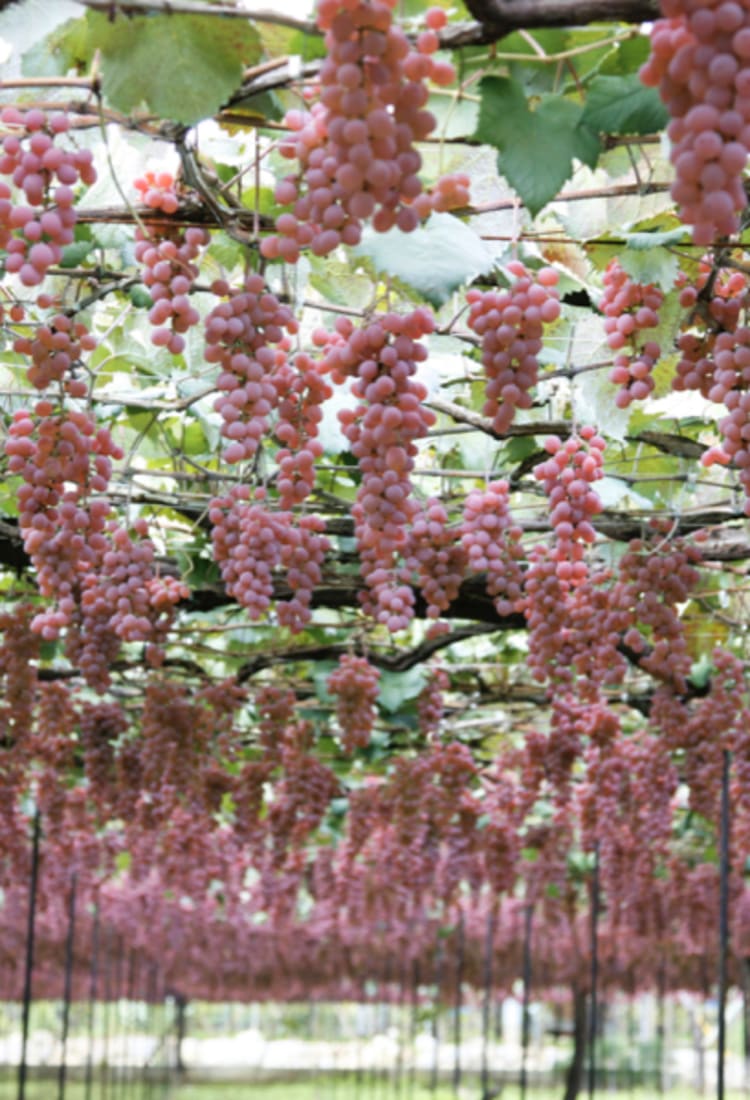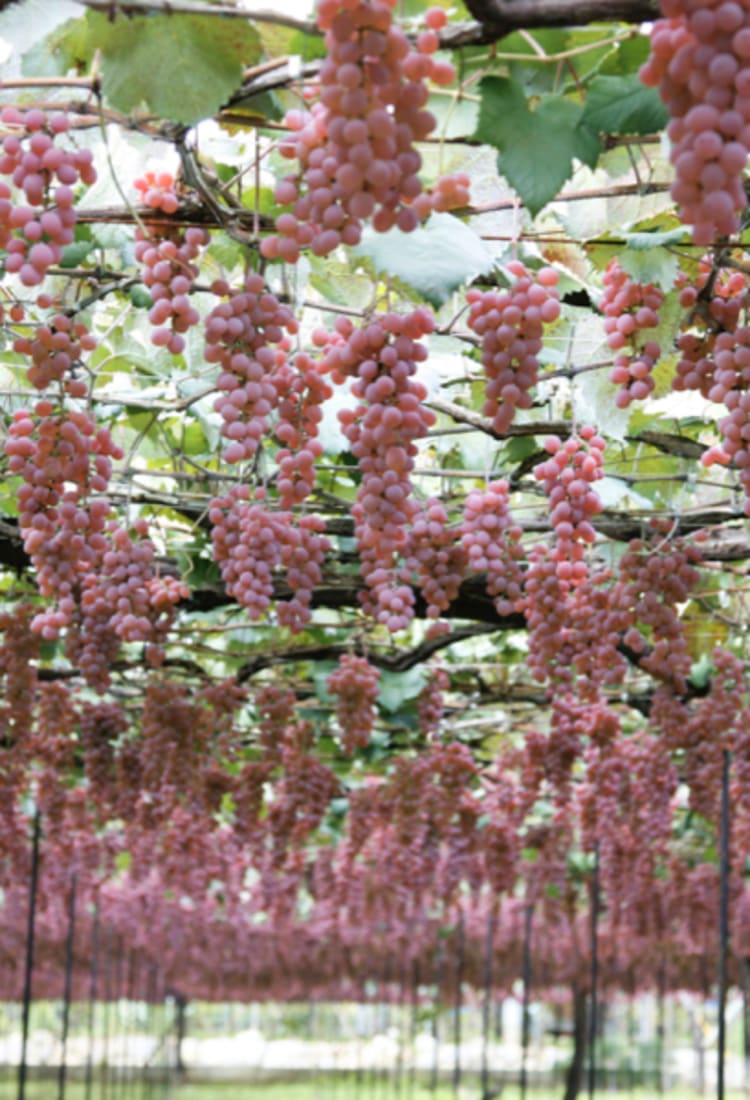 Enjoy all the magic of Yamanashi, with Japanese wine
Enjoy all the magic of Yamanashi, with Japanese wine
If you were asked to name the world's top wine-producing countries, you might think of France, Germany, Italy, the US, Australia and Chile. Once you have read this article, we hope you will add Japan to the list. We invite you to take a journey of discovery, enjoying Japan's internationally acclaimed wines, and getting to know the culture, the climate and the people of the place where they are made.
Why Yamanashi wines have won international renown 
---
"Japanese wines are delicious." Since the beginning of the decade, these words have been heard at many wine competitions and other international events.
One important catalyst was a wine from Yamanashi Prefecture made from Koshu grapes, a variety unique to Japan, winning the gold medal at the world's largest international wine competition, the Decanter World Wine Awards (DWWA), in 2014. The owner-sommelier of a three-star restaurant in Belgium said, "I was impressed that Japan had produced such a wine. I was astonished by its elegance." Other foreign wine professionals have since given their seal of approval by offering Japanese wines in their restaurants and stores.
Japanese wines were served to the G7 leaders at the Ise-Shima summit in 2016, and were showcased to the world by pairing them with Japanese food. The same year, Japanese wines won platinum medals (the highest award) for the first time in Asia at the DWWA. Japanese wines are increasingly being chosen for their deliciousness.
Wines made from Koshu grapes, a variety unique to Japan, are attracting attention for their elegance, refreshing flavor and perfect balance of sweetness and acidity. International varieties such as Chardonnay are grown in Japan too, and over the past decade, cultivation methods better suited to the local climate have brought a huge improvement in grape quality. Another factor contributing to the improvement in wine quality is that more winemakers are studying the craft overseas.
The number of wineries in Japan is increasing. The exact number is uncertain, but it's thought there are now more than 250 around the country. A growing number of small firms set up by individuals are producing highly distinctive wines.
Yamanashi Prefecture is Japan's top wine region and the birthplace of Japanese winemaking. It has been producing wine for around 150 years, and currently produces around 30% of all wine made in Japan. The prefecture currently has more than 80 wineries, including five major firms and a great variety of smaller wineries, so if you are curious to learn about Japanese wines, you could do a lot worse than head for Yamanashi.
Wine tourism: touring winegrowing areas, visiting wineries and tasting wines
---
One of the best opportunities to enjoy Japanese wines in Yamanashi is a local event by the name of Winetourism® Yamanashi.* Held twice yearly since 2008, it attracts many repeat visitors.
This autumn, Winetourism Yamanashi will take place over two days, November 17 and 18. More than 60 wineries around the prefecture will take part, providing opportunities to talk directly to winemakers and tour vineyards, wineries and stores. There will also be unique opportunities to visit small wineries not normally open to tourists, and try their wines.
Special buses will operate in winegrowing areas during the two days of the event. These will not follow set routes, but will allow visitors to choose their own itineraries.
A good place to find information for your trip is the Winetourism Yamanashi booklet, complete with maps, sent to every participant ahead of the event. Why not start by using it to identify interesting wineries and plan your itinerary? One of the greatest attractions of wine tourism is the things you can only experience on the spot: visiting vineyards and wineries, and talking with winemakers while you enjoy their wines.
But your itinerary should not be limited to wineries: during your tour, you can also enjoy the beautiful scenery of the winegrowing areas, and visit famous historical sites. And if you find a wine you like, why not eat at a restaurant that will serve it with your meal? With wine tourism, you can enjoy visiting winegrowing areas as a complete experience.
* Winetourism® is a registered trademark of the Winetourism Foundation.
Some wineries offer a special level of hospitality for Winetourism Yamanashi, serving premium wines or snacks that go well with wines. You can add a study element to your trip, by attending lectures on the history of winemaking in Yamanashi and tasting seminars hosted by winemakers. There is also a variety of evening events, including a wine party in which winemakers will participate, with wine at 500 yen a glass, offering plenty of scope for compiling your own, unique schedule.
One of the unique wineries of Yamanashi, home of Japanese wine
---
The highly attractive Winetourism Yamanashi program currently runs only three times a year, in spring, early summer and autumn, over one or two days each time, so it may not fit in with your schedule, but don't give up on wine tourism in Yamanashi: as long as you book in advance, you can visit a number of wineries and taste their wines even outside the event period.
The Katsunuma-cho district of Koshu City has a number of wineries all within walking distance of each other. Château Mercian, one of Japan's best-known wineries, has a long history going all the way back to the beginnings of winemaking in Yamanashi. The winery offers a choice of two tour plans to suit your particular interests, which include wine tastings and tours of its cellars and vineyards. There is also a café with a pleasant open-air terrace, where you can relax and enjoy a meal paired with wines.
The Lumière Winery offers tours that take in not only its vineyards but also the fermentation tanks in its stone barn, which is a Registered Tangible Cultural Property of Japan. At Katsunuma Winery, we recommend the guided tour given by winery staff, which covers all aspects of wine, including vineyards, the fermentation process, raw materials and flavors, and wine and food pairing. Kurambon Wine is a winery that occupies a highly distinctive traditional Japanese house. Its organic vineyards, where no chemical fertilizers or herbicides are used, are a must-see.
It's a good idea to contact wineries in advance for the dates and content of tours.
Find a wine you like, and get to know the climate, culture and people of the place where it was made — the experience is sure to make the wine taste even better.
For more information, visit:
Château Mercian
Lumière Winery
Kurambon Wine