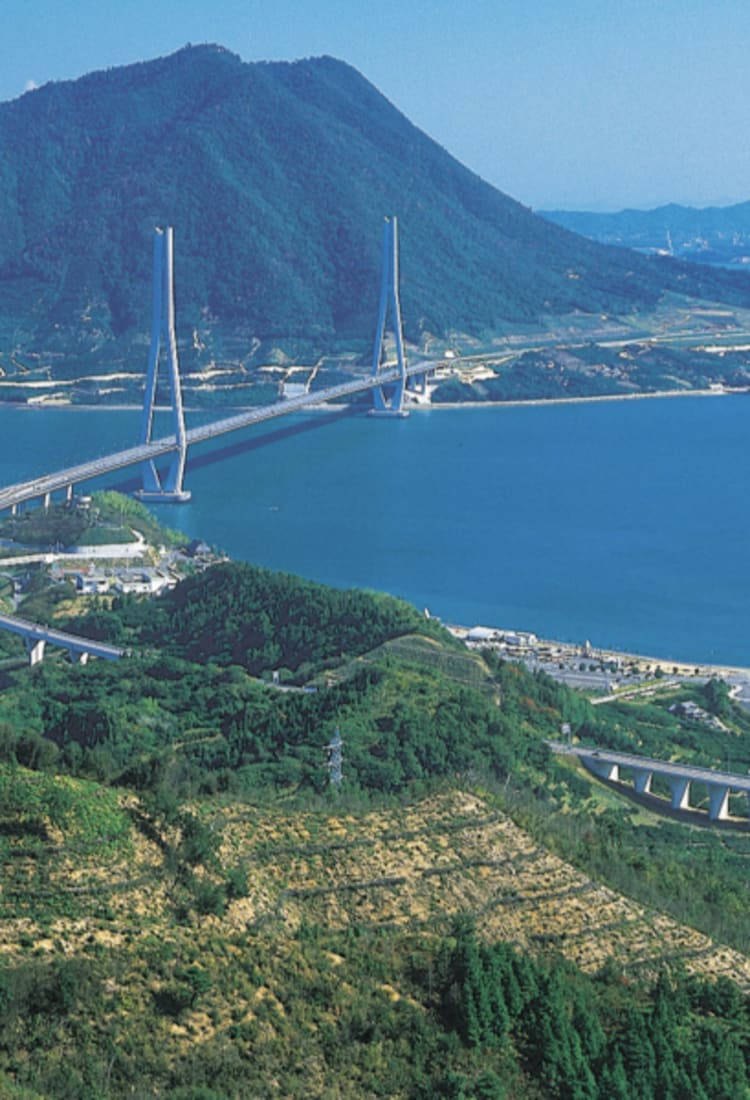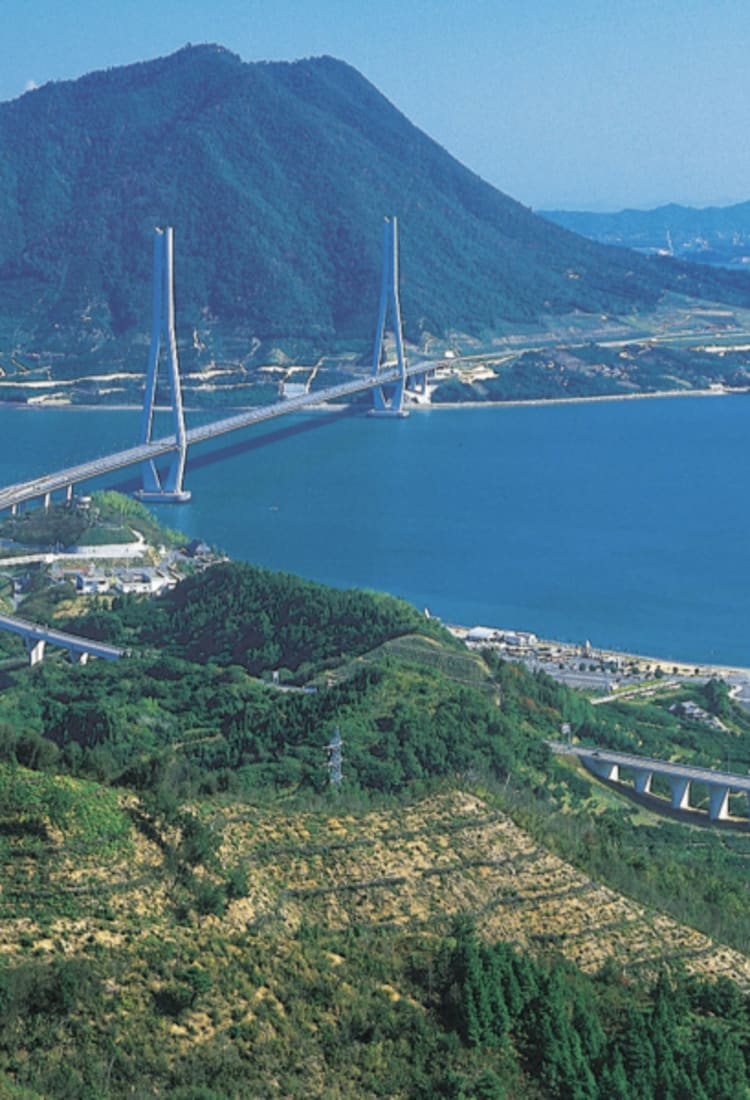 Enjoy the magic of Setouchi, by land and sea
Enjoy the magic of Setouchi, by land and sea
Made up of more than 700 large and small islands, some linked by bridges, set in a tranquil sea, Setouchi is an area of great natural beauty. From feeling the wind in your face as you cycle across the sea to staying in luxury accommodation on board a cruise ship, you can plan a wide variety of holidays that take advantage of unique local features. With its mild climate, bountiful seafood and tourist spots with beautiful views, Setouchi is cram-full of wonderful attractions.
Beautiful views, delicious food, art… the many attractions of Setouchi
---
"Come into the Sky" / Masafumi Maita
The island of Omishima is home to Oyamazumi Shrine, which has a collection of samurai weapons and armor that includes many items designated as national treasures of Japan. The island also has hot spring bathing and hotel facilities, popular as places to take a short rest or to stay overnight. Setouchi truly offers as many different ways to have fun as it has islands!
We recommend two great ways to enjoy the Setouchi area. The first is by land, on a bicycle, enjoying scenic views along the way. The second is by sea, using a cruise ship as your base and enjoying a wide variety of excursions while staying in luxury accommodation.
Tour beauty spots on a cycle route that is easy even for beginners
---
Let's start with tourism by bicycle. The Setouchi Shimanami Kaido highway, consisting of around 70 km roads and bridges, crosses the Seto Inland Sea from island to island, linking the city of Onomichi, in Hiroshima Prefecture, to Imabari City in Ehime Prefecture.
It is renowned as a pleasant cycling route with superb views of the Seto Inland Sea, and features on CNN's list of the world's seven best cycling routes.
The trip from Onomichi to Imabari takes around 5-6 hours for experienced cyclists, or 8-10 hours for beginners. Don't forget to hydrate and take rest breaks!
One great attraction of the Shimanami Kaido is that it's easy even for inexperienced cyclists. The recommended route is clearly marked with a blue line, so there's no risk of getting lost, even on your first trip.
You can also rent a bicycle from one of the 13 Rental Cycle Terminals along the route, with the option of returning it to any terminal.
Along the route, the Shimanami Cycle Oases, operated jointly by government authorities, local stores and residents, offer a place to rest and socialize, where you can also borrow tools or a pump, or use the toilet. The local community actively supports cyclists, and if you have a flat tire or other emergency, there are schemes such as Toso Rescue, a repair and rescue service operated by local bicycle stores and taxi companies.
The cycle route has many scenic spots, but among the finest sights are the bridges. The six islands between Onomichi and Imabari are linked by bridges of differing design. Admire their structural beauty from a distance, or look out across the Seto Inland Sea as you cycle over them, and enjoy a sense of being at one with nature.
A popular attraction is the observation deck at Kirosan Observatory Park, on the island of Oshima, from which you can see the Kurushima Kaikyo Bridge, and watch ships passing through the Kurushima Strait, known for having one of Japan's three fastest tidal currents.
The Shimanami Kaido website lists many other scenic spots that are well worth a stop on your cycling trip.
If you choose not to cycle the whole distance at one go, we recommend an itinerary that includes sightseeing and rest breaks or over night stays on islands along the way. Why not make it a leisurely trip over two or three days?
A luxury hotel afloat on the Seto Inland Sea
---
Our other recommended travel plan is to enjoy Setouchi by sea, with a trip on the cruise ship Guntû (pronounced Gantsu). From on board the ship, the Inland Sea's many islands take on an entirely different beauty, and the delicate silhouettes of the mountains on each island, and the landscape, changing hour by hour and day by day, seem all the more vivid.
The ship's interior décor makes lavish use of wood, its gentle warmth and refreshing scent combining to create a soothing and restorative ambiance. From each of the passenger cabins, and from the top deck, the lounge and the large bathroom, the ever-changing view of the sea invites you to relax, unwind and simply enjoy the passage of time on this luxurious journey.
The Guntû suite
The cruise ship Guntû tours around the Setouchi area in 3-4 days, taking in Hiroshima Prefecture, Kagawa Prefecture and Ehime Prefecture.
A range of different cruise plans is available, depending on the season, including off-ship activities such as excursions to traditional local festivals or famous cherry blossom viewing spots, as well as firework displays viewed from the sea.
We particularly recommend the Morning Walk plan on the island of Miyajima, in Hiroshima Prefecture. Guided by a member of the ship's crew, you are invited to explore narrow lanes known as shoji, rarely used by tourists, and join a special tour, exclusive to passengers on the Guntû, of Itsukushima Shrine, a UNESCO world heritage site before taking a break at a local coffee salon, spending an hour or so experiencing day-to-day life in Setouchi.
Explore Setouchi by land or by sea: whichever style of travel you choose, it's sure to be a memorable experience.
For more information, visit
・Shimanami Japan
・Visit Hiroshima
・Guntû
Typical cost: from ¥400,000 per person for 2 nights, based on one room with double occupancy (including tax, food and beverages)
・Miyajima Official Tourism Website (Itsukushima Shrine)