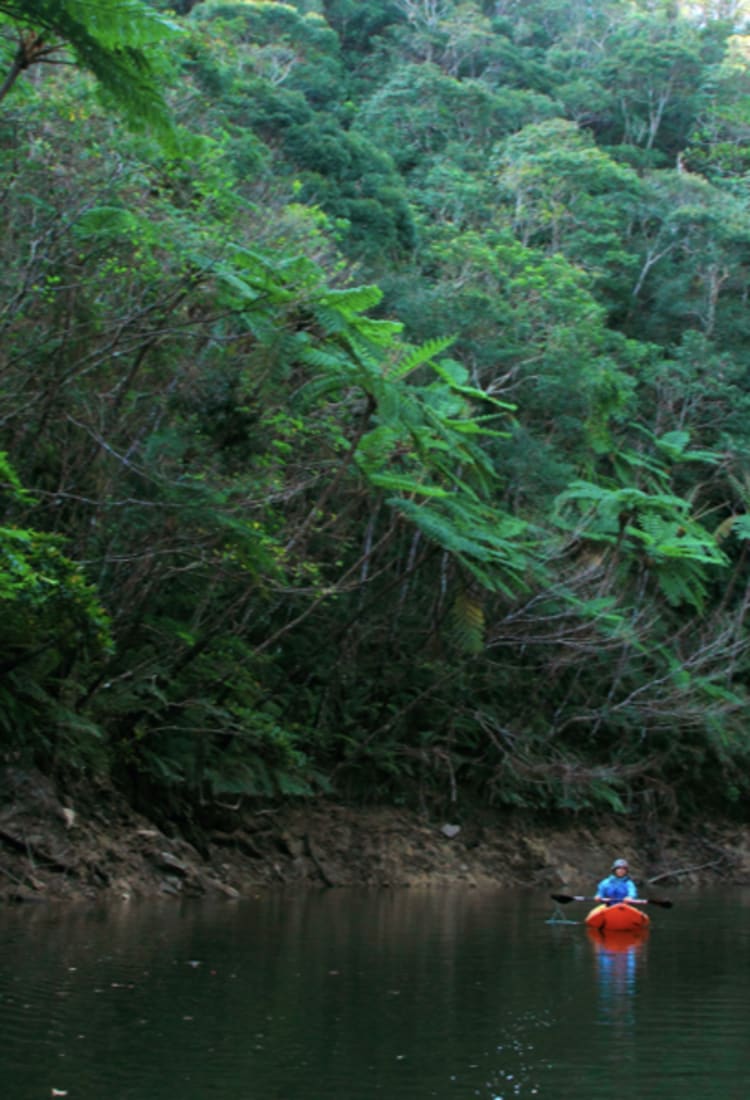 Enjoy the fun winter activities in Okinawa, Japan's tropical paradise!
Enjoy the fun winter activities in Okinawa, Japan's tropical paradise!
Okinawa is Japan's southernmost prefecture. It has a subtropical climate that affords nearly endless options for fun activities in the great outdoors. If you're looking for pristine, unspoiled natural beauty, head out to Yanbaru and its 17,311-hectare national park, located in the northern part of Okinawa Island. The forests and rivers here are full of rich, diverse ecosystems, while the gorgeous ocean waters make for a fun and active winter.
Visitors can lose themselves completely in the unique and vast natural beauty of Yanbaru
---
Okinawa Prefecture is made up of numerous islands of all sizes. The Yanbaru area in the northern part of the main island of Okinawa is unspoiled natural paradise covered in virgin forests. The unique ecosystems here afford opportunities to see a great variety of plant and animal life. A bird called the Okinawa rail is one of the signature species of the area.
The Okinawa rail is a flightless bird that can be found nowhere else in the world. As the photo shows, it has highly distinctive markings that include red eyes, a red beak, and red legs, plus a beautiful black and white stripped pattern along its chest and belly.
It was scientifically discovered as a previously unknown species in 1981. It is shy and reclusive, which contributed to its relatively late discovery. It's not easy to catch a glimpse of a wild Okinawan rail in winter. At Kuina no Mori, part of the Okinawa Rail Ecology Center in Kunigami, you can see the birds happily running around in their observation areas.
If you want to check out an observation point with sweeping views of the overwhelming expanse of nature here, head out to Cape Hedo or Kayauchi Banta at the northernmost tip of Okinawa Island.
The word banta means "cliff", and true to its name, Kayauchi Banta is a sheer precipice nearly 80 meters high. There's an observation platform built on top of it, and from there, you can see the mountains pressing against the shoreline. You can also see Ginama fishing port, Iheya Island, Izena Island, and other landmarks stretching out below. The observation platform has convenient amenities like a relaxation area and restrooms as well.
One of the most distinctive subtropical features of the scenery here is the mangrove forests that cover the mouth of the Gesashi River. These are some of the largest mangrove forests on the island, and they've recently been developed with walking paths and observation towers.
Okinawa is so warm that there are days in January where it's comfortable enough to go out in short sleeves. Here you can enjoy a variety of activities year-round, giving you a complete experience of the area's vast natural beauty.
Forests, rivers, oceans… get out and play in Yanbaru for the time of your life!
---
For starters, a great activity is to take a kayak through the mangrove forests along the Gesashi River.
Packages start with easy two-hour trips that are perfect for novices or kids, to longer journeys that take you all the way out to sea. It's easy to find a trip that suits your interests and abilities. The mangrove branches pass so close to your kayak that you can reach out and touch them, and the waters are so clear you can see straight to the ocean floor. There's nothing quite like it.
Meanwhile, hiking is the best way to really soak up the magic of the unspoiled forests here. Mt. Daisekirin (English available), located near Cape Hedo and part of Yanbaru National Park, is a great place to enjoy an easy hike. Unusually shaped rocks, gigantic boulders, subtropical forests, and gorgeously clear ocean water offer a vast panorama of nature. There are several walking trails that allow you to enjoy the changing scenery as well.
It's also a welcoming place for novice hikers, as no special equipment is required. Just wear some long sleeves, long pants, and comfortable walking shoes and you're ready to go! There are even barrier-free trails open to wheelchairs and strollers. If you'd like to learn and enjoy more about the distinctive ecosystems you'll encounter in the forest, try taking a tour with an experienced guide.
Want to experience the beautiful ocean? Diving and snorkeling activities are the way to go. The city of Nago and the Motobu Peninsula, located in the southern part of the Yanbaru area, are classic diving and snorkeling areas that offer distinctive topography along with beautiful coral and fish. There are many small-group packages led by attentive instructors available, so even first-time divers can relax and enjoy the experience.
Kick back at a resort with an ocean view as you pick out a favorite piece of pottery
---
The best way to travel to Okinawa Island is to catch a flight. Naha Airport is your gateway to the island, with connections to all of Japan's major cities as well as direct flights from other parts of Asia.
Most people get out to the Yanbaru area in the northern part of the island by car. If you decide to rent a car, just hop on the Okinawa Expressway at the Naha Interchange and head towards the Kyoda Interchange in Nago. From there, keep going north. It's about 124 kilometers from Naha Airport to the northern tip of the island at Cape Hedo. If you take a bus, the best way to get up there is to catch the express line from Naha Airport to the Nago Bus Terminal. The ride takes about 90 minutes. From there, you can use local buses (English available)to head out to other points of interest.
Before you head out to play in Yanbaru or once you're done, make sure you check out on the other fun attractions on Okinawa Island. Yachimun is the specialty pottery of Okinawa, with a history that stretches back more than 400 years. It's hugely popular as a souvenir, and there are also pottery studios that offer observation tours or hands-on experiences.
Yachimun no Sato in the village of Yomitan, located in the central part of Okinawa Island, has a high concentration of potter's studios. Yomitanzan-yaki Kitagama is a potter's studio that's open to tourists. Their shop is full of dishes perfect for everyday use, many of them featuring bold modern designs and beautifully colored glazes. You're sure to find one that strikes your fancy!
If you're looking for accommodations in Okinawa, the best way to go is a luxurious resort that looks out over the sea. Near Yachimun no Sato in Yomitan is The Uza Terrace Beach Club Villas, a villa-style hotel that gives you the feeling of being in your own seaside cottage. They also offer delicious continental cuisine that uses local ingredients in Italian-inspired dishes.
Hyakuna Garan is a renowned hotel in Nanjo, located in the southern part of the island. It is designed to feel as if you are completely ensconced in nature, from the Okinawan red tiles and other natural local building materials to its beautiful courtyard with huge Chinese banyan trees. Every one of its eighteen guest rooms are suites offering delightful ocean views. Their kaiseki courses prepared with fresh local ingredients are another major draw.
The Uza Terrace Beach Club Villas
Hyakuna Garan
Surround yourself with sweeping views of the great outdoors, take on the challenge of fun activities, and kick back in a premier resort. This is what it means to truly soak up Okinawa's unique tropical resort experience.
For more information
・Okinawa Monogatari (Official Okinawa Travel and Tourist Information)
・Japan's national parks (Ministry of the Environment)
・Mt. Daisekirin
・Hyakuna Garan
・The Uza Terrace Beach Club Villas