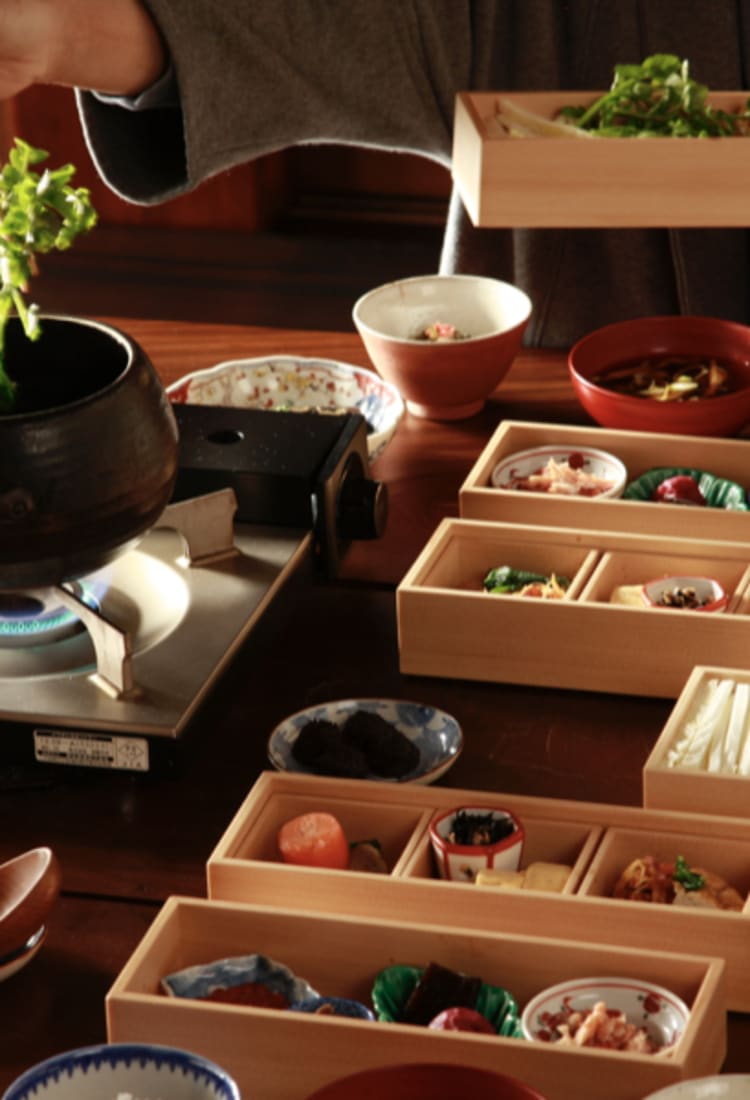 Gastronomic delights deeply rooted in the cold region Snow country gastronomy tourism
Gastronomic delights deeply rooted in the cold region Snow country gastronomy tourism
Gastronomy tourism — enjoying culinary delights as an expression of culture. This type of tourism is taking off in Japan too, with initiatives such as the Ministry of Agriculture, Forestry and Fisheries SAVOR JAPAN (English available) campaign to introduce tourists visiting Japan to the idea of "experiencing regional flavors" attracting attention nationwide. In this issue, we'll take a look at Japan's Snow Country Tourism Zone, a gastronomy tourism destination that straddles three prefectures — Niigata, Gunma, and Nagano. Experience the rich culture that is the heritage of generations who have lived in harmony with the snow.
A unique food culture that emerged from life amidst the snow
---
The Snow Country Tourism Zone is a broad-area tourism destination that encompasses seven cities and towns across three prefectures (Uonuma City, Minamiuonuma City, Yuzawa Town, Tokamachi City, and Tsunan Town in Niigata Prefecture, Minakami Town in Gunma Prefecture, and Sakae Village in Nagano Prefecture). This area, only a 70-minute shinkansen ride from Tokyo, has a completely different climate, scenery, and culture from the big city.
Why does the culture differ so much from the city? Because people have always lived here, despite it being one of the heaviest snowfall zones in the world. Being snowbound for almost six months of every year (between December and April) has given rise to practical wisdom that has endured — particularly with respect to food — and become part of today's culture.
In order to survive the long winter when nothing could be harvested, the inhabitants of this area developed food preservation techniques. They pickled with salt, dried food in the sun, practiced fermentation, and stored items in natural cold storehouses made from snow — exercising all their ingenuity to make food last.
Preparations to store food begin in the spring, when inhabitants start drying sansai that can be gathered as the snow begins to melt. Extra mushrooms collected in fall are dried or pickled and stored in jars to preserve them as winter supplies. It's no exaggeration to say that people living in the Snow Country spend all of the seasons preparing for winter.
All of the different types of preserved foods made with mountain produce, such as sansai and mushrooms, that have been dried and bottled, represent the practical life wisdom and knowledge of the inhabitants.
A visit to the Snow Country Tourism Zone offers an opportunity to savor delicious meals while enjoying these types of cultural experiences.
And as a bonus, you can also enjoy the health and beauty benefits that accompany the varied and delicious dishes
---
Tatsumikan (English available) (Minakami Town) is an inn that has been awarded "Snow Country A-grade Gourmet" status. Here guests can savor dishes that have been grilled over charcoal using an irori or indoor sunken hearth.
Having learned about Snow Country Tourism Zone food culture, the next question is naturally, "What kind of cuisine is on offer?"
To answer this question, it's helpful to know the key phrase "Snow Country A-Grade Gourmet." This initiative is an independent food certification project created by the Snow Country Tourism Zone to provide a standard by which to judge dishes created using traditional food preparation methods that do not rely on artificial additives etc. You'll find culinary delights that prioritize food culture, are good for health and beauty, and offer peace of mind in terms of food safety.
We recommend treating yourself to delicious dishes while recharging at an inn where you can enjoy hot springs and stunning views characteristic of satoyama (villages that sit on the border between foothills and arable land). One such place is Yuzawa Town's Hatago Isen (English Available), an inn with Snow Country A-Grade Gourmet certification. This inn puts so much energy into its menu, it could be called a restaurant with accommodation.
In each of the ingredients you'll be able to sense a connection to the snow — in the vegetables stored in the snow, in the edible wild plants that send up shoots with the snow thaw, and in the rice grown in the abundant water from the thaw. Guests staying at the hotel can also take advantage of a mini tour to visit the kitchen prior to dinner and listen to a talk by the head chef.
In the sansai-gathering experience offered by Hatago Isen (held in spring), the head chef cooks the freshly-gathered sansai in front of the guests.
Once a traditional Japanese-style ryokan, Satoyama Jujo (Minamiuonuma City) has been renovated and reopened as a place where guests dining and staying are immersed in Snow Country culture in a way that fits with the inn's concept of "first hand experiences and new discoveries." Almost all of the dishes served to guests at this inn are made with vegetables. This is particularly good news in May to June when sansai, produce that is good for health and beauty, is in season.
A typical dish at Satoyama Jujo. The sansai are prepared in a variety of different ways including tempura and pickles.
With Snow Country A-grade Gourmet provided at the travel window Snow Country Tourism Association, visitors can search for inns and restaurants serving Snow Country gourmet fare that is both healthy and delicious, making it a convenient tool for planning your travels.
For an even more fulfilling journey, participate in the experience-based program
---
To ensure a truly fulfilling stay in the Snow Country, the Snow Country Tourism Zone supports your journey by offering a range of experience-based programs.
Take, for example, the cooking classes offered year-round. The instructors are all local mothers. Enjoy cooking regional dishes to Snow Country family recipes, and then gather around the dining table together.
Another popular program is the "Satoyama Tour" with a local guide. There are also seasonal gastronomy experiences unique to the locality, including gathering and cooking sansai in spring or wild mushrooms in fall and savoring them with locally-produced sake, or sitting around a sunken hearth and grilling pork or beef that has been cooked at low temperatures using water flowing directly from a hot spring source.
You can also take a class in the Snow Country Cultural School program, and experience how the Snow Country's inhabitants prepare for winter in each season on an annual cycle. For example, you can learn how to make a deeko tsugura, a type of snow store for daikon radishes seen in Tsunan Town, and gain hands-on experience of the kind of practical wisdom developed in order to survive brutal winters.
A type of container, known as a deeko tsugura, woven from sun-dried straw. Vegetables such as daikon radishes or carrots are stored in this container over winter.
For travel support and advice, visit the Snow Country Tourism Zone Information Center just outside the west exit of Echigo-Yuzawa Station, a stop on the shinkansen line. You can also contact the information center by phone or e-mail to inquire about booking accommodation or restaurants, or ask staff to recommend or arrange an experience-based program. In this way, you can customize your journey for a truly wonderful experience.