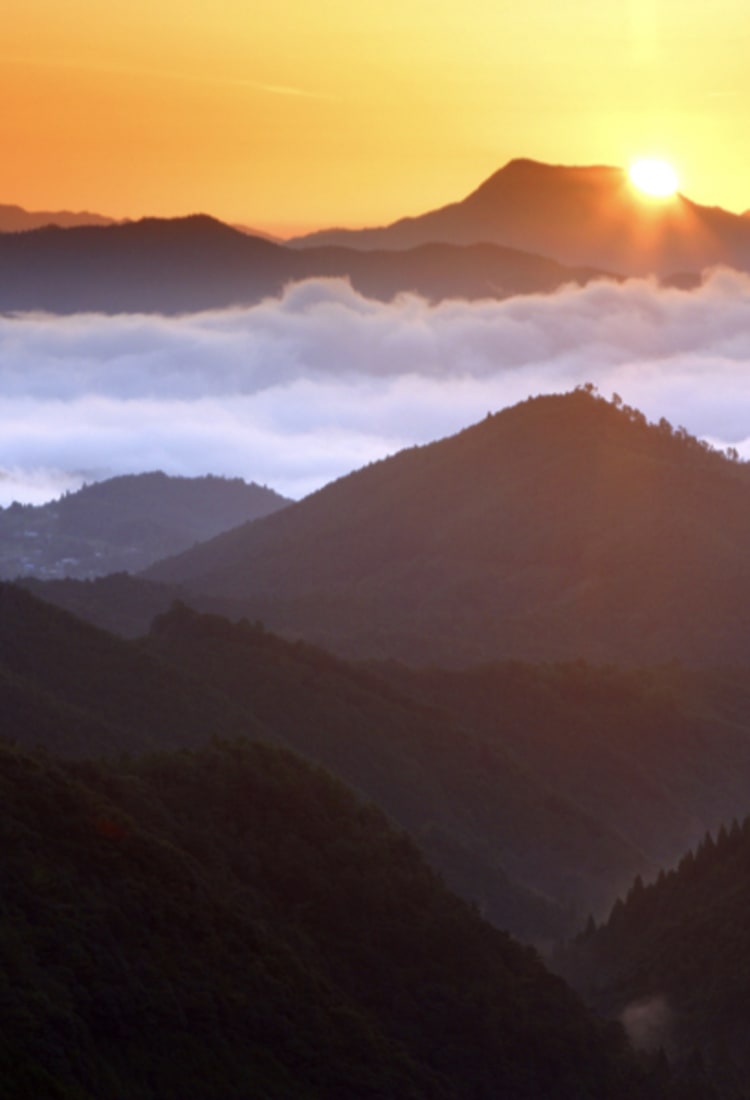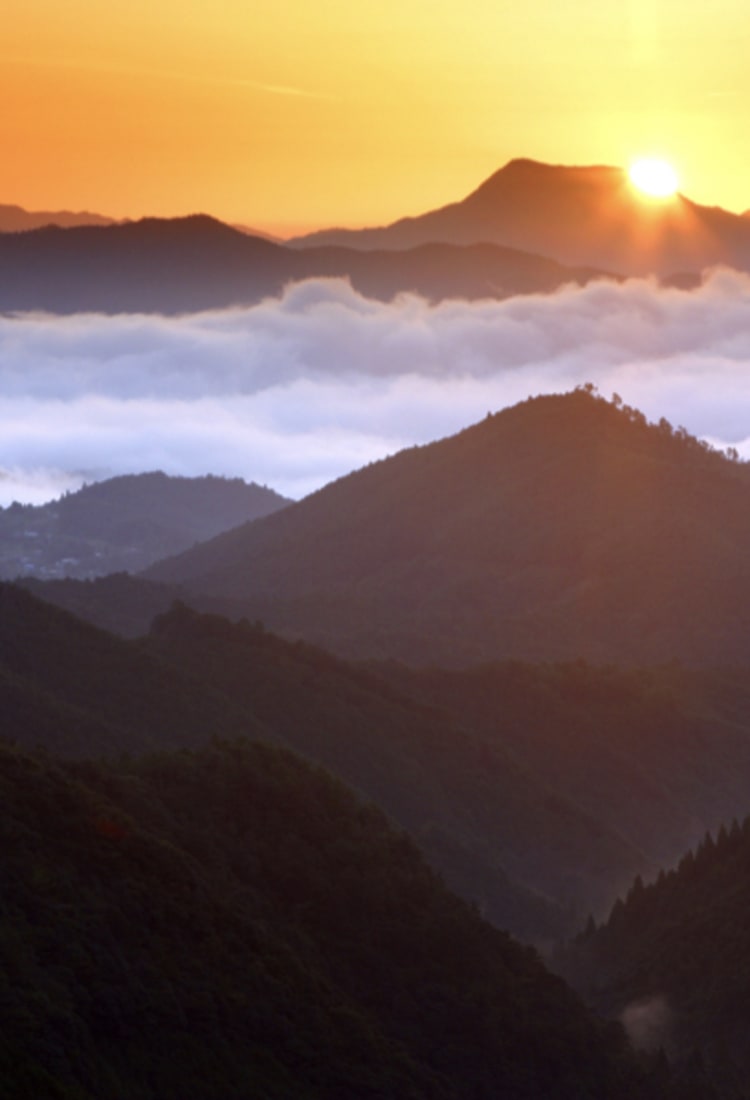 Stay on Koyasan, one of Japan's most sacred sites, and lose your heart to the Yoshino cherry blossoms
Stay on Koyasan, one of Japan's most sacred sites, and lose your heart to the Yoshino cherry blossoms
Visit Shingon Esoteric Buddhism historical sites, and brush up against Koyasan's spiritual world 
---
Koyasan (English available), one of Japan's most sacred sites, was established 1,200 years ago by Kobo Daishi (also known as Kukai), a Buddhist monk who lived during the 8th and 9th centuries, and who founded the Shingon sect of Buddhism after studying Buddhism in China. Koyasan is not the name of a specific mountain, rather it refers to a stretch of basin surrounded by multiple mountains at altitudes of around 1,000 m. The entire area is considered the grounds of Koyasan, making it a massive religious town dotted with a total of 117 sub temples (Tacchu-jiin*1). All of the places of historical interest in the area can be visited using the fixed-route bus services (English available) that travel within the bounds of Koyasan.
Not to be missed are Kongobu-ji, the Head Temple of the Shingon sect, and the two great sacred sites on Koyasan, Danjo Garan and Okuno-in. Highlights of Kongobu-ji include the main hall which emanates an air of dignity befitting a head temple, and Banryu Garden, Japan's largest rock garden. At 2,340m2 the rock garden boasts the largest area in Japan.
Danjo Garan dates all the way back to when Koyasan was first established, and is therefore a point of origin for Shingon Esoteric Buddhism. This temple complex is home to the Kondo Hall where the majority of significant events are held, and also the centrally-positioned Konpon Daito, which houses items such as a group of richly-colored Buddhas and the Mandala of the Two Realms (Ryokai Mandara*2), items that are awe-inspiring in their power and beauty.
Okuno-in, the most significant sacred site, is home to Kobo Daishi's gobyo or mausoleum, where the monk is said to be resting in a state of deep meditation, and continuing to watch over people in a sentient state. Even now, monks can still be seen carrying food to Kobo Daishi each and every day.
*1 Tacchu-jiin: Sub-temples built within Koyasan in respect of the virtues of Kobo Daishi, with the entire Koyasan representing the main temple (main temple: Head temple Kongobu-ji).
*2 Mandala: Based on Esoteric Buddhist sutras, mandalas are a schematically expressed symbol of the Buddhist universe in which the main Buddha in the center is surrounded by various Buddhas and deities.
Experience Esoteric Buddhist training at the Shukubo pilgrim's lodgings provided by temples and shrines
---
Koyasan is also known for its many temples "where you are welcome to stay." Of the sub-temples within the mount, 52 are Shukubo (English available), equipped with lodging facilities for pilgrims. Visitors can participate in unique experiences including partaking of vegetarian Buddhist cuisine and immersing themselves in temple training.
The Shukubo were originally the dwellings of monks, but are currently fitted out as lodging facilities for general pilgrims, providing meals, baths, and bedding. The vegetarian Buddhist cuisine offered at breakfast and dinner contains neither meat or fish, but makes creative use of seasonal vegetables and soy and wheat products, paying careful attention to seasonings and color balance.
Alcohol is permitted at meal times, but temples ask you to remember that each temple is both a religious facility and a training site, and request that you avoid staying up too late and behave with consideration in general. In the morning, how about immersing yourself in the teachings of Kobo Daishi by participating in a service and listening to the chanting of a Buddhist sutra.
The experiences offered by each temple differ. Each one is unique so consult your interests, tastes and objectives and take your pick from amongst a range of different Shukubo, including those that offer accommodation in buildings designated as UNESCO World Heritage Sites, those with beautiful gardens, or those that are connected to famous feudal warlords. If you are having trouble picking a Shukubo, contact the Koyasan Shukubo Association for advice. They will guide you to the perfect Shukubo that suits the size of your party and your schedule.
Direct your footsteps toward sacred Mount Yoshino, awash with color from 30,000 cherry blossom trees
---
If you are visiting in the springtime, why not make time before or after your tour of Koyasan for cherry blossom viewing at Mount Yoshino (English available), the famous sakura site in Nara Prefecture. Mount Yoshino has long been an object of worship as a sacred mountain, and the entire mountain is one of the constituent elements of the UNESCO World Heritage Site registration.
Mount Yoshino's cherry trees are considered sacred in Shugendo, a syncretic religion that fuses Japanese mountain asceticism with Buddhism. Visitors therefore donate a tree as a sign of faith and these trees have been planted on the mountain and in the valleys, creating the sight we see today.
A total of 30,000 cherry trees of around 200 varieties, mainly shiro-yamazakura (white wild cherry), cover the slopes of the mountain, starting to blossom at the end of March and opening fully between early- and mid-April. Their beauty, encapsulated in the phrase "senbonzakura," or "one thousand sakura" (describing the lavish nature of a spectacle where a thousand sakura fill your vision), makes a paradise of the sky.
The journey to Yoshino Station, the starting point for sightseeing in Mount Yoshino, takes approximately three hours by train (multiple lines) from Koyasan. From the station, visitors can take a cable car or sightseeing shuttle bus, and enjoy the incredible scenery from a range of different vantage points. The area is dotted with various shrines and temples connected with the Shugendo religion, so making a tour on foot, and getting in some hiking, is another pleasant option.
<Getting to Koyasan>
Take a limited express train from Kansai International Airport to Tengachaya Station, then change to the local line bound for Gokurakubashi Station. The journey takes approximately 2 hours and 20 minutes. From Gokurakubashi Station take a five-minute funicular ride to Kōyasan Station.
A fixed-route bus departs from and arrives at the station. However, please note that the funicular between Gokurakubashi Station and Kōyasan Station is not operating until February 28, 2019 (approximate date) due to construction of a new Kōyasan Cable funicular.
During the period of closure, a substitute bus service is operating between Hashimoto Station and Daimon South Parking Lot (Temporary Kōyasan Station).
For more information
– Wakayama Tourism Federation