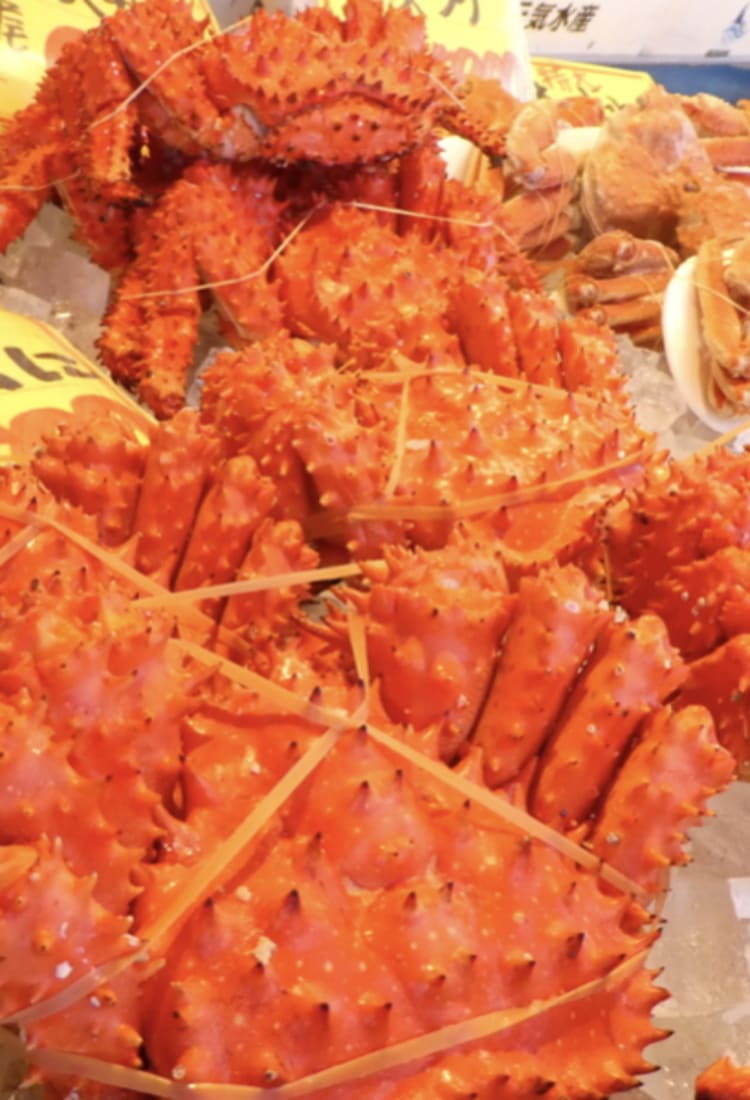 Six topics for understanding Hokkaido, Japan's leading culinary treasure trove
Six topics for understanding Hokkaido, Japan's leading culinary treasure trove
Japan's leading culinary treasure trove is truly Hokkaido, which is blessed with seafood, agriculture that leverages its vast abundant land, and a thriving livestock industry. You can enjoy various seasonal flavors according to the season in which you visit. Here is an in-depth introduction to six topics about Hokkaido's profoundly appealing delicacies.
1. Enjoy a stroll tasting the fresh flavors of Hokkaido assembled at the Central Wholesale Market 
---
For savoring the delicacies of Hokkaido, you'll first want to visit the Central Wholesale Market in Hokkaido's central city of Sapporo. The market is a hub for distribution of ingredients gathered from throughout Hokkaido, and the Curb Market is open to the general public and tourists.
The hours of the Curb Market are from 6 a.m. to 5 p.m. Because some shops close in the afternoon, it's wise to go in the morning. About 60 shops, stocking fresh seafood, fruits, vegetables, and more procured by experts, are lined along aisles that resound with the cheerful pitches of the sellers. Just walking around the energy-filled market is fun, and the friendly salespeople will teach you in detail about fish characteristics and recommended cooking methods. It seems that seafood such as red king crabs, hairy crabs, and scallops are popular with foreign tourists. At the eateries, you can savor sushi, kaisendon with sushi atop rice, grilled scallops, and more made with the freshest ingredients. Amongst this food, the king crab has potent umami flavor packed in its leg meat. 
2. What sort of meat dish is jibie, a precious Hokkaido gourmet food?
---
At the same time, there is also a "precious Hokkaido gourmet food" that you don't see much at the Central Wholesale Market. It is jibie cuisine, made with meat from wildlife captured through hunting. In particular, the meat of the Hokkaido ezoshika deer that only inhabits the prefecture is a traditional ingredient eaten by the indigenous Ainu people of Hokkaido. Appropriate hunting laws and meat processing techniques have been updated in recent years, enhancing the flavor and quality to an unprecedented level. Ezoshika meat is soft and mild, characterized by its flavor that resembles lean beef. It has extremely high nutritional value with plenty of iron, minerals, vitamin B, and DHA. It is said that the best season for the meat is winter as it contains fat stored for the season. There are several restaurants in Sapporo that serve the meat, so it is recommended to visit for dinner. Dishes featuring the meat such as sautés, stews, and smoked round steaks are excellent when paired with Hokkaido wine.
3. Addictive soup curry made with a unique combination of spices
---
If you want a taste of local Sapporo food, "soup curry" is a must-try. Curry rice, a dish that developed independently in Japan, has a higher stew-like thickness than original Indian curry, and typically is made in classic styles such as katsu curry that features tonkatsu pork cutlets on top. On the other hand, soup curry features ingredients like vegetables and meat cooked until they are soft in a soupy curry, which is eaten by scooping out the curry-soaked rice with a spoon. It originated in the 1970s at a cafe called Ajunta in Sapporo that created a menu for its regular customers that fused the medicinal soup of traditional Kanpo medicine with India's spicy cuisine. There are now over 200 soup curry specialty restaurants in Sapporo, and each of them serves up unique soup curries with different spices and ingredients. You can adjust the spice level to your preference at all the restaurants. The soup made with lavishly spiced curry steadily soaks up the ingredients such as local Hokkaido vegetables like onions, carrots, peppers, broccoli, and eggplant, and the slowly simmered leg meat on the bone. Compared to the curry rice that is typically eaten in Japan, soup curry features a more complex spicy flavor and the refreshing feeling of soup. It is a dish that will increase your appetite with the right amount of spice and flavor, and there are many people who can't get enough of it.
4. You absolutely must try a "Shime Parfait," the night specialty of the shopping district
---
The Shime Parfait, a fixture of Sapporo's new food culture, is also a must-try. Shime Parfait refers to enjoying a parfait to finish off (shime in Japanese) the end of the day after enjoying a night of food and drink. There have always been numerous restaurants offering sweet foods late at night in Susukino, Sapporo's shopping district. This local culture developed and after several years began to garner attention as a Sapporo specialty. Over 20 establishments serve Shime Parfaits in Sapporo, centered on parfait specialty shops as well as bars and cafes. You can enjoy various different original parfaits by the season, featuring ice cream and soft serve made with high quality milk from local Hokkaido farms, garnished with chocolate, amezaiku candies, seasonal fruits, and more. The beginning of the Shime Parfait boom is said to lie in the parfait specialty shop Parfait, Coffee, Sake, Sasaki, where you can watch the parfaits being carefully created one by one at your counter seat.
Just like cocktails, the shop is highly particular about its recipes. For example, the Yuto Mikan and Roasted Sweet Potato Parfait available for a limited time features roasted Beni Haruka sweet potatoes, famous for their high sugar content and rich flavor, that are used as an ingredient in the ice cream. Additionally, there is sorbet made with Yuto Mikans (mandarin oranges) that combine sweetness and tartness, plus citrus fruits as well as baked apples as an accent.
The parfaits are artistic gems offering an experience that is both sweet and savory. They are served in cocktail glasses and wine glasses, and sometimes even smoked as a finishing touch.
5. Natural cheese that appeals with its freshness and vibrancy
---
You can savor the appeal of Hokkaido's food more by just venturing outside Sapporo a little. You should first try cheese from the dairy kingdom of Hokkaido, which accounts for 50% of raw milk production in Japan. Hokkaido's climate is cool even in summer and is thus perfect for making cheese. Abira Town, which is up to a 20 minute drive from New Chitose Airport, is an area that thrives with dairy farms with a history of being the location of Japan's first cheese factory. The cheese made in the town is frequently awarded prizes at contests, and in particular the camembert (Hayakita) is a rare gem. It probably challenges some people's ideas about cheese with its vibrant flavor and texture. If you go to Restaurant Miyamoto, which directly manages the cheese factory, you can enjoy cuisine made with this first-rate cheese and local ingredients at a moderate price. Popular items on the menu include the hamburgers made using local pork and the camembert croquettes. The hamburgers are made with meat from Muminsha pigs (whey pigs) that are raised eating whey that is produced when making cheese. The meat features powerful umami flavor and pairs excellently with the delicately sweet mozzarella. The croquettes made with Hokkaido potatoes have plenty of camembert inside that oozes out when they are piping hot. They feature the exquisite harmony of the soft, lovely mouthfeel of the potatoes plus the umami flavor of the rich cheese.
6. Feel the potential of Hokkaido with shishamo smelt, its precious, high quality fish
---
You will also want to definitely savor shishamo smelt, Hokkaido's specialty fish. Shishamo measure about 12-18 cm and are an extremely rare high quality fish that only inhabit the Pacific coast off Hokkaido throughout the entire world. In Mukawa Town about a 45 minute drive from New Chitose Airport, the catching season for shishamo is from October to November when the fish travel from the sea to the rivers to spawn. You can enjoy the fish at establishments such as Kanedai Oono Shoten (frozen products are sold year-round).
Incidentally, although you can find "shishamo" on menus at izakaya Japanese-style bar/restaurants and other establishments all over Japan, the fish used is mostly the capelin, which is an entirely different species with a different flavor and texture. Genuine shishamo have a soft fleshiness and are absolutely delicious even when just grilled on their own. The males have a richer flavor than the females due to their fat content. You can enjoy the roe texture of the young male shishamo that feels like it melts softly in your mouth. If you go to sushi restaurants during the season, you can try eating nigirizushi made with raw shishamo on top of rice. This is an extremely rare form of sushi that not even many Japanese people have tried.
Contact Information
■Sapporo Central Wholesale Market Curb Market
■ Barcom Sapporo