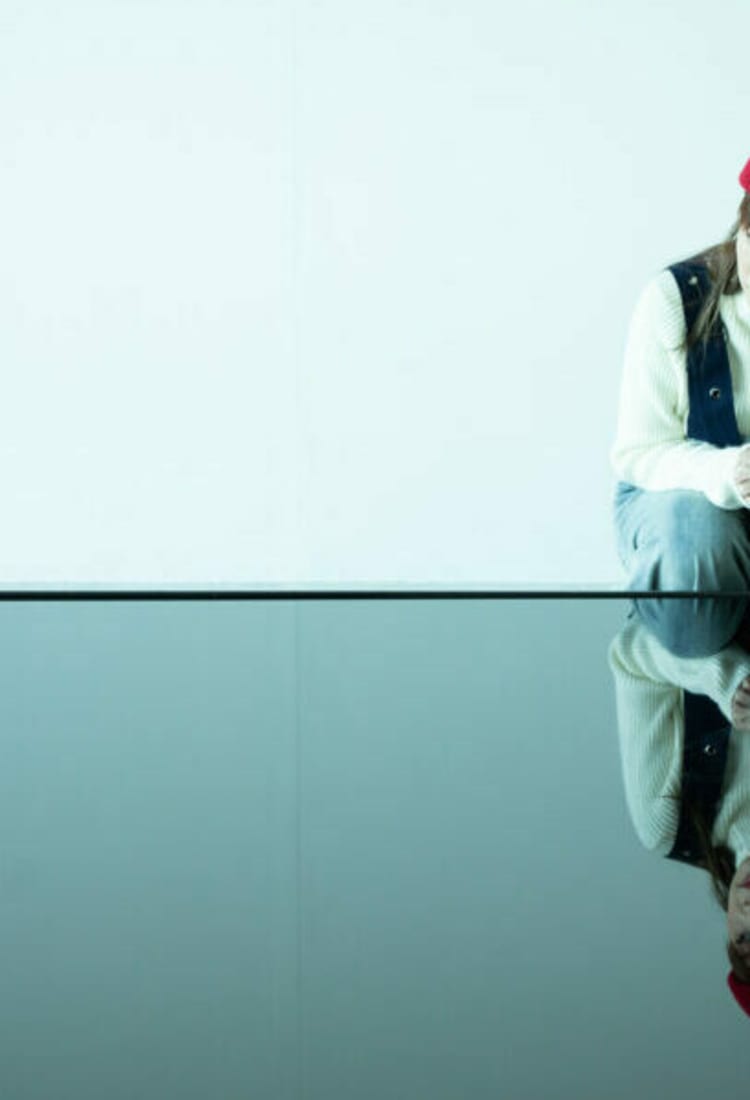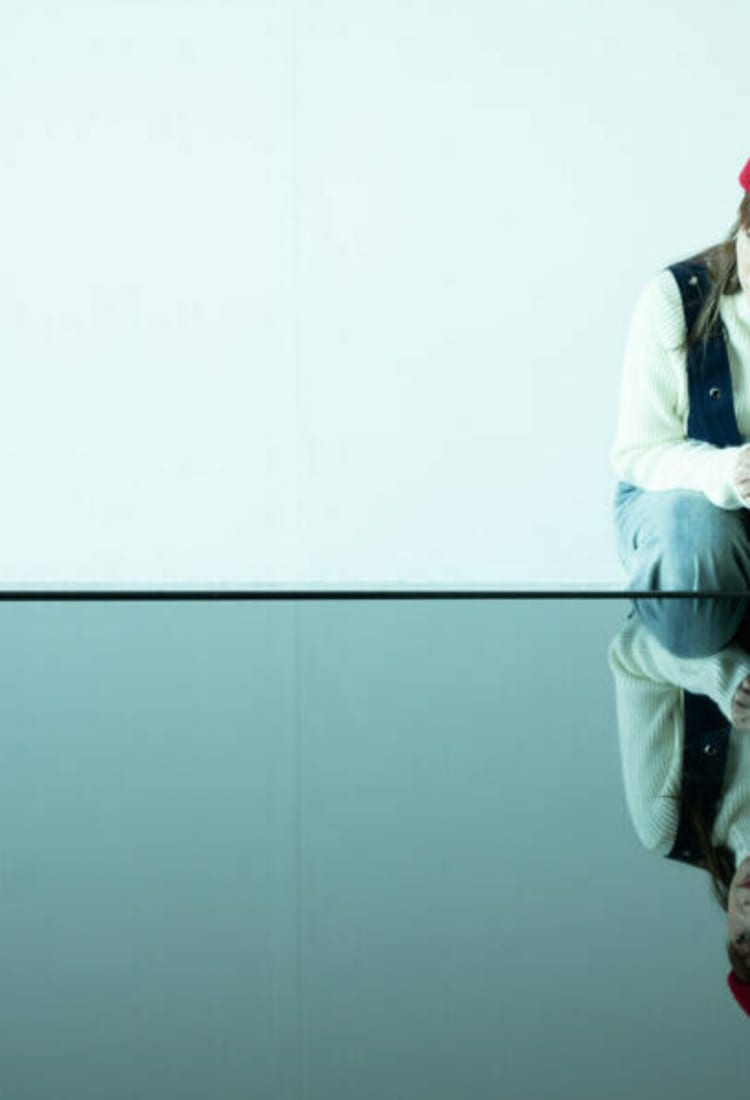 Visiting Some of Setouchi's Art Destinations with Taiwanese Musician Enno Cheng – Hiroshima
Visiting Some of Setouchi's Art Destinations with Taiwanese Musician Enno Cheng – Hiroshima
The Setouchi region is a mecca for art fans across the globe, as well as a highly popular tourist spot for its stunning scenery spanning more than 700 islands of varying sizes. These islands serve as the stage for various modern art projects organized by Bennese Art Site Naoshima, as well as being the home of the Setouchi Triennale, which takes place once every three years. Today with the help of Taiwanese musician/actress Enno Cheng, we will explore some artistic and architectural highlights of the Setouchi region. In part two we travel to Hiroshima, which has seen a recent rise in the number of new hotels and museums.
4.LOG 
---
On the second day of our Setouchi travels, we stopped off at LOG, a new facility in the Onomichi area of Hiroshima that opened in December, 2018. A hotel, restaurant, cafe, and shop all in one, LOG's renovation was led by Studio Mumbai Architects, an organization founded by the world-famous Bijoy Jain.
The train from Uno to Onomichi takes approximately two and a half hours. LOG is located about fifteen minutes on foot from the station, halfway up Mt. Taihozan. Expansive views of the Seto Inland Sea can be seen from the stone-paved path leading up the hill, a popular tourist destination due to its appearance in a movie.
After about 100 steps or so, we finally arrive. The entrance is marked by noren curtains.
Half of LOG is in fact open to the public. Tables and chairs are scattered about the premises, and visitors can use them as they wish — be it to take a break, eat some lunch, or just pass the time.
The building was originally constructed as a condominium in 1963, and it is has been renovated in a minimalist style.
Altogether there are six guest rooms, including the deluxe bedroom which is pictured above. The shoji sliding doors, ceiling, and flooring all incorporate Japanese washi paper designed and created by Wataru Hatano, an expert craftsman from Kurontani Washi in Ayabe city in northern Kyoto. The soft light seeping through the shoji doors gives the room a warm, cosy ambience, and the overall design succeeds in charming more than just the eyes.
There is also a standard room with two beds which sleep up to four people. "Symmetrical designs have the potential to be quite stiff, but here it is somehow relaxing," says Enno.
The design of the library is said to be based on Bijoy's own study, and the luxurious space — open only to overnight guests — makes use of original Studio Mumbai furniture. The sea is visible from the window.
Enno: The space is at one with the surrounding nature, and it's really relaxing. I like that the design isn't overly complex.
Next we took a break at the cafe/bar, Atmosphere. The cafe offers muffins and drinks during the day, and in the evening the space is run as a bar. The pink walls were hand-painted by the staff, and locally crafted lacquered furniture decorates the interior.
We dropped by the shop before leaving and found a variety of original LOG merchandise, as well as other selected items.
Enno picked up jam made from local produce, and some dried fruit. Enno: I chose gifts that I knew local farmers would recommend. You can sense that the products haven't been created with the sole aim of making profit, and you can really see the hard work that has gone into each one.
"It's so nice, I could live here!" And with that, Enno skipped off down the stairs to the next location.
LOGAddress: 11-12 Higashitsuchidōchō, Onomichi-shi, Hiroshima
Hours: 9:00-23:00 (hours vary per facility)
Phone Number: 0848-24-6669
URL: https://l-og.jp/en/
5.ONOMICHI U2
---
Next we carried ourselves to Onomichi U2, a brief walk from Onomichi Station. Originally a massive warehouse built more than 70 years ago, the building is now a multi-purpose complex housing a restaurant, shop, and hotel. The name U2 was taken from the warehouse's former name Uwaya No. 2.
The concept for U2 was to make it feel like a small town within a building, and it has succeeded in doing just that.
Among its multiple functions, one is Hotel Cycle, where cyclists can stay over with their bicycles. The nearby Shimanami Kaido cycling route — a mecca for cyclists across the world — connects Onomichi to Imabari in Shikoku, crossing numerous islands and the Seto Inland Sea in the process. The convenient Hotel Cycle was created for cyclists on this route in mind, even allowing them to bring their beloved bicycles into the rooms with them.
The Onomichi Giant Store is also located on site, and here guests can fine-tune their own bicycles, or rent them along with cycling gear.
The Bicchu and Bingo regions in which Onomichi is located are famous for their denim industry, and guests to the hotel will find a pair of denim pajamas on their beds.
Enno got the chance to test ride one the bikes from Giant. Enno: It felt great to cycle alongside the sea with the breeze!
Working up an appetite on the bike ride, next we stopped for a lunch break. We were lucky enough to be seated at a table with a view of the ocean.
We ordered the Seto Inland Whitebait and Red Onion Pizza.
Cooked in a stone oven, the pizza was delicious. Other items on the menu included dishes using Seto lemons and other local produce.
With a bakery, grocer's, sundry goods store and more, U2 is packed with enough to keep you occupied all day. Enno: There were both tourists and locals enjoying the facility, and I could tell it was developing into a core part of the town.
ONOMICHI U2
Address: 5-11 Nishigoshochō, Onomichi-shi, Hiroshima
Hours: varies by shop
Phone Number: 0848-21-0550
6.Shinshoji Zen Museum and Gardens 
---
Next we ventured out of Onomichi into the neighboring city of Fukuyama, where we came to the Shinshoji Zen Museum and Gardens. Opened in 2016, here visitors can experience the world of Zen through art and architecture.
"Our facility helps guests understand what Zen means through a variety of different experiences. These include drinking tea, copying sutras, eating meals, taking a bath, or taking a walk round the gardens," said Masako Hira, head of PR at the museum. Using a miniature model of the expansive grounds, she explained to us what types of facilities there are on-site.
We first went to the Kohtei pavilion, a ship-shaped structure design by famed sculptor Kohei Nawa and his creative unit, Sandwich. Perhaps known first and foremost for his large-scale sculpture at the Louvre, here Nawa expresses the teachings of Zen through a contemporary piece of art.
The structure is completely covered in kokera-buki, or wood shingles, often found on traditional Japanese buildings.
The rock-covered ground is said to represent the seabed. Sprouting out from here are unusual plants that were modeled by world renowned "plant hunter," Seijun Nishihata.
Crossing the bridge brings you into the building itself, where you can experience Nawa's installation first-hand.
Following our visit to the pavilion, we moved on and walked around the majestic circular Japanese garden.
The Hibutsudo building within the garden is where you can practice copying a sutra — the Hanya Shingyo, or Heart Sutra, to be exact. Immersing yourself in the practice is said to free you from the distractions of daily life. Enno was completely lost in the characters.
A further walk led us to the Gankuin, a 17th-century structure reborn as a cafe. Here guests can drink sencha tea, eat simple Japanese snacks, and even boiled tofu.
Here we made our own sencha tea using hot water from a chagama teapot, and enjoyed it with some chestnut mochi.
Enno: Temples in Taiwan tend to be quite lively, but here, throughout the whole complex, it was incredibly peaceful. It'll take a while longer for me to discover what Zen really is, but what is clear is that you are meant to do things yourselves, and carve your own way forward.
Shinshoji Zen Museum and Gardens
Address: 91 Numakumachō Ōaza Kamisanna, Fukuyama-shi, Hiroshima
Hours: 9:00-17:00 (last entry 16:30)
Phone Number: 084-988-1111 (temple office)
URL: https://szmg.jp/en/
7. Art Base Momojima
---
We are near the end of our adventure. Lastly, after a ten minute drive from Shinshouji, we take a quick ferry from Tsuneishiko to the small island of Momojima, and head towards Art Base Momojima, created on the grounds of a long since closed school.
The island of Momojima is only 12km around and is home to only 400 residents. Between disembarking from the ferry and arriving at the Art Base, Ino was surprised that we didn't cross paths with a single other person. "I had no idea there were places like this in Japan," she says.
After a ten minute walk we arrive, and are greeted by Nao Kimura, an artist and staff member, who manages the space while living on Momojima.
Kimura: This space is run and operated by a collective of people inspired by the ideas of the contemporary artist Yukinori Yanagi. With this space as our hub, we aim to pursue the possibilities of artistic expression.
So, what kind of artist is Yukinori Yanagi? By chance, one of his most recognisable works was on display. This is a piece entitled Yukichi (KV644955H). It appears, upon first glance, to be a 10,000 yen note crafted from sand inside an acrylic case, but on closer inspection, you can see ants building their nests. "Much of his work contains a message about society. It's what makes him unique," says Kimura San.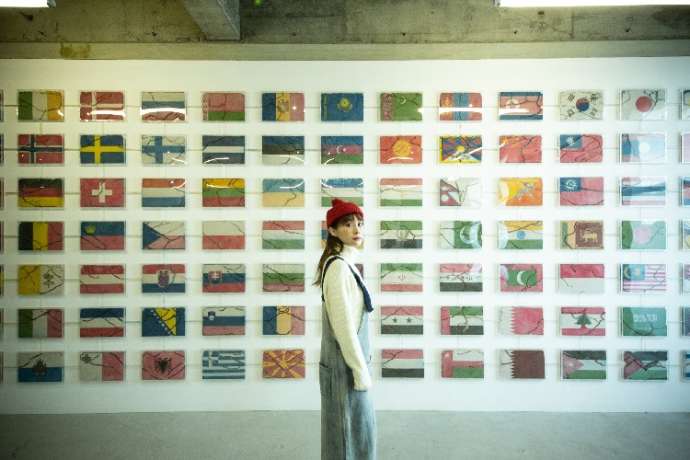 Eurasia, 2001.
While Art Base Momojima features many pieces on permanent display, it also hosts temporary exhibitions. Because of the limited number of staff, visitors are required to reserve a date and time at least three days in advance.
Red White and Blue "Wandering Position" (1990) is a piece about expending a lot of energy and yet staying in the same place. It is a comment on the nature of capitalism.
Liberty C²H², a piece by Chu Enoki in the form of a large cannon, is also on display.
Ino seems taken by Haraguchi's Physicality (2012), a giant piece occupying an entire room. Oil is spread out across a large iron base, creating the illusion of another world expanding out beneath you in it's reflection.
Although it's not a work of art, even the old toilets are fancifully adorned and decorated. It is an art space, after all.
"To be able to feel this sense of self-expression this far from the centre of town really struck a chord with me," says Ino with a look of respect towards Kimura San.
"I got a sense of the anger and other similar feelings of the artists," she goes on. With a lingering emotion, we board the ferry — also designed by the artists — and return from Art Base Momojima.
Art Base Momojima
Address: 1440 Momoshimachō, Onomichi-shi, Hiroshima-ken
Hours 10:00-17:00 (last entry 16:00) *by reservation only
Regular Holiday: Tue, Wed
Phone Number: 0848-73-5105
At the end of our journey, gazing at the setting sun from the ferry, Enno speaks. "We have seas in Taiwan, too, but this strait feels somehow different. The way the buildings are constructed, the way the people walk, the speed at which they talk, the feeling of the air — it's all unique to this place. I felt the connection between this place, the people who live here, and their art. I wonder, how do people come up with these things? I have been wondering that for these entire two days. Next time, I'd like to visit the Setouchi International Art Festival."