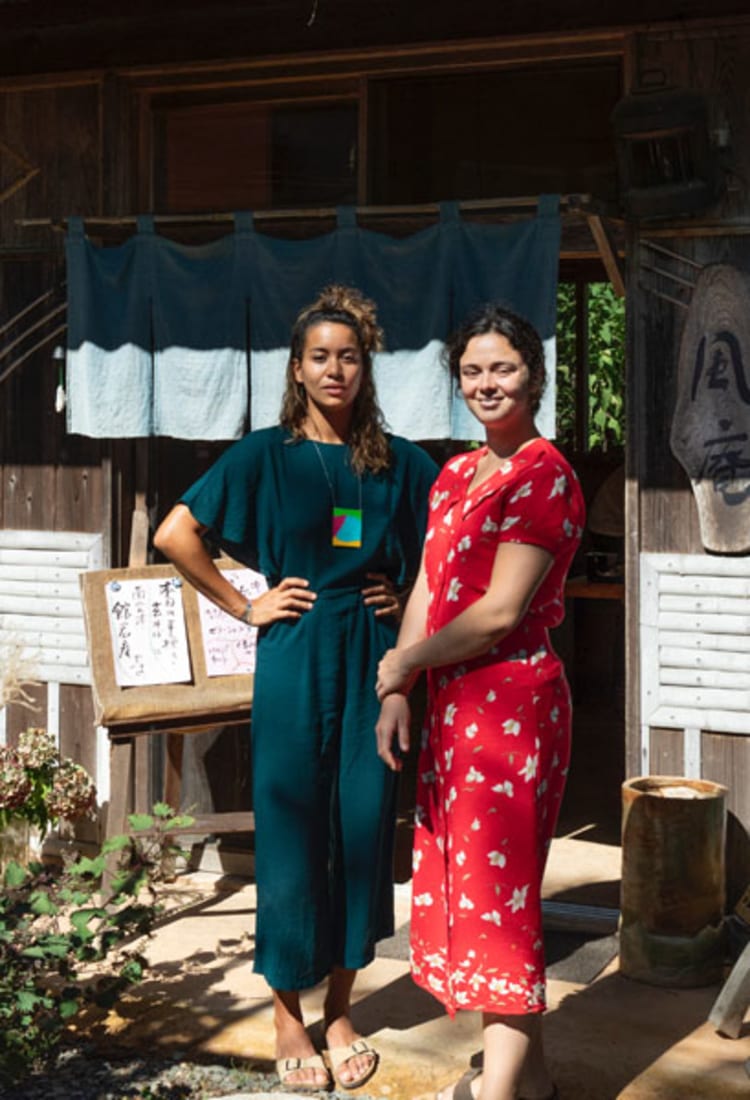 Three creative chefs from around the world visited northern Miyagi Prefecture, a treasure trove of delicious food. What wonders did they discover?
Three creative chefs from around the world visited northern Miyagi Prefecture, a treasure trove of delicious food. What wonders did they discover?
Sendai is the gateway to Miyagi Prefecture and located about an hour away from Tokyo on the Tohoku bullet. If you take a car or bus north from there for about two hours, you can get to Minami-Sanriku, a town surrounded by gorgeous villages, mountains and beautiful ocean waters.

The Chef in Residence Minami-Sanriku project took place here in September 2019, bringing three independently-minded chefs from around the world to stay in the area for a month.

The three chefs researched several aspects of the area, including its producers, everyday households, and experts, and then added their own ideas to come up with a new type of local cuisine for Minami-Sanriku.

Minami-Sanriku and the rest of northern areas of Miyagi Prefecture offer fresh-caught seafood from the surrounding waters as well as fresh vegetables grown on the land. The local people have taken these ingredients and developed their own unique food culture using their original ideas.

In the course of their research, the chefs who participated in this project said that they were truly amazed at the rich food culture that Miyagi has to offer. We asked Swiss chef Tatiana Tagli, Columbian chef Diana Pizano, and Israeli chef Israel Sher about the kinds of cuisine they encountered in the prefecture.
What kind of place is Minami-Sanriku—this treasure trove of delicious food? 
---
ーMinami-Sanriku is just three hours from Tokyo, but it's still a relatively uncommon travel destination. You all spent a month there, so please tell us your impressions of the area.
Tatiana Tagli: When I went to Tokyo before to go sightseeing, I was overwhelmed by the sight of the twinkling city lights. I grew up in the mountains of Switzerland, so that was part of what made me want to visit the Japanese countryside next. Minami-Sanriku is in a rich natural environment that has everything—villages, mountains, and ocean. To me, it's the perfect travel destination.
Diana Pizano: I love to travel, but I don't have much interest in hitting all the tourist spots just to check them off the list. I'd rather go and get a glimpse of how the local people live their everyday lives. I had some great conversations with the locals in Minami-Sanriku and even got a chance to participate in a rice harvest festival—so I feel like I got to interact much more closely with the people here than if I had gone on a typical vacation.
ーAll of you have made a name for yourself as chefs on the world stage. What do you feel is special about Miyagi when it comes to food?
Diana: The seafood in Minami-Sanriku is fantastic. You can eat it the day it's caught, so the ingredients themselves are already incredibly delicious. I also got a chance to witness the pristine workmanship of the people at the Yamauchi Sengyoten fish dealer as they removed the bones and nerves from the seafood in order to process and sell it. Their precision techniques seemed to make the food taste even better.
Diana: I was so impressed with the taste of Miyagi seafood that I truly wanted to eat it every morning. The bonito, yellowtail—everything was good, but my number-one choice would be the scallops. I had never had the chance to eat a live scallop that I had just shelled myself before.
Tatiana: The sea squirts are a specialty in Miyagi, and they were really delicious. The surface is so textured that they're also called "sea pineapples", and to be honest I couldn't quite stomach them raw at first. But at Imamura, a restaurant specializing in Japanese cuisine in Ishinomaki, they select and prepare them so carefully that I really enjoyed them, even uncooked.
Diana: I was impressed at the daring preparations that Imamura offered while staying true to its authentic Japanese roots.
Tatiana: The ground potato soup (surinagashi) they served for the first course was like a Japanese-style vichyssoise. It was so light on the palate despite the fact that it was made from potatoes, accented with just a few drops of oil that gave it a lemongrass-type fragrance for an even more refreshing flavor.
Diana: They were also highly sensitive to what was fresh each season. My home country of Columbia is in the tropics, so we don't pay as much attention to the seasons as they do in Japan. Even things I eat all the time, like eggplant and green onions, tasted so much better when they were in season. At Kanae Saikichi, a restaurant in Kesennuma, I had the daily rice bowl, which was topped with fish sashimi. The fish was prepared using two different methods: aburi, which involves quickly searing it over a flame, and zuke, which involves marinating it in seasonings. It was fun to try the ingredients prepared two different ways in the same rice bowl. The rice bowl also came with a tiny dish of pickles and a bowl of miso soup.
Tatiana: The miso soup had mitsuba leaves floating in it. At first I didn't know what it was and mistook it for parsley, but it had a distinctive aroma and flavor that was totally new to me.
Diana: It was my first time to eat burdock root (gobo), which looks like little tree roots, and sea eel (anago), which looks exactly like freshwater eel (unagi). Getting to eat dishes made with ingredients that I normally don't encounter was an invigorating experience. As a chef, I was delighted to make all of these new discoveries—both in terms of taste and technique.
Tatiana: One of my new discoveries was the amazing aging techniques they used for each fish at Yamauchi Sengyoten. I got to try the fat greenling (ainame) and sawara mackerel, which they had killed and then vacuum-sealed to rest and age for seven days. Apparently each fish has a precise amount of time that results in perfect aging.
Diana: I learned about the concept of umami flavor created by amino acids for the first time on this trip. The umami concept was woven into everything we ate—from elevated cuisine prepared by chefs to the simple and familiar kelp or dried-bonito broths eaten in local households. I'm definitely going to start incorporating it in my own cooking as well.
Israel Sher: The Japanese use a seasoning called miso, which is made by steaming soybeans, adding salt and rice malt, and then fermenting it. In Minami-Sanriku, every family and restaurant has their own twist on the miso recipe. It's fun to see the different versions of it—some people add peanuts, chili peppers, or wakame seaweed, for example. The Nukumori Kobo miso sold at supermarkets also had a great balance of rice malt, sake, and sugar. I really liked it.
All three chefs were taken by Fuan, a soba noodle shop that is only open on the weekends
---
ーWe heard that all of you visited the Fuan soba noodle shop multiple times during your stay in Minami-Sanriku.
Diana: It's only open on the weekends, but everything there is so simply yet masterfully prepared—from the flavor and thickness of the soba noodles to the broth. Eating it with the dried plums and pickles that come with it creates a delightful and varied flavor experience. The balance across the entire plate is wonderful.
Tatiana: The plums they use to make the umeboshi pickles here are picked while they're still green, so they retain their crunchy consistency. I'd never had dried pickled plums like those before, and I kept asking for more of them.
Tatiana: The husband and wife that run the shop farm during the week, so they're growing the ingredients that they use in the restaurant. I could really feel the love they poured into their food from the way they approached it.
Diana: I'd love to create a space like this when I have my own restaurant someday. There are just a few seats, but that gives it a warmth that makes guests feel like family. It's as cozy as if the couple had invited you into their living room.
Tatiana: I think that meals go beyond the simple act of eating to reflect the personality and place of the people who serve them to you. Seeing the artistic way that the husband makes the soba noodles, sensing the love between the couple in the way they made eye contact as they worked, hearing the mellow jazz playing in the restaurant—it all came together to create a harmonious space. It was raining on the first day we visited, so we got to eat soba while listening to the sound of the rain mixed with the jazz quartet playing in the background at this tiny restaurant tucked away in a mountain village. The ambiance was incredible.
Israel: I was impressed with the amount of time and effort that they poured into making this one simple dish of soba noodles. In a world where you can declare yourself a sushi chef overnight just by watching some YouTube videos, it was wonderful to see this quintessentially Japanese example of true craftsmanship at Fuan. As a chef and as a guest, I have complete faith in chefs like this husband and wife team.
Head to Minami-Sanriku and enjoy the best food the season has to offer
---
ーIf you had a chance to visit Minami-Sanriku again, how would you spend your time?
Tatiana: The first thing I'd do is call out "I'm back!" to all the people who welcomed us with open arms during our visit. Everyone was so kind to us that they felt like family—so open-minded and full of love.
Diana: We were there in the summertime, so next time I'd like to go in spring. The locals told us that the azaleas bloom on Mt. Tatsugane then, turning the mountainside into a gorgeous red color. If I went to the mountains, I could see the Japanese serows that I love, too. I also love oysters, and they would be in season in spring. Because it's a place that experiences such distinct seasonal changes, I'm looking forward to going again.
Information
Miyagi | Japan Travel | JNTO
Imamura Seasonally-driven Cuisine
Address: 2-7-2 Chuo, Ishinomaki, Miyagi Prefecture
Getting there: Ten-minute walk from Ishinomaki Station on the JR Senseki Line
Kanae Saikichi
Address: 1-13 Kashizaki, Kesennuma, Miyagi Prefecture
Yamauchi Sengyoten Minami-Sanriku Sansan Shopping Street
Address: 201-5 Shizugawa Itsukamachi, Minamisanriku-cho, Motoyoshi-gun, Miyagi Prefecture
Getting there: About 45 minutes by bus from Yanaizu Station on the JR Kesennuma Line (get off the bus at Shizugawa Station)
Fuan Soba Shop
Address: 422 Iriya Sakurazawa, Minamisanriku-cho, Motoyoshi-gun, Miyagi Prefecture
Chef in residence in Minamisanriku