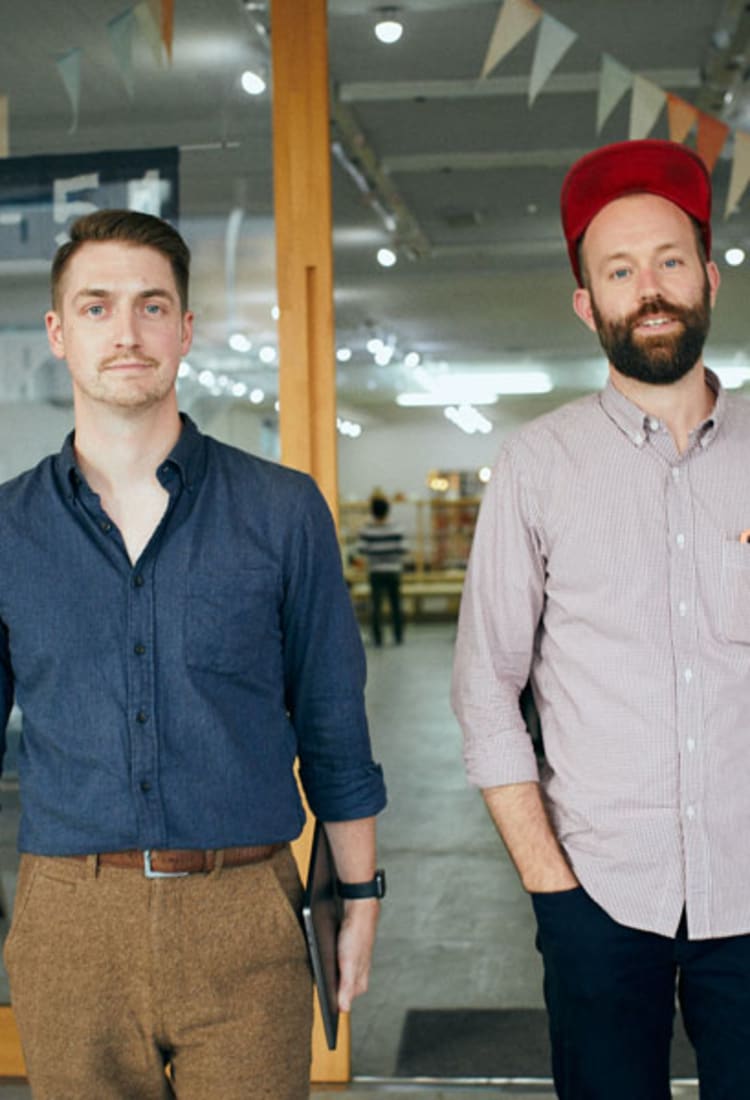 Two American expats talk about life in Towada, a progressive rural city off the beaten path in Aomori Prefecture
Two American expats talk about life in Towada, a progressive rural city off the beaten path in Aomori Prefecture
Located in Aomori Prefecture in northern Japan, Towada is a small, charming city about three and a half hours from Tokyo by a combination of shinkansen and bus. A place where visitors can relish the beauty of Japan's four seasons, Towada is close to some of Japan's most remarkable natural wonders, such as Lake Towada, the Oirase Gorge, and the Hakkoda Mountains. And wherever you go, you'll find opportunities to enjoy one of the region's main outdoor activities —hot spring baths.
The city itself has plenty of charm, too. Downtown Towada is home to the Towada Art Center, which opened in 2008 and was designed by Ryue Nishizawa, the architect behind the Louvre Lens. Scattered throughout the town, visitors will find sculptures and artworks by renowned artists like Yayoi Kusama and Yoshitomo Nara. These kinds of new initiatives have inspired an increasing number of people from all over Japan to relocate to Towada.
Amongst these new arrivals are two American expats, Alex Queen and Michael Warren, who moved to Towada in 2016. There they run 14-54, a community space in downtown Towada that serves as the main office for their business, which specializes in translation, interpretation, web design, digital systems creation, and regional development.
What made them choose Towada? Below they tell us what they love about the area.
Towada, town of hot springs and warm welcomes
---
ーHow did the two of you end up living in Towada?
 
Alex: For me, it goes back to when I was in my teens. I came to live with a family friend in Goshogawara City in eastern Aomori when I was fourteen. Since then, I've also worked in Tokyo, and I still travel back and forth, but I wanted to make Aomori my base. When we were first starting the business, I found myself doing a lot of work involving Towada, including translation and interpreting at the Towada Art Center as well as some community consulting. I was looking for an office space and a place to live, and someone at the city hall told me about a rent subsidy program for utilizing empty storefronts.
 
Alex Queen(Left)、Michael Warren(Right)

Michael: I used to live in Gonohe, the next town over, where I was working as an English teacher. Later, in 2016, Alex and I were both working at the same university in Tokyo, when he invited me to help him build a company in Towada.
 
ーHow do you find it now that you're actually living in Towada?
 
Alex: It's very comfortable. Towada was only settled about 150 years ago, so it's a relatively new city. Many of the residents have moved here from other parts of Aomori or other prefectures altogether, and this makes the community very tolerant of newcomers. Despite our unusual backgrounds and non-traditional approach to business, our neighbors were extraordinarily open and welcomed us into the city, so we felt like part of the community early on.
14-54
14-54
14-54
ーWhat do you like about Towada City?
 
Alex: I love the people, the natural beauty—everything, really. I've traveled all over Japan, and I don't think there are many places with so many natural wonders. But my favorite would have to be…
 
Michael: The onsen?
 
Alex: Yeah, it would have to be all the local onsen hot springs.
 
Michael: There are plenty of good hot springs in the city and more out toward the Hakkoda Mountains.
 
Sarukura Onsen
Alex: Michinoku Onsen, Pony Onsen, Momijinoyu, Ippongisawa Onsen, Towada Onsen, Yuyu Land…and these are just the ones in town! Over toward Shichinohe-Towada Station on the Tohoku Shinkansen line are two more – Suginoko Onsen and Higashi Hakkoda Onsen. I try to get to an onsen at least once a week.
ーTowada seems to have an exceptional number of hot springs. Could you tell us a little more about what sets them apart?
Alex: If it's the health benefits you're after, Michinoku Onsen or Pony Onsen are among the best. They're great for your skin and leave it feeling smooth and soft. If you want to try a range of different baths, I recommend larger facilities like Ippongisawa Onsen or Momijinoyu. If you're willing to travel, you should try places like Sarukura Onsen, Tsuta Onsen, or Yachi Onsen, located a little outside of town in the Hakkoda Mountains. The sulfuric content means that they have medicinal properties but be prepared for a strong smell that can linger for days. (Laughs)
Tsuta Onsen
Michael: If it's your' first time visiting an onsen, Momijinoyu is a good option. They have some cute outdoor baths that are ceramic and shaped like tea bowls.
Alex: Places like Momijinoyu and Pony Onsen are also popular with locals, and Towada is full of friendly people, so even first-time bathers will feel comfortable.
Activities for All Seasons
---
ーWhat else does Towada have to offer?
Alex: The great outdoors. There are mountains, rivers, and lakes nearby, and the ocean is only a 30-minute drive away. Towada has' everything. There are plenty of places to go hiking and camping, and the Oirase Gorge is a great place to experience a nature tour. You can go hiking, skiing, snowboarding, canoeing, horseback riding, and stargazing. Utarube Campground, which is located on Lake Towada, in particular, is one of Japan's best campsites. This summer I ended up camping there nearly every weekend.
Utarube Campground
Alex: As soon as I would finish work on Friday, I'd head straight to the campground, pitch a tent, and enjoy a beer and a book by the campfire. The next morning I'd be up at 5:00 and out on the lake. That early in the morning, you have the lake all to yourself—it's an unbeatable feeling.
ーWhat kind of activities do you recommend for travelers?
Alex: For the outdoor enthusiast, I would have to recommend canoeing. Towadako Guidehouse KAI is a new business in the area that specializes in canoe tours. There's nothing better than being on the lake, completely surrounded by pristine natural beauty. My favorite part is Kokonoeura, a cove that is only accessible by canoe — it's incredibly quiet and has an aura of mystery about it.
Michael: Just sitting on the lake, breathing the air, and looking out over the scenery has a restorative power. It's also beautiful in fall, when the bright-red foliage is reflected in the water, or in the depths of winter when you're paddling through icy slush.
Alex: Not to mention the brilliant nature tours along Oirase Gorge?
Michael: Yes, totally. The NPO Oiken, an Oirase ecotourism research organization, holds regular walking tours of the Oirase Gorge.
Alex: One of the most interesting would have to be the moss walk in Oirase Gorge. Over 300 different types of moss are indigenous to the gorge, and when you peer at them through a magnifying glass, each one is incredibly unique. Looking at moss might sound a little dull, but it's truly an eye-opening experience to give visitors a real sense of how important moss is to the Oirase ecosystem.
Moss Walk in the Oirase Gorge
ーSo each season has its own charms?
 
Michael: Sakura trees line Kanchogai-dori Avenue, where the Towada Art Center is situated, and in spring, when these cherry trees blossom, they are strung with lanterns that accentuate their color.
 
Cherry trees lining Kanchogai-dori Avenue

Michael: We also hope people will come visit in the fall. From around the second half of October, the mountains are dyed red and orange as the trees change color. One of the most famous spots is the walking path around Tsuta-no-Nananuma—the seven lakes and ponds of Tsuta—where the fall leaves are reflected in the water. And then in winter, it becomes a different world altogether.
 
Fall leaves reflected on the surface of Tsuta no Nananuma

Alex: I love winter, too. We have two ski slopes located nearby: Towadako Ski, Snowboard & Spa Resort and Shichinohe Town Ski Area. Both are less than a 30-minute drive away and offer both day and night skiing, so I try to hit the slopes for a couple of hours after work. If you're up for the hour-long drive, I highly recommend the Hakkoda Kokusai Ski Area, which is open from late November to early May. The Hakkoda Mountains have some of the world's heaviest snowfall, and the snow has a perfect powder quality to it. The skiing is still good in May, and on a nice day, you can even hit the slopes in a T-shirt.
 
A ski slope in the Hakkoda Mountains in early May during Golden Week
 
What is it about Towada that attracts creative types?
---
ーIt seems Towada is attracting more and more creative types who are taking the initiative, similar to you both.
 
Alex: Our office at 14-54 doubles as a community space that is entirely open to the public. Inside we helped Takuya Nakanowatari and Michi Jin, a young married couple from Aomori City, set up 14-54 Café, which has been a huge success. The building is also home to the Towada Art Center Reading Room. Occasionally we'll hold art exhibitions and workshops or invite local producers to have pop-up shops here, too.
 
The owners of 14-54 CAFÉ, husband-and-wife team Takuya and Michi
14-54 CAFÉ

Michael: A Chinese staff member from Towada's local revitalization coordinator (chiiki okoshi kyôryoku-tai in Japanese) has her office here at 14-54 as well, so she helps any Chinese speakers who might stop by.
 
The Towada Art Center Reading Room located inside 14-54
 
Alex: There are several good shops and cafes in the area. Just down the street in the same shopping arcade as 14-54, there is a place called Café Happy TREE, which makes the perfect cup of coffee. Yuji, one of the owners, roasts his beans by hand, and they're some of the best I've ever had. My favorite is his full city roast, and I drop in for a cup at least twice a week.
 
Cafe HappyTREE
Michael: Their American-style bagel sandwiches are made with local produce and are superb. Depending on the time of the year, Yuji grows his own vegetables, which you may find on the menu, and another healthy option is co-owner Yakko's sugar-free pancakes. Yuji loves to strike up a conversation about coffee and ingredients with anyone who walks in.
Cafe HappyTREE
Yuji, the owner of Cafe Happy TREE
Alex: Just a 10-minute walk away from 14-54 is a confectioner called Soma Kashiho. It's run by a lovely lady in her 80's and her son, and their apple pies are not to be missed.
Soma Kashiho
Michael: The apple pies are made from Aomori apples, so the apples they use change with the seasons. Then there's the coffee éclairs, almond cookies, raisin butter cakes, apple cakes, lemon cakes, and more…
Alex: They're all unbelievably delicious.
Alex: Kutoten is a nearby folkcraft store built in a rented house by Susumu Yoshida, a designer who moved here from Tokyo. The store stocks contemporary folk crafts, many of them collaborations between Yoshida and local artists. The shelves are filled with items like kendama toys made from reclaimed skateboard decks and accessories made using traditional Aomori's techniques, including Tsugaru lacquerware and Nanbu hishizashi embroidery.
Kutoten
Kutoten
 
Kutoten
Michael: Susumu also operates the Tokidoki Yubinkyoku, which translates loosely as the "Now and Then Post Office." One of their services lets you send postcards that will be delivered at an unspecified point in the future. Yoshida always has lots of other interesting things going on, so please do drop in and check them out.
The Tokidoki Yubinkyoku space within Kutoten
 
Alex: Finally, located in Yasumiya near Lake Towada is yamaju, a co-working space and guesthouse that just opened this year. A month-long stay runs guests around 60,000 yen, and they're trying to encourage people to not only visit Towada on holiday but also to come and stay for work. This lakefront retreat provides the perfect setting if you need a change of pace and is an ideal spot for digital nomads on the move.
 
yamaju  ©︎Fuukeiya
yamaju  ©Fuukeiya
yamaju  ©Fuukeiya

ーIs there anything international visitors should know before they visit?
 
Michael: Towada is definitely more convenient with a car because it frees you up to travel wherever you may want to go. You can get around by bus, but public transit has its limitations.
 
Alex: There are several places to rent a car right outside Shichinohe-Towada Station and Hachinohe Station, which are the two closest stops on the Tohoku Shinkansen Line. Some companies offer discounts if you reserve a car when purchasing your Japan Rail Pass. I'm sure Towada will appeal to people who enjoy nature, art, or those who are looking for something alternative, just off the beaten path. Michael and I have been almost everywhere in Aomori, but Towada is a place that opened up a whole new set of possibilities for us. Our work at 14-54 has afforded us opportunities to meet new people and make new discoveries, and for that, we are incredibly grateful.
 
Aomori | Japan Travel | JNTO
Towadako Guidehouse KAI
Address: 486 Towadakohan Yasumiya, Oaza Okuse, Towada-shi, Aomori (within Ikoi Café)
Incorporated NPO Oirase Shizen Kanko Kenkyukai (Oiken)
Address: Sungreen Bldg. #103, 11-1 Nishi 23-Bancho, Towada-shi, Aomori
yamaju
Address: 5-16 Nishi 2-Bancho, Towada-shi, Aomori