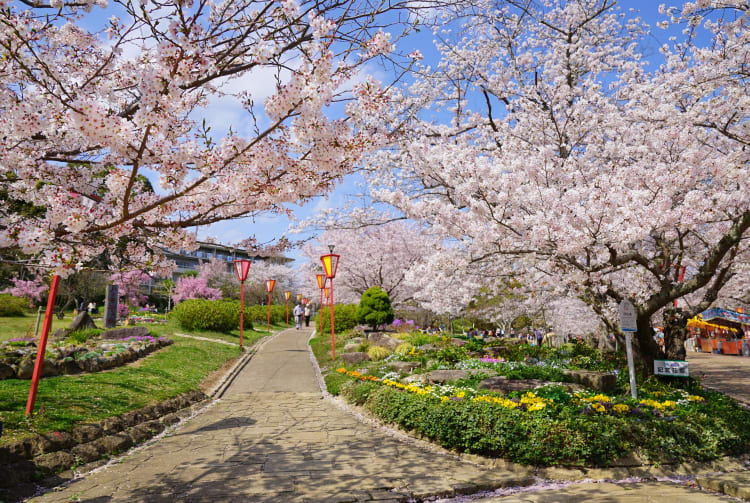 One of Hyogo Prefecture's best cherry blossom spots
Hiokayama Park is a large park in Kakogawa City near Himeji


known for its seasonal displays of cherry blossoms and hanami picnics each spring. Within the park are several burial mounds, one of which is protected by Imperial decree.
How to Get There
Reach the park by train and then a short walk.
Hiokayama Park is a five-minute walk from Hioka Station, which is on the JR Kakogawa Line that connects to Himeji Station. When the park turns pink
Hiokayama Park is a large municipal park that contains many of Kakogawa City's sporting facilities, including a baseball stadium and a football field.
The park is most famous for its seasonal display of cherry blossoms, and it becomes busy during the early part of April as locals enjoy cherry blossom picnics.
A venerable shrine and burial mounds
Near the park is Hioka-jinja, a grand shrine thought to date back to the early 8th century. There are several burial mounds associated with the shrine, some of which can be found within Hiokayama Park. Of these, the Hioka Ryo Kofun is the most important, dating to the 12th century and protected by Imperial household decree. Nature
Hiokayama Park
Kakogawa-shi,
Hyogo-ken History
Jodoji Temple
Ono-shi,
Hyogo-ken Festivals & Events
Nada Fighting Festival (Nada Kenka Matsuri)
Himeji-shi,
Hyogo-ken History
Akashi Castle
Akashi-shi,
Hyogo-ken Festivals & Events
Himeji Castle Cherry Blossoms
Himeji-shi,
Hyogo-ken History
Himeji Castle
Himeji-shi,
Hyogo-ken