Toei Kyoto Studio Park
東映太秦映画村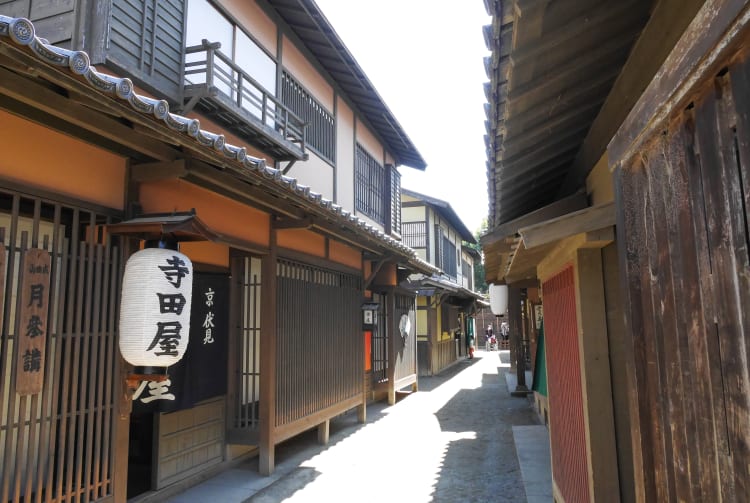 Liven things up at a fun movie theme park
Toei Kyoto Studio Park is a movie theme park and studio operated by the Toei Company, a producer of Japanese movies and television programs.
Those familiar with Edo-period culture will recognize the replica of Edo's Nihonbashi Bridge here, as well as the former Yoshiwara red light district. Walking through these traditional sets familiar with fans of Japanese films and TV period dramas is an absorbing visit to the past.
Don't Miss
The Anime Museum and its characters, which are familiar to Japanese of all ages
The park's ninja show, Clash of Ninjas!
The Oiran Parade, once a familiar scene in Kyoto
Quick Facts
Most of Japan's period films and action hero televison programs are shot here
The Uzumasu neighborhood surrounding the park has many villas that belonged to film stars of Japan's Golden Age
How to Get There
The park is best reached by train.
Toei Kyoto Studio Park is a five-minute walk from Uzumasa-Koryuji Station on the Keifuku Arashiyama Line or a 15-minute walk from Hanazono Station.
The center of Japanese filmmaking for decades
Kyoto was the hub of the Japanese film industry from the 1920s to the 1960s, after which the industry went into decline with the coming of television. The Toei Company opened the park in 1975.
Hauntings, mazes and relaxation
Besides the parallel grid of streets that depict typical parts of a Japanese medieval town, other attractions include a haunted house, a retro cafe, and a ninja maze.
Fun activities and possibilities
Various events are held throughout the day, including swordfight shows from period dramas, photo sessions with actors and swordfight classes. You may get lucky and witness the filming of an actual production within the park.
Become a period drama star
The most popular corner is the Historical Costume Disguise Corner, where you can become a period drama star with the help of professional makeup artists and costume specialists.
If you want a more casual disguise, head for the "Disguise Photo Corner," where you can wear a period drama costume over your own clothes. There are about thirty choices, including a princess, oiran (a type of courtesan), maiko (apprentice geisha), ninja, or a member of the Shinsengumi, the samurai police force in Kyoto.
Near Toei Kyoto Studio Park