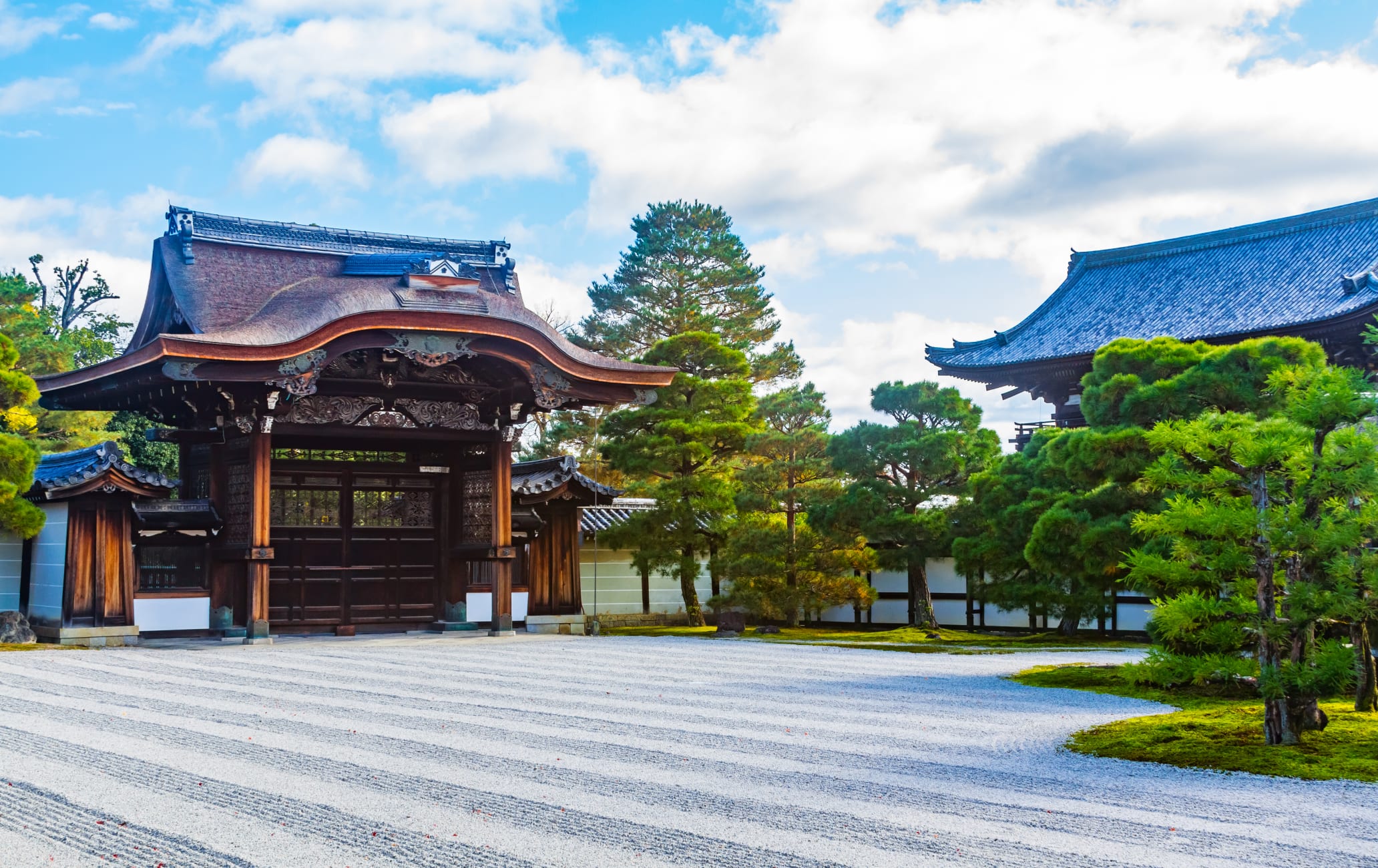 A quiet and secluded temple that offers a number of surprises
Ninnaji Temple was built at the end of the 9th century. At first, it was known as the Monsekiji and served as the residence of members of the Imperial family who entered the priesthood. Now the center of the Omuro sect of Shingon Buddhism, it was designated a World Heritage Site in 1994.
Don't Miss
The special omuro sakura cherry blossoms that bloom here during the spring
A miniature version of the Shikoku 88-temple pilgrimage in the hills behind the temple, which takes around two hours to complete
Quick Facts
The abbot was traditionally a member of the Imperial family, and his quarters are called the Goten, built in the imperial style of the Heian period
Ninnaji's first abbot was a direct student of Kobo Daishi, the legendary founder of the Shingon sect
How to Get There
Ninnaji Temple is accessible by train.
Ninnaji is a few minutes' walk from Omuro Ninnaji Station on the Keifuku Kitano Line. The temple is a 10-minute walk west of Ryoanji Temple.
A turbulent history
Much of Ninnaji was destroyed by fire in the Onin battles of the 15th century. As the reconstruction coincided with the rebuilding of the Imperial Palace at the beginning of the 17th century, the temple received imperial support, with many buildings moved here from the Imperial Palace grounds.
Among these buildings are the Kondo, designated as a National Treasure, and the Miedo, designated as an Important Cultural Property. Other Important Cultural Properties include the Niomon (a gate with Buddhist images on either side) and the five-story pagoda.
A wide variety of cultural products
The Reihokan contains some cultural treasures such as sculptures, paintings, and ancient documents. Also housed here is a seated figure of the Amida-Nyorai Buddha, who presides over Buddhist paradise. The statue is the central focus of religious worship at the temple. History
Ninnaji Temple
Kyoto-shi,
Kyoto-fu History
Ryoanji Temple Rock Garden
Kyoto-shi,
Kyoto-fu History
Kinugasa & Omuro
Kyoto-shi,
Kyoto-fu History
Myoshinji Temple
Kyoto-shi,
Kyoto-fu Attraction
Toei Kyoto Studio Park
Kyoto-shi,
Kyoto-fu History
Koryuji Temple
Kyoto-shi,
Kyoto-fu