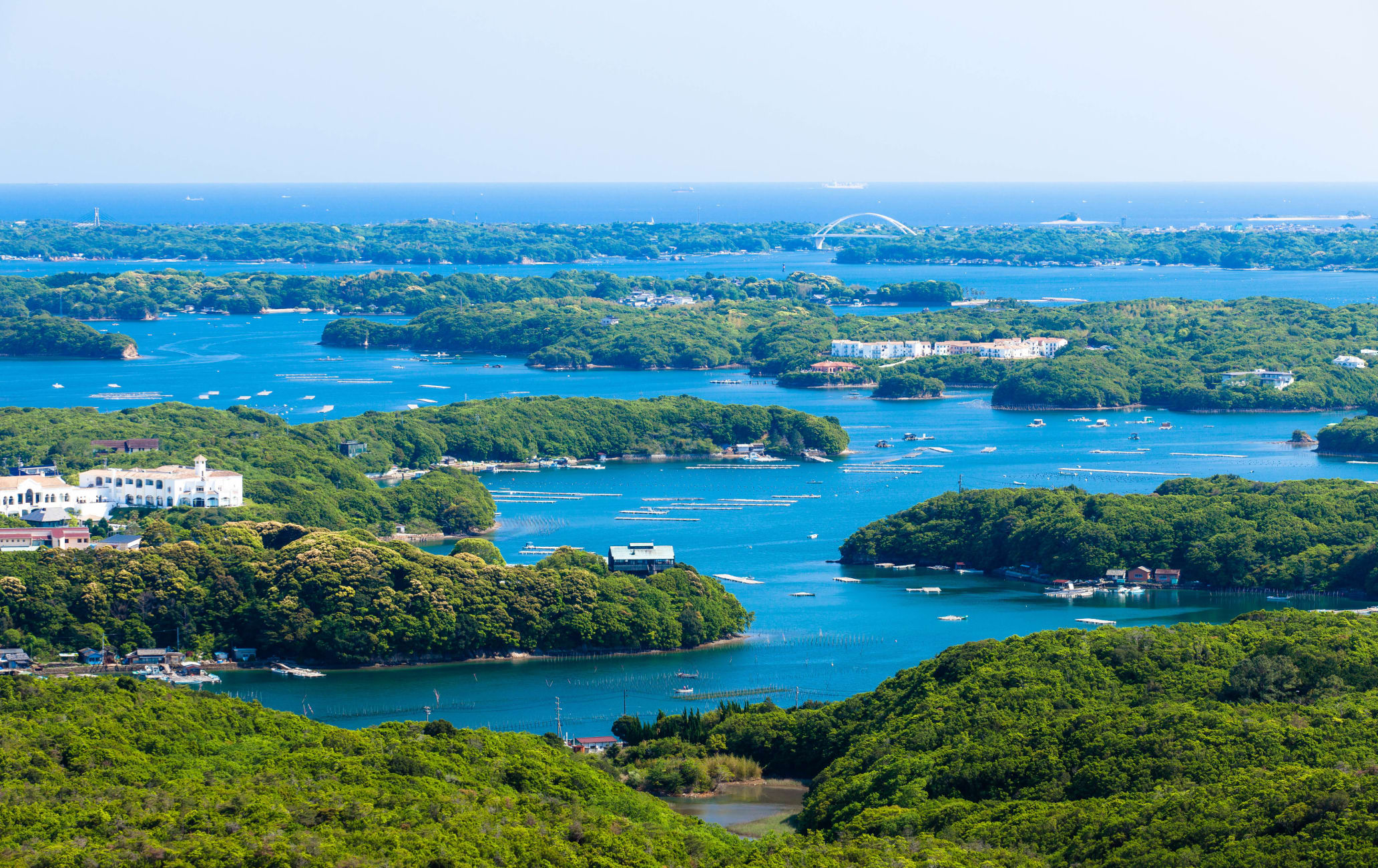 Emerald islands dot a sapphire sea rich with pearls
Ago Bay, situated southeast of Ise-jingu Shrine


, draws visitors with its majestic meandering coast, rich with verdant islands and peninsulas.
Don't Miss
Visit an Ama Diver's hut and enjoy a seafood feast with these female divers
See where beautiful pearl jewelry comes from
Enjoy breathtaking views of the jewel-like coastline
Quick Facts
There are around 60 islands in the bay
The G7 Summit was held here in 2016
How to Get There
Ago Bay is accessible by train.
The only rail link in the area is Kashikojima Station, the last stop on the Kintetsu Ise Shima Line. The journey on Kintetsu lines takes about one hour from Iseshi, two hours from Nagoya, and two hours 30 minutes from Namba in Osaka.
Spanish influence
To make a grand entrance into Ago Bay, ride the Esperanza, a Spanish pirate ship, on the Kashikojima Espana Cruise.
Why is a Spanish galleon here? Mie Prefecture has a sister state relationship with the Spanish region of Valencia, and the first European vessels to visit the area were said to look somewhat like the Esperanza.
Pearl culture
Pearls are another important part of Ago Bay's history and culture. In 1892, local pearl farmer and merchant Kokichi Mikimoto invented a way to culture perfectly round pearls here.
A ride on the Esperanza includes a visit to a pearl factory.
A mountaintop view
For a wider view of the bay and its 60-something small islands, head to the Yokoyama Observation Deck. If you don't have a car, you can take a taxi for 10 minutes from Kintetsu Ugata Station or walk 40 minutes from Kintetsu Shima-Yokoyama Station.
Legendary divers
The bay is famous for Ama Divers, women who free-dive for abalone, sea urchins, and pearls. Women are believed to have better stamina for deep diving, and though there are only a handful of traditional divers left, you can visit their bay-side huts and enjoy a fresh seafood meal. Nature Luxury Stay Luxury Stay
The Hiramatsu Hotels & Resorts Kashikojima Attraction
Shima Spain Village
Shima-shi,
Mie-ken History
Ise-Jingu Shrine (Inner Shrine)
Ise-shi,
Mie-ken History
Oharaimachi
Ise-shi,
Mie-ken