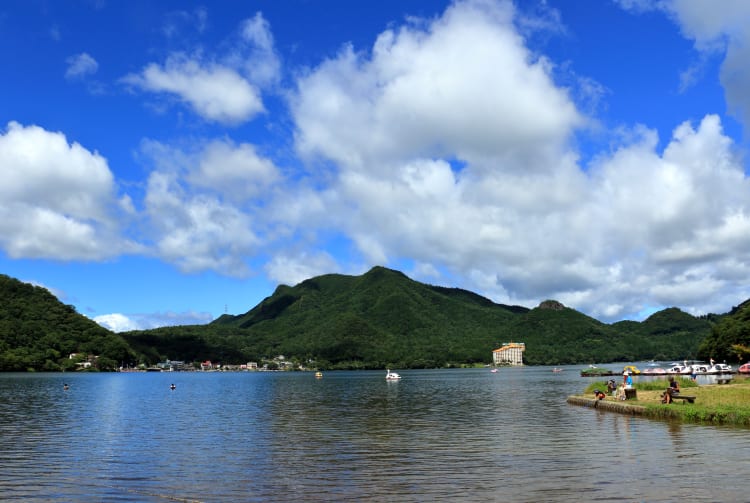 A caldera lake for all seasons
Lake Haruna sits at 1,100 meters above sea level in the caldera of a long-dormant volcano. The lake is gorgeous year-round, and you can enjoy a number of different seasonal activities. Quick Facts
Mt. Haruna is 1,449 meters above sea level
Ice fishing is available in winter
How to Get There
Lake Haruna is accessible by bus from the west exit of Takasaki Station. It is about a one-hour bus ride to Haruna-jinja and then a short walk to the lake.
If you are coming from Tokyo or Nagano, take the JR Hakutaka Shinkansen Line to Takasaki. If you are coming from Niigata, take the JR Shinkansen Max Toki to Takasaki Station.
Year-round fun
In summer, be sure you rent a bike and take a ride around the lake. If you are feeling a little more adventurous, you can also try horse-riding, camping or rent a canoe or boat and head out onto the water and enjoy some stunning views. In winter, the lake freezes over, and you can try ice-fishing and ice skating. Nature Relaxation
Ikaho Onsen
Shibukawa-shi,
Gunma-ken Attraction
Usui Pass Railway Heritage Park
Annaka-shi,
Gunma-ken Nature
Lake Usui
Annaka-shi,
Gunma-ken Attraction
Usui 3rd Bridge
Annaka-shi,
Gunma-ken Attraction
Japan Romantic Road (Nagano)
Nagano-ken