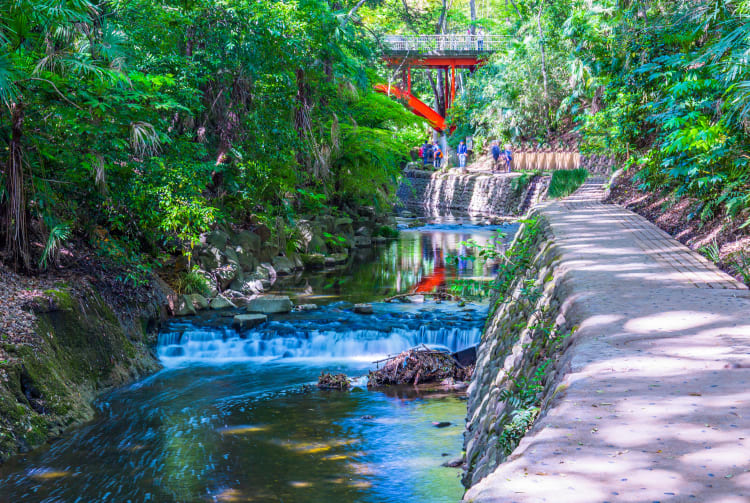 A cool, shady and untamed slice of nature in Tokyo's only valley
The Todoroki Valley is a welcome contrast to its urban surroundings. Venture through Tokyo's only valley, a 1.2-kilometer stretch of forests, waterfalls and shrines. An afternoon in this lush getaway is sure to refresh, particularly in the heat of summer.
Don't Miss
A dense forest oasis, teeming with wildlife
The quaint Setsugetsuka cafe
The picturesque shrines
How to Get There
You can easily reach the valley by train, followed by a short walk.
The Tokyu-Oimachi Line will take you to Todoroki Station. This is a very local line, so you'll probably need to transfer trains to get there, but it's only about a 20-minute ride from central Tokyo.
Just a short walk from the station you'll find steps leading down to the ravine. Walk on the wild side
When you're down in the ravine, you can hardly tell you're in Tokyo


at all. Unlike the designed and curated gardens and parks around the city, the Todoroki Valley is an untamed slice of nature. A narrow path takes you right along the Yazawa River and natural foliage. As if this wasn't serene enough, you'll also spot some small waterfalls. A legendary setting awaits
Shrines and a temple complete your storybook adventure. Move through the jungle-like gorge until you see one of these picturesque structures. Chigo Daishi Mieido Shrine has natural spring water you can rinse your hands with, and offers great views of the gorge. Rest up at the Setsugetsuka cafe and try some lovely matcha refreshments. Nature Festivals & Events
Tokyo Jazz Festival
Tokyo-to Culture Festivals & Events
Ikegami Honmonji Temple Oeshiki Ceremony
Tokyo-to History
Ikegami Honmonji Temple
Tokyo-to Festivals & Events
Nakameguro Cherry Blossoms
Tokyo-to