Sendai Pageant of Starlight
SENDAI光のページェント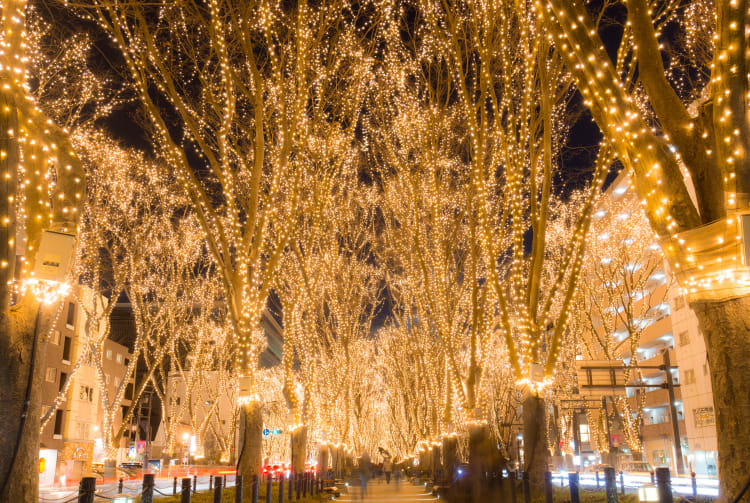 A dazzling winter evening light
Every year in December, Sendai


battles the bitter cold and darkness of winter with one of Japan's largest holiday illuminations, aptly named the Sendai Pageant of Starlight.
How to Get There
You can reach the illumination from Sendai Station by subway or on foot.
The illumination takes place on Jozenji-dori Street, between Nishi-koen Park and Kotodai-koen Park.
By subway, go to the Kotodai-koen Station, which is two stops from Sendai Station on the Namboku Line towards Izumi-Chuo. The ride takes about three minutes.
If you don't mind braving the chilly winter winds, the illumination is a 20-minute walk from Sendai Station. Prepare to be dazzled and mesmerized
The Sendai Pageant of Starlight, which began in 1985, is now famous nationwide as one of Japan's most spectacular winter illuminations.
Go for a stroll down the Tunnel of Illumination, with 600,000 lights strung across four rows of towering zelkova trees along Jozenji-dori Street. At this time of year light snowfall adds to the atmosphere.
Don't miss the smaller but more colorful light displays across the street at the Kotodai-koen Park. Go skating at the seasonal ice rink set up at the Shimin Hiroba Square, and then warm up inside one of the pop-up beer tents. Star of the show
A definite highlight is the "Starlight Wink." Three times every evening the street will be momentarily plunged into darkness when all 600,000 lights are switched off. Then all at once the lights will flicker on and return to their shimmering brilliance.
If you can only make it for one night, go on December 23 when 400 Santa Clauses parade down the streets in a special event called "Santa's Forest Story."
Near Sendai Pageant of Starlight Festivals & Events
Sendai Pageant Of Starlight
Sendai-shi,
Miyagi-ken Festivals & Events
Jozenji Street Jazz Festival
Sendai-shi,
Miyagi-ken Attraction
Aoba-Dori Avenue
Sendai-shi,
Miyagi-ken Festivals & Events
Sendai Tanabata Festival
Sendai-shi,
Miyagi-ken History
Zuihoden Mausoleum
Sendai-shi,
Miyagi-ken Attraction
Sendai City Museum
Sendai-shi,
Miyagi-ken