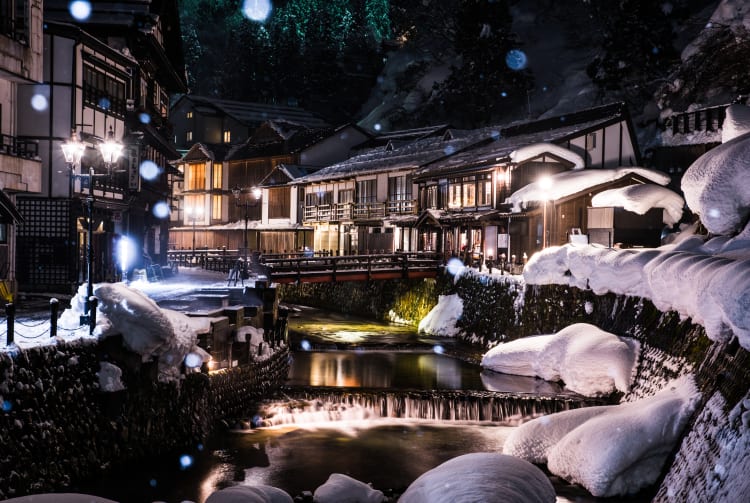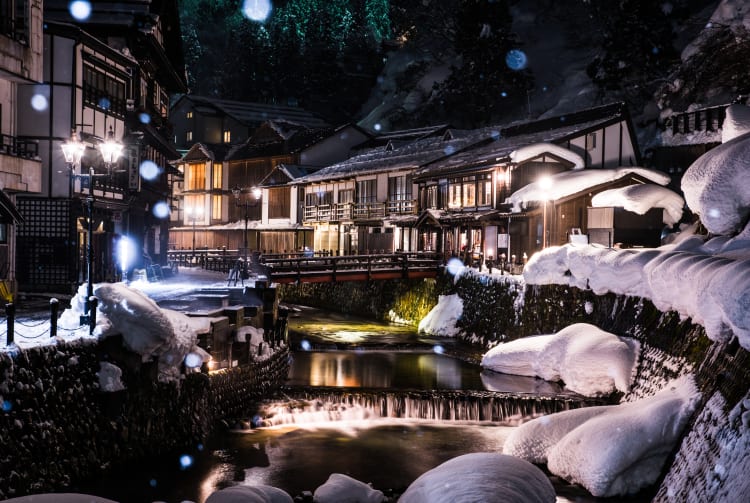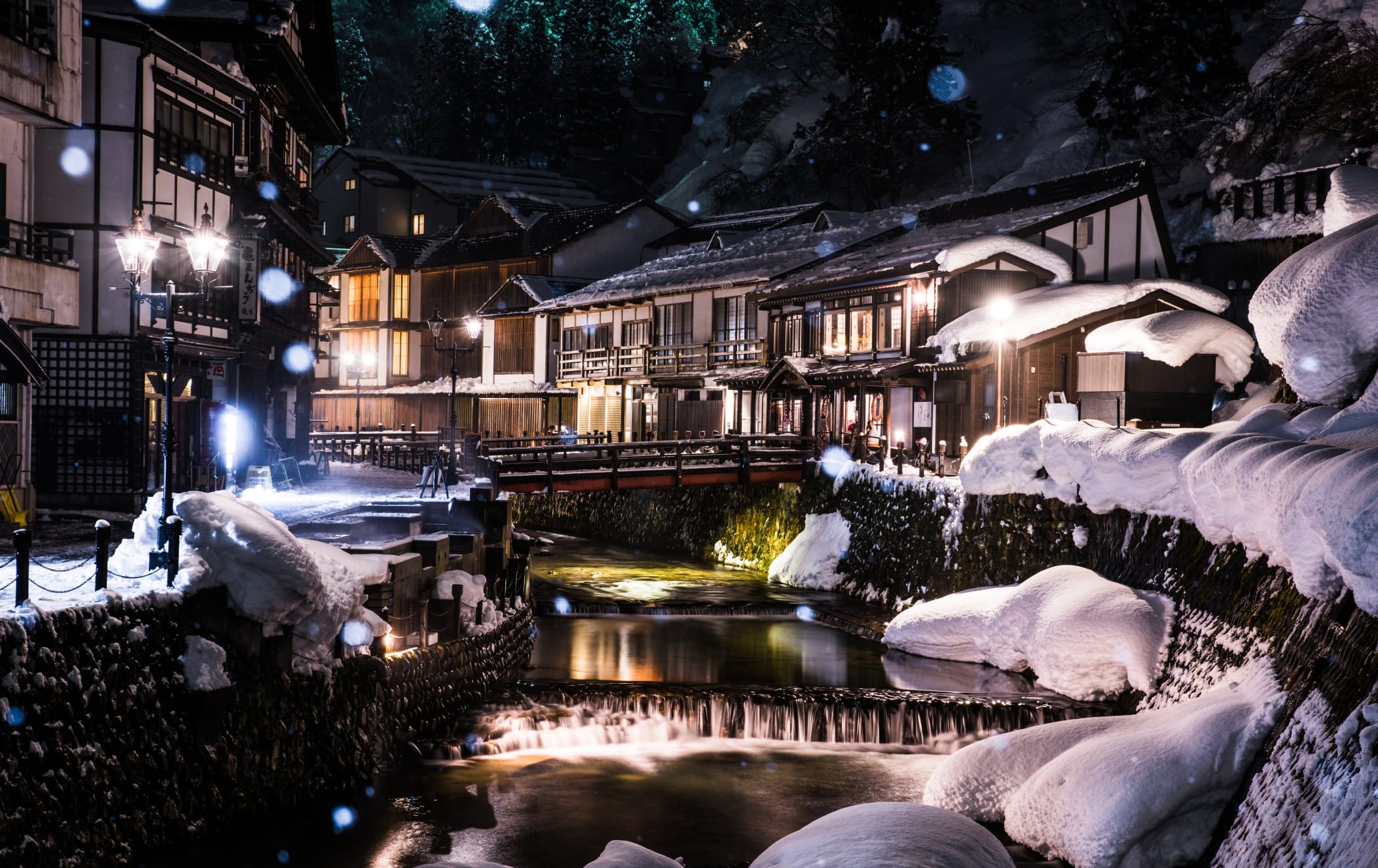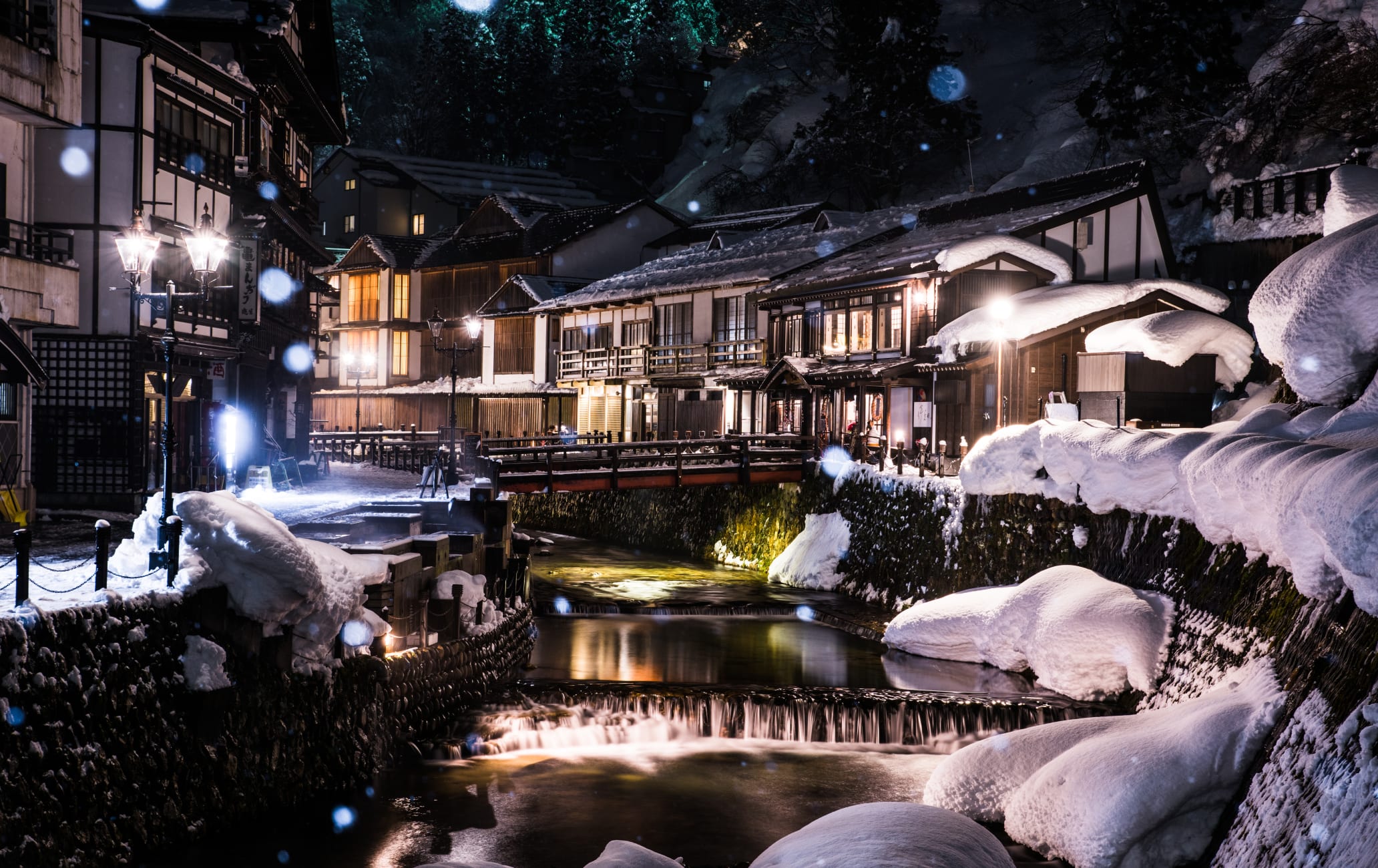 Unwind, relax and step back in time
Founded on the site of a former silver mine in rural Yamagata, Ginzan Onsen Hot Spring caters to discerning guests with a taste for old-world atmosphere.
Traditional inns line the river to create picturesque scenes more evocative of a Taisho period (1912-26) novel than a modern resort. It's a long way from big city life and well worth the trip.
Don't Miss
Stroll along Ginzan River and the town's pedestrianized streets in your yukata
Visit Shirogane Park and cool yourself by its waterfalls
Stay overnight and dine at one of Ginzan Onsen's many hot spring inns
Take an outdoor rotenburo bath or enjoy a private kashikiri soak How to Get There
Ginzan Onsen can be accessed by a combination of JR trains and buses.
From Tokyo, take the JR Yamagata Shinkansen to Oishida Station (three hours, 20 minutes), then catch a bus to Ginzan Onsen (35 minutes). The train is covered by the Japan Rail Pass


, but the bus is not. Be aware that buses only depart Oishida Station every 60-90 minutes.
Visitors traveling by car are required to park at a designated parking area outside the town center. Many inns offer a shuttle service into town from the lot. Get to know the onsen-kyo
Popular among Japanese travelers, the term onsen-kyo is associated with small, quaint towns and cozy inns that offer accommodation, food and hot spring bathing. As weekend retreats, they are popular with all age groups, from young families to retirees. This cherished aspect of travel in Japan often goes unnoticed by foreign visitors, so live like a local and dive into onsen-kyo culture. The area is a car-free town center with no modern buildings in sight.
Having checked into one of the town's many inns, visitors walk the streets without the usual concern of cars zipping past to beat the traffic light.
In the proud tradition of Japanese inns, Ginzan Onsen's ryokan offer up sumptuous local dishes to meet the standards of their mostly Japanese clientele.
Such stuff as dreams are made of
Beautiful buildings surrounded by an unspoiled rural setting ensure that Ginzan Onsen is pleasant all year round. Long summer days are perfect for lazy strolls down idyllic streets in a yukata. In winter, the town really works its magic. The sight of the buildings blanketed in snow and illuminated by the soft glow of gaslights leaves a lasting impression. Many Japanese visitors come to Ginzan Onsen in search of its Taisho period ambience. Anyone familiar with Mishima Yukio's novel 'Spring Snow' will delight at how the setting blends traditional Japanese aesthetics with what was once seen as modern sophistication. The gaslights and absence of motor vehicles help maintain the atmosphere. The finer points of hot spring bathing
Rotenburo are outdoor baths-usually hidden from outside view-which allow you to take in the surrounding scenery from the comfort of a hot spring. Another attractive option is arranging a kashikiri session in a private bath, whereby you and traveling companions can have a tub all to yourselves for a short time. Silver everything
Unsurprisingly for a town founded on a silver mine, Ginzan Onsen takes both its name (literally, Silver Mountain) and iconography from the element. The popular Shirogane Park boasts an impressive 22 meter tall waterfall, and you'll also find an illuminated cave which is well-lit and ideal for taking pictures. Old meets new meets old
Ginzan Onsen's one notable concession to modernity is the Fujiya ryokan, a striking building designed by famed architect Kuma Kengo. With a blend of modern and traditional elements, including the incorporation of bare timber and white plaster, it stands out from its surroundings while also keeping one foot firmly in the past.
* The information on this page may be subject to change due to COVID-19.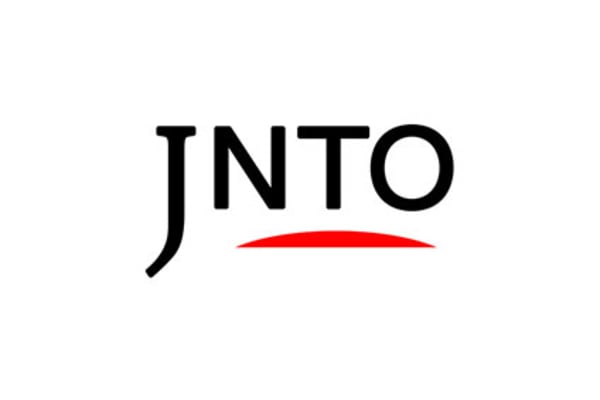 Relaxation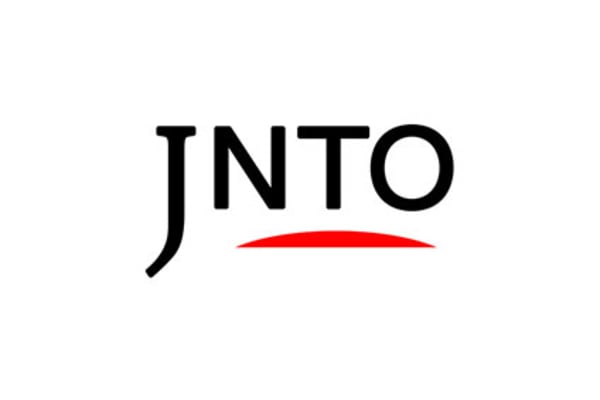 Nature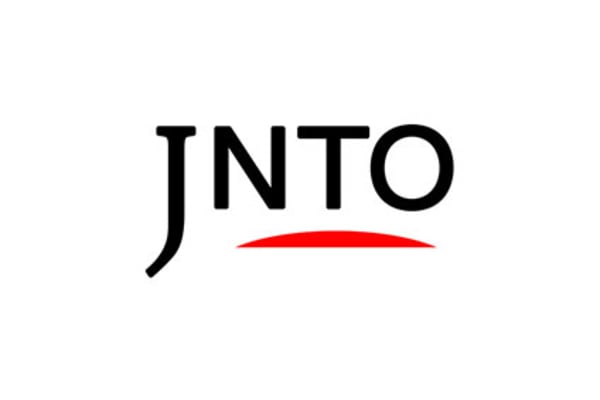 Nature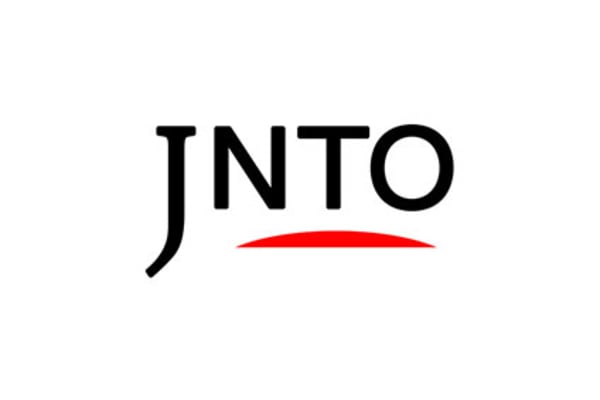 Nature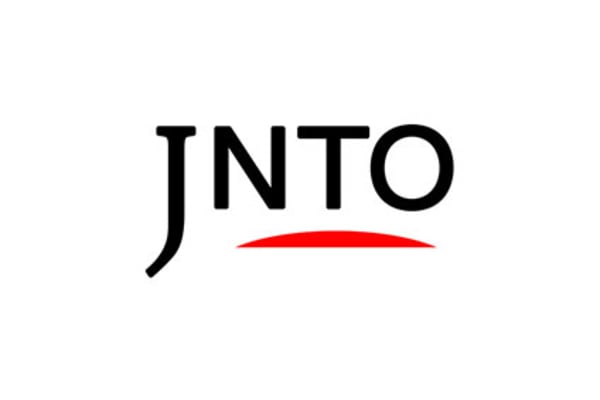 Nature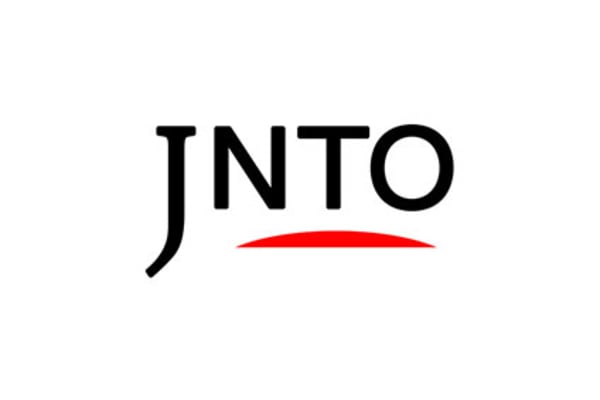 Relaxation