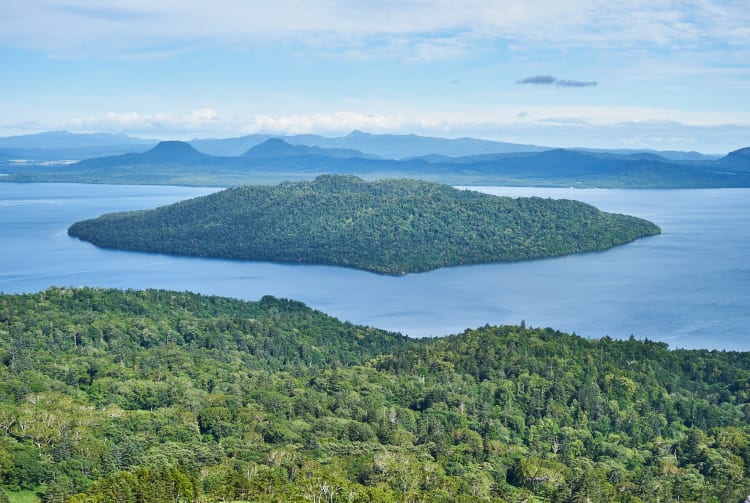 Breathtaking views of Lake Kussharo, Japan's largest crater lake
Winding roads and hairpin bends take you up to Bihoro Pass, a mountain pass and observatory overlooking beautiful Lake Kussharo. Situated at the halfway point between the towns of Bihoro and Teshikaga, this is a great spot to stop, stretch your legs, and admire the panoramic views.
Don't Miss
The short hike to the higher observatory for the best photos
The early morning sunrises in summer and autumn
The stunning frozen wilderness in winter
How to Get There
You can reach the pass by car or local bus.
The pass is 30 minutes by car from the towns of Bihoro or Teshikaga and 45 minutes from Memanbetsu Airport. This is also a popular route for bicycle touring.
Local bus services between Teshikaga and Bihoro, stopping at Bihoro Pass, only run from late July to early October. You will likely need to buy a multi-day pass. A sea of clouds and soaring eagles
Hokkaido's cool nights trap water vapor close to the ground in summer and autumn. Visit Bihoro Pass on an early morning, and you may be rewarded with some spectacular views of white clouds covering the entire Kussharo Lake caldera.
Be sure to watch for soaring eagles and families of deer as you walk up to the observation point. If you are not an early riser, the sunsets are considered equally magnificent, as are visits on clear blue sky days. Nature
Bihoro Pass
Bihoro,
Hokkaido Nature
Mt. Iozan
Teshikaga,
Hokkaido Nature
Akan-Mashu National Park
Kushiro-shi,
Hokkaido Luxury Stay Festivals & Events
Marimo Festival
Kushiro-shi,
Hokkaido Nature
Lake Mashu
Teshikaga,
Hokkaido