Former Hokkaido Government Office
北海道庁旧本庁舎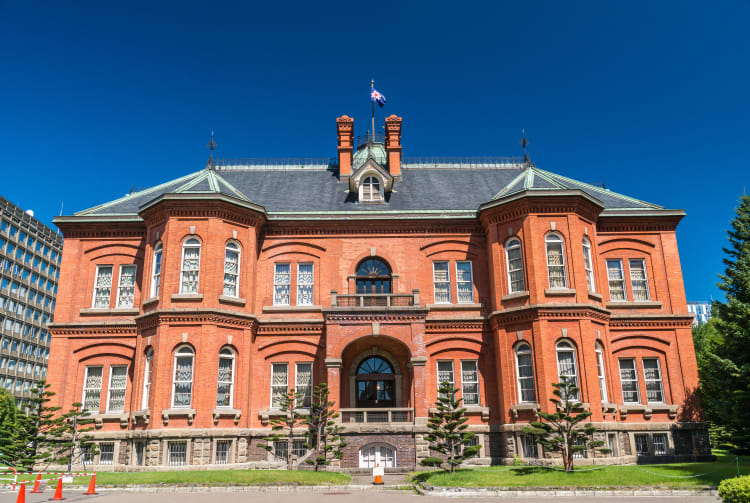 The building that symbolizes Hokkaido and its history
The Former Hokkaido Government Office is a red-brick building built in 1888 in the American neo-baroque style. An iconic symbol of Hokkaido, it houses historic exhibitions, a museum shop, a tourist information office, and a conference room.
The historical displays and art exhibitions on the first and second floors
Seasonal events, like Yosakoi dancing in front of the building
The outdoor food and market stalls in front of the gardens in the summer
How to Get There
The Former Hokkaido Government Office is only a four-minute walk from exit 10 of Sapporo Station or eight minutes from the west exit. Quick Facts
The building was modeled on the Massachusetts State House in the United States
Around 2.5 million bricks were used in its construction
When completed, it was one of the tallest, largest buildings in Japan at 33 meters
The false chimneys are actually air vents
Hokkaido's famous red-brick building
What makes the Former Hokkaido Government Office so interesting is its unusual architectural features. Details such as its massive double doors and warped glass are rare in Japan.
These features are not only aesthetic; the double doors are designed to keep out the cold of the Hokkaido winter. Likewise, the darker bricks used for the lower part of its outer walls were heated at higher temperatures to withstand greater pressure. Feel the atmosphere of Meiji Japan
The Former Hokkaido Government Office houses several facilities open to the public that are free to enjoy. In addition to a library and historical archive, visit the Gallery of Hokkaido History, showcasing the history of Japan's northern island. You can also visit the former governor's office and enjoy the artwork on display throughout its halls. Near Former Hokkaido Government Office Attraction
Former Hokkaido Government Office
Sapporo-shi,
Hokkaido Luxury Stay Festivals & Events
Yosakoi Soran Festival
Sapporo-shi,
Hokkaido Festivals & Events
Sapporo Snow Festival
Sapporo-shi,
Hokkaido Other
Sapporo Station
Sapporo-shi,
Hokkaido Festivals & Events
Sapporo White Illumination
Sapporo-shi,
Hokkaido