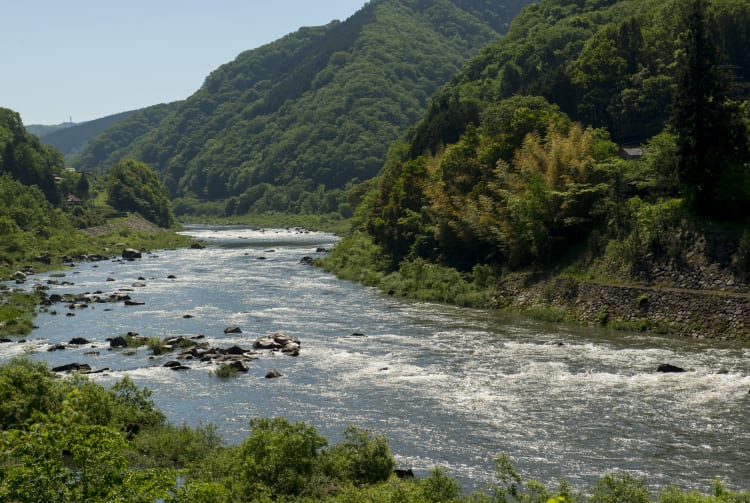 Pristine river valleys, nature trails and cycling plus quirky museums and festivals
At 194 kilometers, the Gonokawa is the longest river in western Honshu, with a watershed of almost 4,000 square kilometers that contains no industry at all.
The pristine waters of this river pass through some of the least-inhabited countrysides in Japan. This is where the way of life, traditions, and customs that many Japanese believe have disappeared still survive.
Quick Facts
There are many traditional festivals
There are many waterfalls along the trails
The river is home to one-meter-long giant salamanders
How to Get There
The Sanko Line runs from Gotsu Station and winds up the river to Miyoshi in the mountains of Hiroshima. It is slated to be closed but will be replaced by a bus service.
Being a river valley and therefore mostly flat, the Gonokawa makes a fantastic cycle ride.
Venture beyond the guidebooks
For those willing to venture beyond the guidebooks, the region is incredibly naturally beautiful. Visit Dangyokei Gorge with its sheer, 200-meter-high cliffs, or Senjyokei Gorge where a walk of less than an hour will pass by a dozen waterfalls, both along the Chugoku Nature Trail.
There are a surprising number of museums too, like the Imai Art Museum, a small but modern building showcasing traditional Japanese art, or the fabulous Mizunokuni, packed with modern kinetic art and installations devoted to water.
Not far away the Hanzake Museum will introduce you to one of the strangest inhabitants of the area, the one-meter-long giant salamander.
Colorful and lively festivals
Without shopping malls, movie theaters, pachinko parlors or many of the other distractions of contemporary society, traditional celebrations are still a major pastime of the people here and mark the cycles of the year.
Tauebayashi is a colorful ceremony with dozens of maidens clad in traditional costumes planting rice to the accompaniment of drums, songs, and flute.
Mushiokuriodori is held when the rice is growing and involves a straw effigy of the famous samurai Saito Sanemori with songs and dance to drive away insects.
There's also the Suijin Matsuri, a boat festival to pacify the deities of the river, and Jinohi Matsuri, where villagers race down the street carrying five-meter-high umbrellas weighing 50 kilograms. Nature
Gonokawa River
Shimane-ken Attraction
Iwami Ginzan Silver Mine (Ryugenji Mabu Mine Shaft)
Oda-shi,
Shimane-ken History
Iwami Ginzan
Oda-shi,
Shimane-ken History
Omori
Oda-shi,
Shimane-ken Relaxation
Yunotsu
Oda-shi,
Shimane-ken Art & Design
Nima Sand Museum
Oda-shi,
Shimane-ken