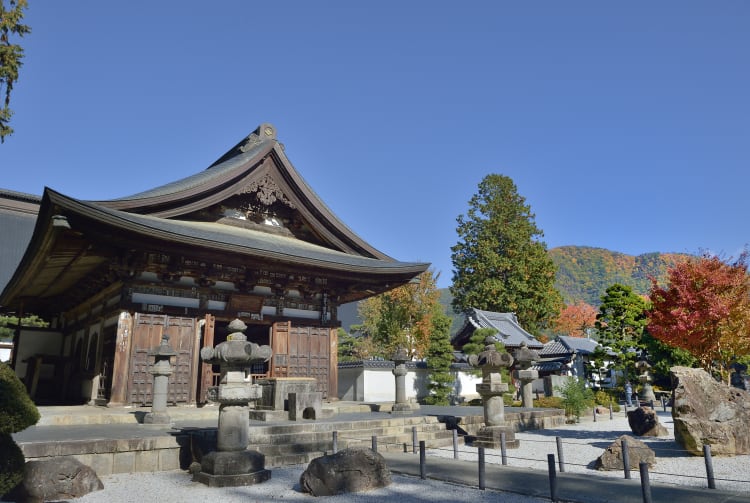 A spiritual retreat from the pressures of everyday life
Erinji Temple is a minimalist temple surrounded by gardens that captivate visitors. Visit in mid-November for spectacular autumn foliage.
Don't Miss
The 700-year-old garden designed by Muso Kokushi
The nightingale floors that announce your arrival to a resting warrior
Attending private Zen training, which is available upon request
How to Get There
Take the Nishizawa-keikoku-bound bus from the south exit of JR Enzan Station.
Erinji Temple is located in central Yamanashi. Rail access is via the JR Chuo Line which runs from JR Shinjuku Station to JR Matsumoto Station.
JR Enzan Station is under 1.5 hours from JR Shinjuku Station by express train on the JR Chuo Line. From Enzan take the Nishizawa-keikoku-bound bus from the south exit of JR Enzan Station and get off at the Erinji-mae stop.
Nightingale floors and tapestries
Erinji Temple's subtle beauty is exemplified in its understated tapestry hanging before the main altar. At the main temple, the sliding shoji (Japanese paper) doors open to reveal a large and impressive garden.
To the left of the main temple building there is an annex that leads to the final resting place of Takeda Shingen, one of the greatest warriors from Japan's Warring States during the 15th and 16th centuries.
The approach to his grave has a nightingale floor that announces your every movement to the resting warrior.
Continuing through the gates
Don't stop at Erinji Temple, rather, explore the surrounding village of Goyashiki. You will be delighted by this hidden gem of a village tucked away on a hilltop in Koshu City, especially in November when the autumn leaves turn bright colors. History
Erinji Temple
Koshu-shi,
Yamanashi-ken History
Takeda-Jinja Shrine
Kofu-shi,
Yamanashi-ken Nature
Shosenkyo Gorge
Kofu-shi,
Yamanashi-ken Festivals & Events
Shingenko Festival
Kofu-shi,
Yamanashi-ken Art & Design
Yamanashi Prefectural Museum Of Art
Kofu-shi,
Yamanashi-ken Attraction
Suntory Tominooka Winery
Kai-shi,
Yamanashi-ken