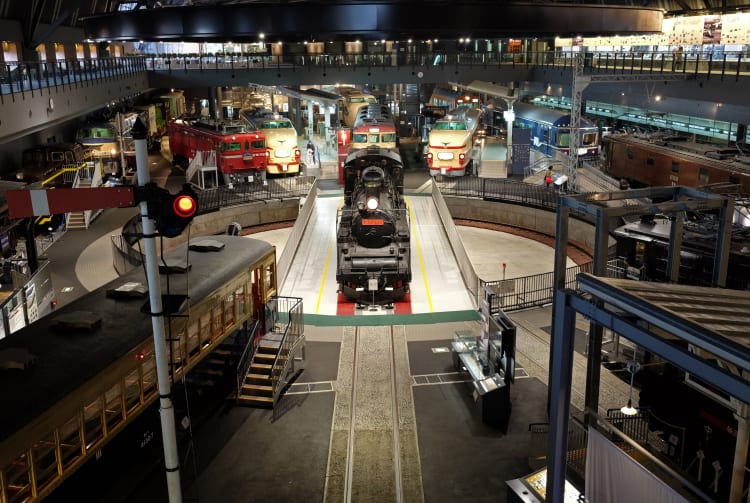 Japan's largest museum devoted to all things locomotive
Japan is a nation connected by rail, and the Railway Museum is a celebration of the country's rich train culture. Not only is the museum filled with both models and actual trains, but also interactive displays covering both the history and technology of rail travel, providing a fascinating look into all things railroad related.
Don't Miss
Massive full-scale models of historic trains
A realistic steam train stimulator
Interactive educational opportunities and play areas for kids
How to Get There
The Railway Museum overlooks Tetsudo Hakubutsukan Station which connects to Omiya Station via the New Shuttle service.
Several commuter lines run from Tokyo Station


to Omiya Station (about 30 minutes), including the JR Takasaki and JR Utsunomiya lines. While the JR Keihin-Tohoku Line also services Omiya Station, this journey takes double the time.
From Shibuya, Shinjuku and Ikebukuro stations, reach Omiya Station via the Shonan Shinjuku and Saikyo lines in roughly 30 minutes. Make tracks for the museum
An unforgettable experience for kids and adults, the Railway Museum is arguably Japan's best spot for seeing trains up-close and learning everything there is to know about the country's railways. A massive 28,000-square meter facility, there are three floors with six different zones to explore.
Traveling through Japan's locomotive history
See railroad cars from throughout Japan's history, including old steam trains, freight cars, passenger cars, and the world's first bullet train. Venture inside some of these train cars and view others from underneath to see how they work. Model train heaven
One top-rated attraction is the museum's diorama in the Entrance Zone, sure to thrill any model train enthusiast. It's one of Japan's biggest train dioramas at about 23 meters wide and 10 meters deep. As the diorama is not enclosed, you can get a close look at its realistic detail. The diorama was renovated and unveiled in the summer of 2017.
Education and training
The first floor's Learning Zone features a carriage factory where you can take part in assembling and disassembling train carriages. At the learning laboratory, learn about the duties of station staff and have a go yourself.
Getting hands on
The second and third floors of the museum offer displays, models, and hands-on educational opportunities covering all aspects of how trains work. Simulators allow you to experience what it's like to ride on a historic train. The most popular is the realistic steam locomotive simulator; be prepared to line up. Full steam ahead
Additionally, there are video booths, artifacts such as old signs and uniforms, and books about the science and history of trains. The second floor boasts Japan's largest HO scale model display.
A gift shop, gallery and the Teppaku Reading Room are in a recently remodeled wing. The North Wing features a play area for kids as well as an outdoor playground called Teppaku Hiroba.
The future looks bright
Managed by JR East, the museum was opened in 2007 to commemorate Japan Railways' 20 years as a private company. Renovations are still ongoing, so no matter when you visit there will be something new to discover. Attraction
Railway Museum
Saitama-shi,
Saitama-ken Nature
Omiya Park
Saitama-shi,
Saitama-ken History
Hikawa-Jinja Shrine
Saitama-shi,
Saitama-ken Culture
Omiya Bonsai Village
Saitama-shi,
Saitama-ken Art & Design
Omiya Bonsai Art Museum
Saitama-shi,
Saitama-ken Art & Design
Saitama Museum Of Modern Art
Saitama-shi,
Saitama-ken