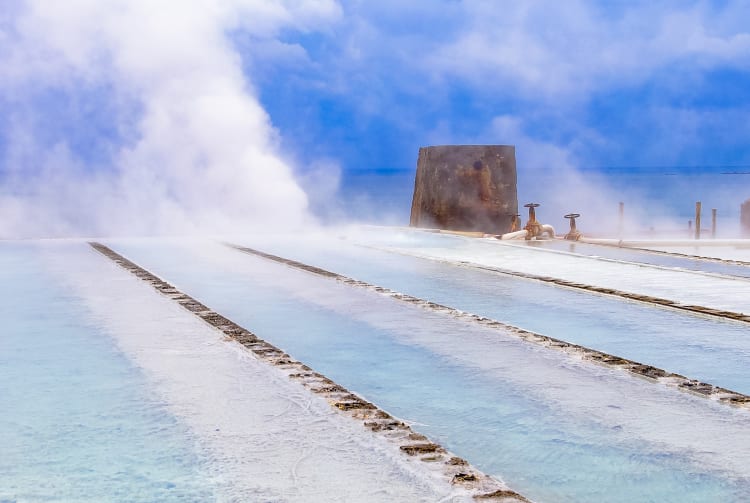 Hot healing sands and onsen by the sea, with a mystery isle you can reach only at low tide
Ibusuki Onsen is one of Japan's more unusual spa getaways, famous for its pairing of steamy sand baths on the beach and more conventional open-air hot springs nearby. Dressing in a light cotton kimono and having hot sand shoveled over you up to the neck is a singular experience said to cleanse the blood.
Not far off Ibusuki's coast is an islet called Chiringashima. Linked by a sandbar to the mainland briefly during the day, and only between October and March, it's a matchmaking spot. Besides the romantic aspect, there's plenty for beachcombers and hikers to explore here.
Don't Miss
Getting buried in one of the town's invigorating sand baths
Strolling from the mainland to Chiringashima
Learn about the town's local pottery at the Satsuma Denshokan Museum
How to Get There
Ibusuki is connected to the nearby main city of Kagoshima


by train; travel covered by the Japan Rail Pass. Buses also run regularly between the two cities.
From Kagoshima Chuo Station you can take the express or local trains to Ibusuki Station. If you're traveling from Tokyo or Osaka, flying to Fukuoka Airport is the quickest option. From nearby Hakata Station, you can make the rest of the journey by the Kyushu Shinkansen and JR Limited Express Ibusukimakurazaki Line.
A hot sand detox
Ibusuki is Kagoshima's most famous hot spring resort well known for its excellent seaside location and sunamushi hot sand baths, a style of bathing said to have become popular over 300 years ago. The sand is naturally heated by volcanic steam. A singular spa experience
After changing into a cotton yukata, go down to the sand bath area and you will be led to your spot by the friendly staff. As soon as you lie down in the sand pit you can feel the warmth, but that's just the beginning. The staff will cover you up to the neck in a layer of the sand.
The sand reaches temperatures of around 50-55°C, and sweating is a given, but that accelerates your body's ability to rid itself of toxins. Around 10 to 15 minutes is enough time for the full effect, although some stay under longer. This treatment opens the pores, improves circulation, and increases blood oxygen levels. Afterward, head inside to the regular hot spring baths to rinse off the sand and soak in the cleansing and equally beneficial onsen waters. Add a little infinity to your perspective
If you are still hungry for another slice of hot spring heaven, visit Healthy Land Tamatebako Onsen for a dip in an outdoor bath with incredible views of Mt. Kaimon


. The gender-separate open-air infinity-pool style baths both feature stunning panoramic views of the ocean and the mountain's graceful slopes. Discover the city's ceramic history
The Satsuma Denshokan Museum, set on the grounds of Hotel Hakusuikan, was specifically designed to showcase the history of Satsuma (modern-day Kagoshima). The museum focuses on local ceramics mainly crafted during the early Meiji period (1868-1912).
A sleepy rural onsen town
A trip to nearby Unagi Onsen, a real rural onsen town, is a worthwhile excursion. Unagi Onsen is a laidback little village dotted with many small family-run hot springs. Rebel and last samurai Saigo Takamori loved this little town, and the chilled countryside atmosphere is a perfect backdrop for ultimate relaxation. Relaxation
Ibusuki Onsen
Ibusuki-shi,
Kagoshima-ken Nature
Flower Park Kagoshima
Ibusuki-shi,
Kagoshima-ken Attraction
Tosenkyo Somen Nagashi
Ibusuki-shi,
Kagoshima-ken Nature
Mt. Kaimon
Ibusuki-shi,
Kagoshima-ken Nature
Osumi Peninsula
Kimotsuki-gun,
Kagoshima-ken History
Chiran Peace Museum
Minamikyushu-shi,
Kagoshima-ken