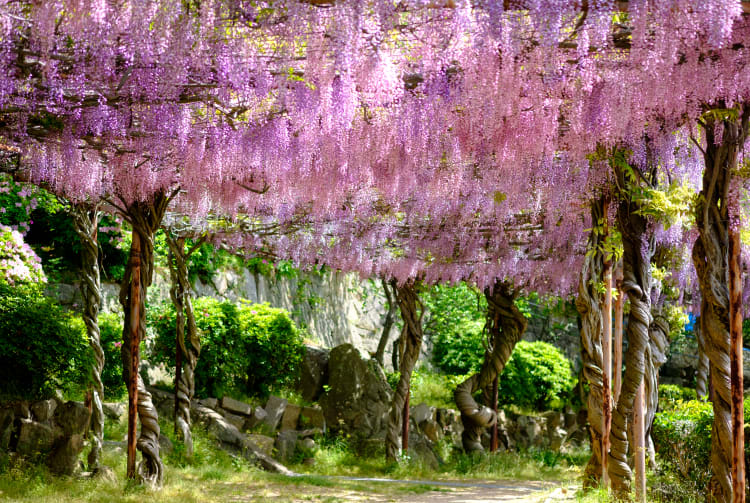 An amazing view, stunning surroundings, and a cable car
To get the best possible view of the Senkoji Park area, head to the summit of Mt. Senkoji, the home of Senkoji Temple. For those not wishing to hike, there is a quaint ropeway or cable car that gently whisks you to the top.
The 361-meter ride offers amazing views, and although it is popular all year, peak season is in the spring, which coincides with the blooming of cherry blossoms on the 10,000 trees on the mountain.
Don't Miss
The Lovers' Sanctuary, a small park with a red, heart-shaped path
Petit Anon, a small French-style cafe with great views and delicious food
How to Get There
The park can be accessed by train plus a walk or taxi ride.
Take the train from Hiroshima Station to Fukuyama Station. Switch to the JR Sanyo Line to Onomichi Station. A pleasant walk to the park from the station takes around 20 minutes.
The path of literature
One of the most popular attractions is the Path of Literature, which contains stones engraved with the musings of famous poets and authors. There are 25 monuments to these amazing writers, including Hayashi Fumiko, Matsuo Basho, and Shiga Naoya.
A walking route for film buffs
Nobuhiko Obayashi, a director born in the city in 1938 with 40 directorial credits to his name, is a local hero in Onomichi


. Many of his films have featured landmarks from his hometown, and diehard fans have set up pilgrimages to visit the shrines and temples featured in his work. Nature
Senkoji Park
Onomichi-shi,
Hiroshima-ken History
Innoshima Suigun Castle
Onomichi-shi,
Hiroshima-ken Art & Design
Hirayama Ikuo Museum Of Art
Onomichi-shi,
Hiroshima-ken History
Kosanji Temple
Onomichi-shi,
Hiroshima-ken History
Myooin Temple
Fukuyama-shi,
Hiroshima-ken Attraction
Shimanami Kaido (Ehime)
Ehime-ken