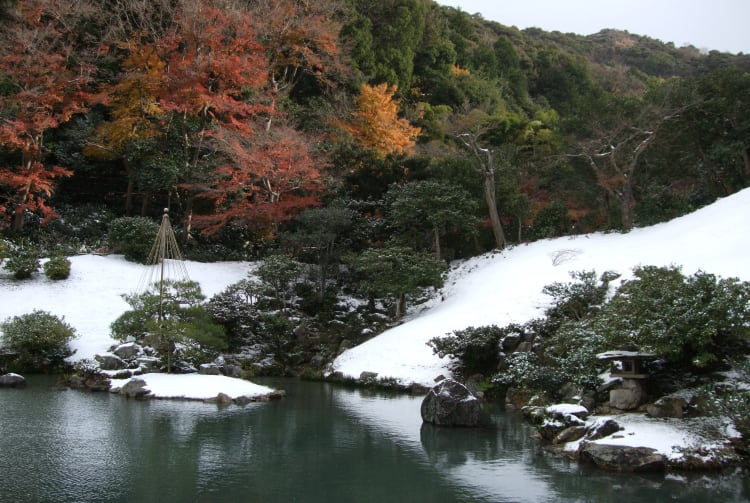 Temple of tranquility
View the Japanese-style landscape garden, the focal point of this sacred place, from the terrace of Kannonin Temple. Around the large pond in the center are a manicured lawn and pine trees, and in the center are rock islands representing a crane and a turtle.
Contemplate the beauty of the garden with a bowl of matcha tea. How to Get There
From Tottori Station, take a 100-yen Kururi bus on the Red Line. Get off at Nakamachi and walk a further five minutes.
On foot, Kannonin is a 20-minute walk from Tottori Station.
History
Kannonin is a temple of the Tendai sect of Buddhism and was constructed in the 1630s at the request of the ruling Ikeda clan. Such was the attention to detail that the garden took 10 years to complete. The Ryugujomon gate
The entrance to the temple is also a thing of beauty. The Ryugujomon gate's design is based on the entrance to the legendary undersea palace of the dragon god, Ryujin. History
Kannonin Temple
Tottori-shi,
Tottori-ken History
Tottori Castle Ruins (Kyusho Park)
Tottori-shi,
Tottori-ken Attraction
Jinpukaku Guest House
Tottori-shi,
Tottori-ken Festivals & Events
Shanshan Festival
Tottori-shi,
Tottori-ken Art & Design
Sand Museum
Tottori-shi,
Tottori-ken Nature
Tottori Sand Dunes
Tottori-shi,
Tottori-ken