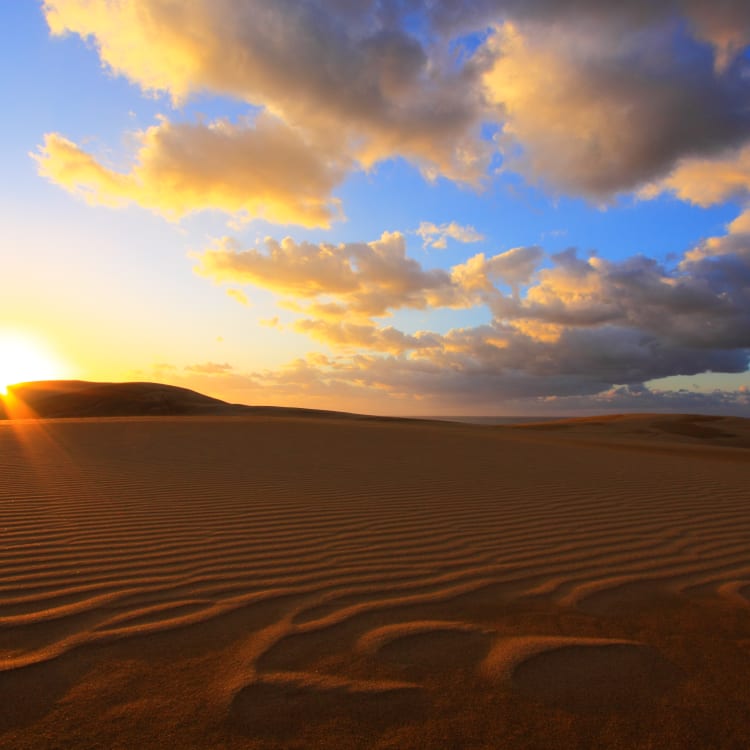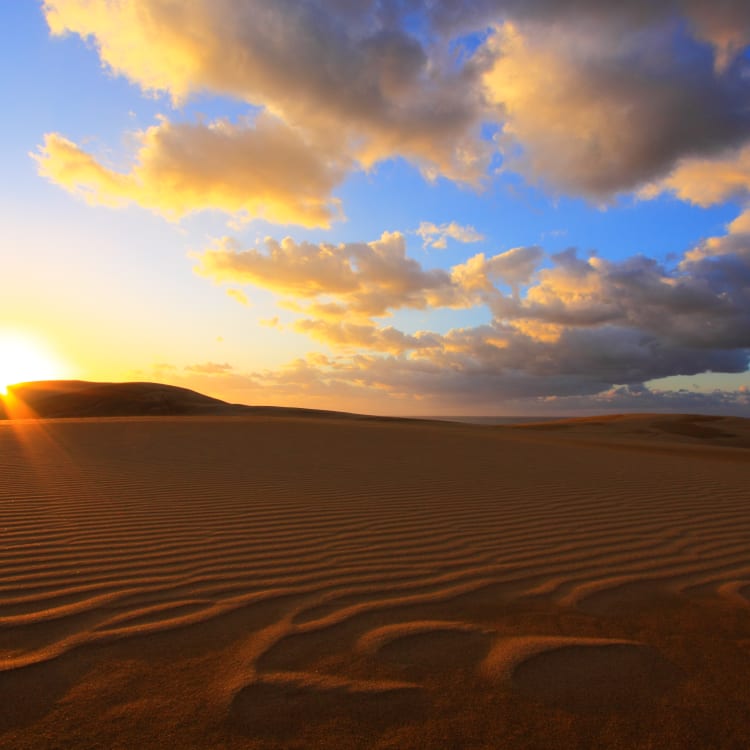 STORY
A Scenic Journey in Western Japan: From Kyoto to Tottori
[Sponsored]
Travel from coast to coast, soaking in the scenic beauty of Kyoto, Tottori, Kinosaki, Okayama, and Osaka
Japan is easy to explore, thanks to the web of rail and road connections that cover the country. Landing at Kansai International Airport (KIX), you can be in Kyoto in about 75 minutes by the Limited Express Haruka train. Outside the major cities, Tottori Prefecture offers the chance to get off the beaten track and enjoy authentic experiences and natural beauty.
Tottori is easily accessible by train from western Japan's iconic cities of Kyoto and Osaka, and the trip takes your through unspoiled wilderness, idyllic countryside villages, and the rugged, dramatic coastline of the Sea of Japan. Take an unforgettable journey to Tottori through historical Kyoto and the charming hot springs of Kinosaki Onsen, then return with stops in the gardens of Okayama, and the urban atmosphere of Osaka.
Make the most of your time with the Kansai WIDE Area Pass, which allows five days of travel through many parts of western Japan via Shinkansen bullet train, select Limited Express trains, and JR-West trains and West Japan JR Buses. Use the convenient Discover Another Japan Pass (DAJP) to access must-visit tourist attractions and sightseeing spots over a choice of three, five, or seven days for an immersive cultural journey. Explore Kyoto, Japan's ancient capital Kyoto is an iconic city that serves as the perfect gateway to western Japan, and an ideal introduction to Japan's culture and heritage. The temple Kinkakuji is at the top of the list for many visitors. This beautiful World Heritage site, also known as the "Golden Pavilion," was the villa of the shogun Ashikaga Yoshimitsu (1358–1408), and became a Zen temple following his death. The top two stories of the structure are covered in gold leaf, making for an unforgettable sight when viewed from across the pond on the temple's expansive grounds.
Heian-jingu Shrine


was constructed in 1895 to commemorate the founding of Heian Kyo (Kyoto's original name), parts of the shrine are recreations of the Imperial Palace of the Heian Period (794–1185). Step through the vermillion-lacquered Otenmon Gate to stroll through its gardens, which are especially impressive in spring when the weeping cherry trees are in bloom.
Before journeying onward via Kyoto Station, stop by the Kyoto Railway Museum


. This hub of railway culture and progress opened in 2016 to display 53 railway vehicles, and includes interactive exhibits, including the historic former Nijo Station House. Entry to the Kyoto Railway Museum is included in the DAJP.
Relax in Kinosaki Onsen, a classic hot spring town Kinosaki Onsen


is a historical hot spring retreat less than three hours from Kyoto via JR Kinosaki Limited Express, covered by the Kansai WIDE Area Pass. Much of the culture and atmosphere of Kinosaki Onsen has been preserved for 1,300 years, offering visitors the opportunity to step back in time.
Stay overnight at a traditional ryokan inn


to experience hospitality centuries in the making. A stay includes access to the seven natural hot springs around the town, each with its own distinctive style and baths. Once you've enjoyed a relaxing soak, slip on a yukata (light cotton kimono) and stroll the willow-lined streets along the town's canal. Or hop on a bicycle and explore the town on two wheels. Kinosaki Onsen Tourist Information SOZORO


is right outside Kinosaki Onsen Station, and offers convenient bicycle rentals to visitors, during open hours.
Experience the unforgettable landscapes of Tottori Tottori City


is a former castle town, and is perhaps best known for its nearby sand dunes


, the Tottori Sakyu, which are the largest in Japan. It is about two hours from Kinosaki Onsen via local trains, covered by the Kansai WIDE Area Pass.
Visit Tottori's sand dunes just north of the city, for scenery that is over 100,000 years in the making. The dunes—which can tower as tall as 50 meters—stretch about 16 kilometers along the coast of the Sea of Japan, shaped by the strong currents and winds. There are several different ways to enjoy the dunes. Enjoy a leisurely ride on a camel, zoom down the dunes on a sandboard or tour the area on fat bikes. Stop by The Sand Museum, which is covered by the DAJP. This unique facility opened in 2006 to showcase the artistic, impermanent beauty of sand. World-class artists create elaborate sand sculptures on themes, such as famous Renaissance art, and architectural marvels from around the world. The museum is scheduled to reopen in July 2022


. Further east, the Uradome Coast showcases the rugged beauty of Tottori's seaside. The 15-kilometer stretch of coastline is the westernmost part of San'inkaigan National Park, and is home to towering sea walls, mysterious caves, jagged rocks protruding from emerald waters, and white sand beaches. The crystal-clear waters of Uradome Beach are ideal for swimming, snorkeling, or scuba diving in summer months. To explore the coast from the water, hop aboard an Uradome Coast Pleasure Boat


(covered by the DAJP) for a sightseeing cruise.
Step back in time in Kurayoshi Kurayoshi is a well-preserved former castle town in central Tottori, about an hour from Tottori City by train. Stroll through the historic merchant quarter past the white-walled, kura-style Shirakabe Warehouses


that line the Tamagawa River. Many of these buildings date back to the Edo period (1603–1867), when they were used to make soy sauce or brew sake. Some have been restored and used as workshops, galleries, tea shops, and stores. One such warehouse is Kura, a 100-year-old warehouse that has been converted into a chic cafe. Stop by to enjoy their specialty, Ishigama coffee; millstone-ground coffee sweetened with adzuki beans instead of sugar.
Kurayoshi is home to the Tottori Nijisseiki Pear Museum


, a facility which showcases the history of Asian pear cultivation in the prefecture. At the center of the museum, an enormous Nijisseiki pear tree with a diameter of 20 meters stands proudly as the symbol of the museum. The tree was originally used for pear cultivation and produced as many as 4,000 pears per year (about five times that of an average tree). There is plenty do at the museum. In addition to exhibits, videos and art, there is a chance to taste three different varieties of pears. Admission is covered by the DAJP. For more adventure, head south to Mt. Mitoku. The sacred peak is a National Heritage site and home to Sanbutsuji


, a Buddhist temple which is home to "Japan's most exciting National Treasure." Nageiredo Hall, built around 1,000 years ago, is perched precariously on a rocky mountain wall at an elevation of 500 meters, accessed by a steep mountain path. After a day of exploring, spend the night at one of the charming traditional ryokan inns at nearby Misasa Onsen


, which is a National Heritage site. The hot springs in this quaint town have been in operation since the twelfth century, and a soak in the radium-enriched waters is sure to soothe away your fatigue. There is a regular bus service between Misasa Onsen and Kurayoshi.
See Michelin-starred beauty in Okayama Okayama is a convenient and scenic stopover from Tottori on the way to Osaka, covered by the Kansai WIDE Area Pass. Korakuen Garden


in the center of Okayama City is a traditional 300-year-old garden that is considered one of the Three Great Gardens of Japan and has been awarded three stars by the Michelin Green Guide. Entry to Korakuen is included in the DAJP.
Korakuen's grounds are spacious, covering an area of about 14 hectares. This classic strolling garden includes carp-filled ponds spanned by bridges, gentle waterfalls, tea houses for relaxation, and cherry blossoms in spring. There is beauty to enjoy every season; a grove of plum trees blossoms in winter, while in summer, around 3,000 Japanese irises dapple the greenery with splashes of purple and white. Maple trees take on autumn colors as the weather cools down, and graceful red-crowned cranes, an auspicious symbol, are released to stroll the garden on New Year's Day.
Sample Japanese soul food in Osaka From Okayama Station, it is just under an hour to Osaka by shinkansen. There are many delicious dishes to try in the culinary capital of Kansai, but two must-try specialties are okonomiyaki and kushi katsu. Okonomiyaki is a savory pancake made with flour, eggs, shredded cabbage, seafood or pork, and topped with a generous amount of sauce and delicate bonito flakes. Kushi katsu, is a popular snack for nights of drinking and talking. Morsels of crispy fried meat and veggies are served on sticks, with a dipping sauce.
The Shinsekai ("New World") neighborhood is lined with bars and restaurants serving these popular dishes, and a lot more. Stroll the lantern and neon-lit streets and follow your nose to find the best dining options. After eating your fill, visit Tsutenkaku Tower


. Rebuilt in 1956, the tower is a nostalgic symbol of the city, and sometimes referred to as the "Eiffel of Osaka." It rises to a height of 87.5 meters, and has an observation deck that offers a spectacular view of the surrounding city. Entry is included in the DAJP.
Getting around Explore western Japan with ease, with the Kansai WIDE Area Pass


. This 5-day pass offers unlimited travel through many parts of western Japan via Shinkansen bullet train, select Limited Express trains, and all JR-West trains and West Japan JR Buses. When combined with the Discover Another Japan Pass (DAJP)


, which offers access to many of western Japan's most popular sightseeing destinations, diving deep into the history and culture of the area gets even easier. Alternatively, the Visit San'in Tourist Pass is a great way to save money on sightseeing throughout the San'in region, as it offers access to a wide variety of must-visit attractions over a 1 or 3-day period.
Business hours
Due to measures to prevent the spread of coronavirus, business hours and conditions may be subject to change; please check with the venues before visiting.
Did this information help you?
out of found this information helpful.