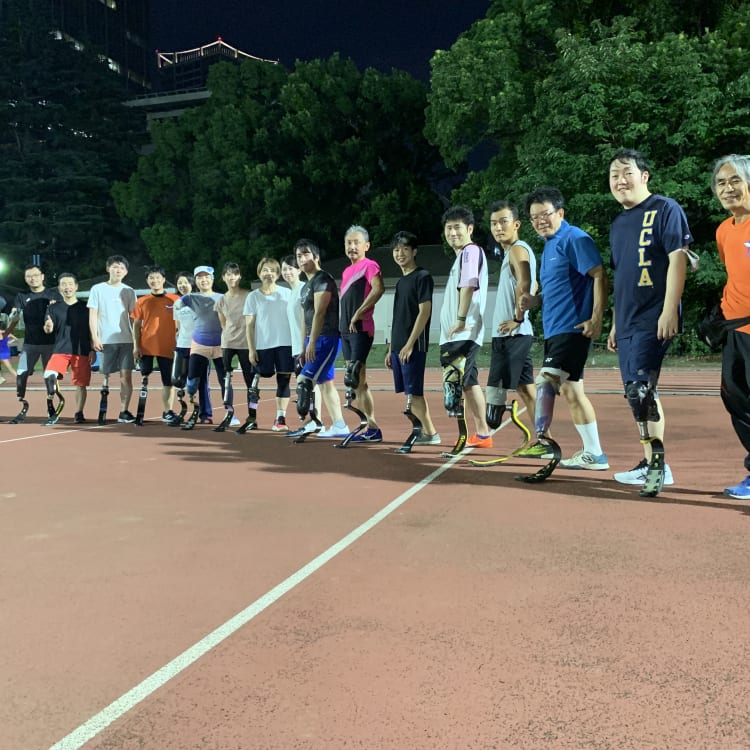 Athletic Prosthetics in Japan: Pioneers Pushing Boundaries
The group gathers on the side of the track getting ready for their evening run. They laugh and exchange greetings, and search for missing socks as they trade their street shoes for running shoes. What distinguishes these fifteen people, though, from the other runners on this balmy evening in the center of Tokyo is that they aren't just changing shoes: they are changing legs. Each one reaches down and replaces some portion of their leg or legs with an athletic prosthetic.
Sleek and narrow, their athletic prosthetics, also known as running blades, are made from carbon fiber – a strong, flexible, yet light material — applied in layers thinner than a human hair to form a J-shaped "blade" that attaches to a socket attached to a residual limb. The strength and flexibility of carbon fiber means that each time a runner steps or applies force to the blade, it bends and springs back. Designed to replace the calf and ankle, the two parts of a leg packed with the muscle and tendon that provide the energy to propel a runner forward, the blade is a life changing feat of craft and engineering.
Fumio Usui Pioneering Athletic Prosthetics in Japan
The first athletic prosthetic was invented by Van Phillips in 1984. Phillips, working at the Center for Biomedical Design at the University of Utah created the Flex-Foot, which was soon followed by the Cheetah Flex Foot for elite athletes. American runner, Dennis Oehler, brought the Cheetah to the global stage during the 1988 Paralympic Games in Seoul where he ran 100m in 11.73 seconds, just 1.81 seconds slower than American track and field athlete Carl Lewis' best time of 9.92  seconds for the same event.
It was about this same time that Fumio Usui, a young prosthetist working at the Tetsudou Kousaikai Prosthetics and Equipment Support Center in Tokyo laid eyes on his first athletic prosthetic while honeymooning in Hawaii. He knew it was a game changer.
"There were amputees who played table tennis or baseball, but the leg was very fragile," says Usui. "If they broke the prosthetic, they couldn't go to school or work, so they were always worried about it. The Flex Foot,"  he continues, "was hard. They could jump and make other movements without worry. It was epoch making."
Usui purchased the Flex Foot and then began the long process of learning how it worked, what components were needed to attach it, and how to train people to use it. "At first, I had no idea what I was doing," he laughs, "but I kept working at it."
Once Usui was confident in his design, he needed someone to try it. He settled on Takako Yagishita. She had a positive attitude, was athletic, and perhaps most importantly, she was a woman.
"I thought that if men saw a female athlete being successful, they would think they could or should do it, too," Usui recalls with a smile.
The two practiced together in the center's hallways. While Usui learned how to teach someone to run, Yagishita learned how to run with this new leg. When she finally ran a few steps, she burst into tears of joy at being able to do something she thought would never again be possible.
More than thirty years later, athletic prosthetics are more common in Japan as well as the rest of the world, but they remain out of economic reach for most people. The cost ranges from $3,000 (314,000 yen) for a manufactured model to upwards of $50,000 (52,387 yen) for tailor-made models. While Japanese health insurance covers the cost of an everyday prosthetic, it does not pay for athletic models, which until recently, had to be imported from Europe or the United States.
In 2007, Imasen Engineering Corporation in Aichi Prefecture began making running blades alongside other health aids. In 2016, the company joined forces with Mizuno, a Japanese maker of sports equipment, and Usui on a new blade design better suited to the height and build of Japanese and Asian athletes.
"The number of parathletes in Japan is small," Usui says, "but more and more amputees here are doing sports. I believe we can show other Asian countries what is possible. If we can do it, so can they."
Ken Endo and Xiborg Pushing Boundaries
One new leader in the field of Japanese athletic prosthetics is Ken Endo. Founder of Xiborg, a prosthetics development company, he also aims to lower the cost and make athletic prosthetics more readily available. To that end, Endo opened the Blade Library next to the Shin-Toyosu Brillia Toyosu Running Stadium in Tokyo. Visitors can rent different athletic prosthetics to try them out while Endo and his team work in the attached laboratory on making the best running blades possible.
"The disabled person is always losing, but with technology, they could win. I like that story," says Endo. "That's why I'm very interested in this work."
He became interested in athletic prosthetics when a friend, Kazuhiro Yoshikawa, lost his leg to cancer. As a result, Endo pursued a PhD at MIT in the United States where he worked with Dr. Hugh Herr, a specialist in athletic prosthetics. While there, he saw Oscar Pistorius, the South African double-amputee sprinter who earned the ability to compete in the 2012 Olympics, run.
"Pistorius ran much faster than I expected, and it was beautiful to watch him," Endo recalls. "Usually, people think a disabled person can only run slower than a normal person. When I saw him, I saw the potential for a disabled person to be faster than a normal person."
Endo returned to Japan and in 2014 started Xiborg. While he and his development team work with top parathletes from around the world to develop the best new equipment, Endo also has his eye on the everyday athlete. In addition to the Blade Library, he strives to change public perception of amputees. To do that, his team will head to Shizuoka Prefecture, home to many Japanese parathletes and athletes, for what Endo hopes will be the first of many such events that give amputees of all ages outside of Tokyo the opportunity to run, jump, and experience the joy of athletic activity. He is also working on adding athletic prosthetics to the list of items covered by national insurance, especially for children.
"Running is really good for our health, and that's why blades are essential for kids. We want to offer scientific evidence to support that idea," Endo says. "I want to make running normal for those children."
As for the future of running blades, Endo also sees production as a place where change can occur to make them more accessible and affordable.
"Mass production is economically beneficial, but for prosthetics, we also need to respect the needs of each person," Endo says. "As an industry, we need to find a system that makes that kind of adaptation possible. The Paralympics help push all of these boundaries."
At the Tokyo track, Usui warms up with the group, watching as they stretch and move in preparation for their evening run, sharing words of encouragement and advice, and plenty of laughter, too.
"Thirty years ago, I couldn't have imagined this. We were just happy people could walk," Usui says. "Now, they can do anything."
Joan Bailey
USA
12 years living in Tokyo and Kanagawa

Joan Bailey is an American writer living in Japan where her work focuses on food, farming, farmers markets, and travel. When she isn't out exploring and eating, she can be found at home with her husband and two cats.