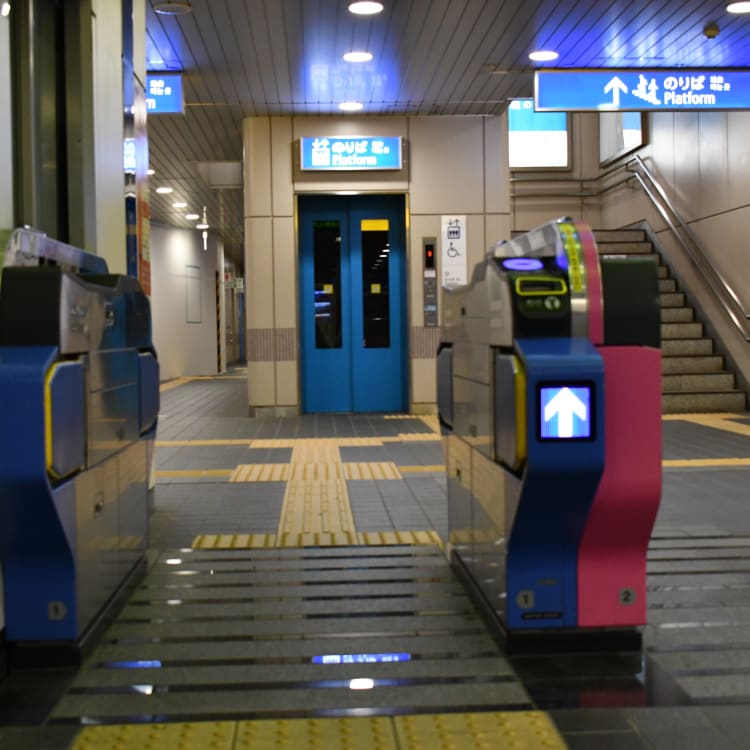 Breaking Down Barriers: Advances in Barrier-Free Technology and Design Make Tokyo 2020 Accessible for Everyone
Tokyo has ramped up efforts to make the city accessible for all. Whether it's interacting with digital art at teamLab Borderless, channeling your inner child at Tokyo Disneyland or exploring traditional Japanese temples and gardens, you're sure to discover barrier-free activities that everyone can enjoy.
From the moment your plane touches down at Haneda or Narita airport, you'll find that Japan has gone to great lengths to make its airports and public transportation easy to use by everyone. One of the most widespread examples of barrier-free design in Japan is tactile paving, known as tenji burokku. It is widely used in public areas to help the blind and visually impaired navigate more easily. The bright yellow tiles have raised ridges indicating walking paths and dots warning of steps or other obstacles. Tactile paving was the creation of Japanese inventor Miyake Seiichi, who funded the first tactile paving himself to help a friend who had lost his sight. First used in 1967 in Okayama Prefecture, tactile paving is now common around the world.
In 2006, Tokyo passed the Barrier-Free Act. This standardized planning of barrier-free environments at Japanese airports, train stations, and shopping centers and has incorporated many features to assist disabled guests, including wheelchair ramps, elevators, multipurpose toilets, tactile paving, and talking ticket machines and bathrooms. In February 2017, the national government established its "Universal Design 2020 Action Plan" promoting universal design across Japan, with the aim of creating a more inclusive society. In March 2017, Tokyo 2020 published accessibility guidelines including barrier-free routes to the sporting venues of the Games. All 21 Tokyo 2020 Olympic and Paralympic venues have incorporated accessibility in and around the venues. To make your transition from one of Tokyo's international airports as stress-free as possible, here are recommended barrier-free options: Haneda Airport barrier-free guide Airport Limousine Bus For customers who would like to stay in their wheelchairs while riding the bus, seats on wheelchair-lift equipped buses may be reserved in advance by calling the service center at 03-3665-7232. Please arrive 15 minutes before departure. On routes using buses without wheelchair lifts, folding wheelchairs may be stored in the luggage compartment. Wheelchair lift-equipped buses are available on the following routes:
Haneda Airport International Terminal to Tokyo City Air Terminal
Haneda Airport International Terminal to Shinjuku Expressway Bus Terminal
In addition to wheelchair seating, there are four priority seats inside the bus. Guide dogs are also welcome. Via train: Keikyu / Tokyo Monorail: all lines provide assistance for wheelchair users / low mobility / visually impaired.
It is best to give yourself an extra 15 to 20 minutes to allow station staff to escort you

Narita Airport barrier-free information: Customers Requiring Assistance Via train: Narita Sky Access line, Keisei Skyliner and JR line (Narita Express). Reserved trains like the Narita Express and Shinkansen bullet trains may only have one or two dedicated wheelchair seats per train, so it is best to book as far in advance as possible and to let station staff know that you will require assistance. More information on JR accessibility can be found at accessibility page of JR East Airport Limousine Bus: Narita Airport (except Terminal 3) to Tokyo City Air Terminal (directly connected to Suitengu-Mae Station on the Hanzomon Line), wheelchair-lift equipped buses may be reserved in advance by calling the service center at 03-3665-7232.
Getting around town
Today, around 80 to 90 percent of Tokyo's trains, subways, and stations are wheelchair-accessible and feature accessible toilets as well as tactile paving and Japanese braille to assist those with visual impairments.
Older stations may use a combination of wheelchair lifts, wheelchair-accessible escalators, and elevators. If you encounter a wheelchair lift at street level, use the small interphone box to contact station staff to operate.
Be sure to give yourself ample time as station staff will escort you with a portable ramp to assist with boarding and will guide you where to sit as many train cars have a dedicated wheelchair space.
JR has wheelchair size restrictions: wheelchairs that can be brought on board must be no more than 120 centimeters in length/height and no more than 70 centimeters in width.
Ask station staff for guidance as to which exits have elevators to street level — in large stations like Shibuya and Shinjuku with dozens of exits, this can quickly be overwhelming.
Tokyo is also making efforts to increase the number of barrier-free taxis and buses: companies like Toyota's JPNTaxi, Nihon Kotsu and Wilgo can accommodate manual and power wheelchairs with advance reservations. City buses are also wheelchair-accessible (the driver will put down a ramp) and have dedicated wheelchair spaces with tiedowns. Let the driver know which stop you want to disembark at when you board.
Where to stay, where to play
A Tokyo Metropolitan Government ordinance recently took effect that requires all newly built hotels or renovated hotel floors with 1,000 square meters or larger to have no uneven flooring, doors of more 80 centimeters in width, and passageways, toilet and bathrooms over 70 centimeters in width. By subsidizing 80 percent of the renovation costs to make older rooms barrier-free, the Tokyo metropolitan government hopes to have 2,500 accessible rooms per day available during Tokyo 2020 Olympic and Paralympic games.
Two excellent resources for researching and locating barrier-free hotel rooms are Accessible Japan and Japan Accessible Tourism Center. Many older hotels may only offer one or two accessible rooms per hotel, and hotels may only list barrier-free / universal room information on their Japanese-language website. It's a good idea to call the hotel directly to confirm and book barrier-free rooms as far in advance as possible. The term "barrier-free" is more common in Japan than "accessible," so if staff have trouble understanding, ask about the availability of barrier-free rooms or services.
Tokyo Metropolitan Government has put together a fantastic guide of 30 English-language suggested barrier-free itineraries in Tokyo and environs, including information on elevators, braille, accessible toilets and more at Tokyo sightseeing accessibility guide.
For a taste of traditional Japanese culture, consider exploring Asakusa. One of the most iconic sights you'll encounter on your visit to Tokyo is the brilliant red pagoda of Asaksuka's Sensoji.  
An important temple since the 7th century, it was rebuilt after being destroyed in an air raid in 1945. Great effort was taken to preserve the traditional architecture, while at the same time making Sensoji barrier-free for all guests to enjoy. There is a cleverly hidden priority elevator to the left of the main hall that blends in seamlessly with the main hall building.
One of the famous activities in Asakusa is sightseeing by rickshaw, and guests in wheelchairs are now able to experience this thanks to Jidaiya's barrier-free wheelchair ramp.
The portable ramp can be assembled at a number of locations, including nearby hotels, with advance reservation by telephone at 03-3843-0890 and an additional surcharge of 8,000 yen and up depending on itinerary.
The ramp can accommodate both manual and power wheelchairs and allows users to roll smoothly up to the rickshaw seat for easier transfer.
Another unique Tokyo experience is traveling by water bus. The smooth ride takes guests to some of Tokyo's top destinations like Hamarikyu, Odaiba, Toyosu, and Tokyo Big Sight. Tokyo Cruise / Suijobus features an accessible toilet on the ground level at Asakusa Pier and an elevator from street level. There is a paved ramp from the first floor down to the pier and guests in wheelchairs have boarding priority. Its three flagship boats Hotaluna, Himiko and Emeraldas all feature wheelchair seating and accessible toilets.
Go Green
One of the great pleasures of visiting Japan is experiencing the serenity and harmony of Japanese gardens. Thankfully, many of Tokyo's top scenic gardens are accessible, and the city of Tokyo has done a great job of producing brochures with maps showing wheelchair-accessible routes and barrier-free toilets.
Koishikawa Korakuen
Kiyosumi Gardens
Nezu Museum
Rikugien
Hama Rikyu Gardens (*Note that many gardens feature dirt or gravel paths that may become muddy or uneven paving that may be difficult for manual wheelchair users to navigate.)
Art without borders
Two of the most talked-about and Instagrammable destinations in Tokyo are the TeamLab digital art museums in Odaiba and Toyosu, which use projection mapping and a Bluetooth app that allows guests to interact directly with the digital artwork. Place your hand on a wall, and virtual flowers and butterflies will start to bloom around you. Digital koi will swim at your feet. You can even draw your own artwork and have it come to life on the walls.
MORI Building DIGITAL ART MUSEUM: teamLab Borderless The nearest station is barrier-free Aomi Station on the Yurikamome Line. The entrance fee for disabled visitors is 1600 yen with proof of disability. TeamLab staff will give guests with disabilities a tablet with a visual guide to Borderless Exhibits ranked by accessibility. TeamLab Borderless is largely accessible for guests using power wheelchairs, manual wheelchairs, guide dogs, and canes.              
Three manual wheelchairs are available for rental and there are accessible toilets in the Borderless World and the Athletics Forest.
Around 70% of the Borderless World artworks are accessible for all guests, including those in power wheelchairs and with guide dogs.
There is a dedicated elevator exclusively for wheelchair users, who will be accompanied by teamLab staff.
A number of the Athletics Forest artworks are not wheelchair-accessible due to narrow entrances or sloping or padded floors.
The Forest of Lamps is accessible to guests with canes or guide dogs, though guests with guide dogs are asked to experience the artwork from outside the glass for safety.
EN TEA HOUSE on the fourth floor is also wheelchair-accessible and orders are brought directly to your table. teamLab Planets TOKYO (Toyosu)
teamLab Planets TOKYO in nearby Toyosu does not allow power wheelchairs or guide dogs for safety reasons. Visitors using wheelchairs will be given a map showing alternate routes.
Many of the exhibits (including the water ones) are to some degree accessible, including by guests with canes.
Several indoor wheelchairs (including those that can enter water areas) are available for rental.
Guests in wheelchairs will be asked to transfer to manual wheelchairs two to four times for hygienic reasons and depending on route (the water area can be skipped).
There is one multifunctional toilet as well as a private room with transfer benches / beds and privacy curtains for guests who are feeling unwell.
Note that both teamLab museums feature very dark hallways and entrances and exits to rooms can be difficult to locate due to mirrored walls and dark curtains. It may be a good idea to visit with a friend or to ask teamLab staff for assistance to get the most out of your teamLab experience. Tokyo Disneyland offers an English-language brochure at  specifically for guests with disabilities. The brochure includes detailed accessibility descriptions of park attractions, the locations of multifunction restrooms, and facilities with elevators. Note that like much of Japan, stationary tactile maps, braille menus, braille signage and descriptive audio CDs are available in Japanese only.
Barrier-free tours
If you're looking to make the most of your time in Tokyo without the hassle, consider booking a barrier-free tour of Tokyo or Kamakura:       
Full Day Barrier-Free Tour of Tokyo for Wheelchair Users with Personal Guide
Accessible Japan offers a one-day tour that visits Kamakura and Enoshima via private wheelchair van, skipping the need to navigate train stations.
Tomoya "Bushi" Takano's barrier-free guesthouse Guesthouse Irodori Kamakura also features wheelchair tours of Kamakura sponsored by the Japan Tourism Agency. For those unable to physically participate, he offers a live video feed of the inaccessible Kamakura temples and Yuigahama Beach via drone.