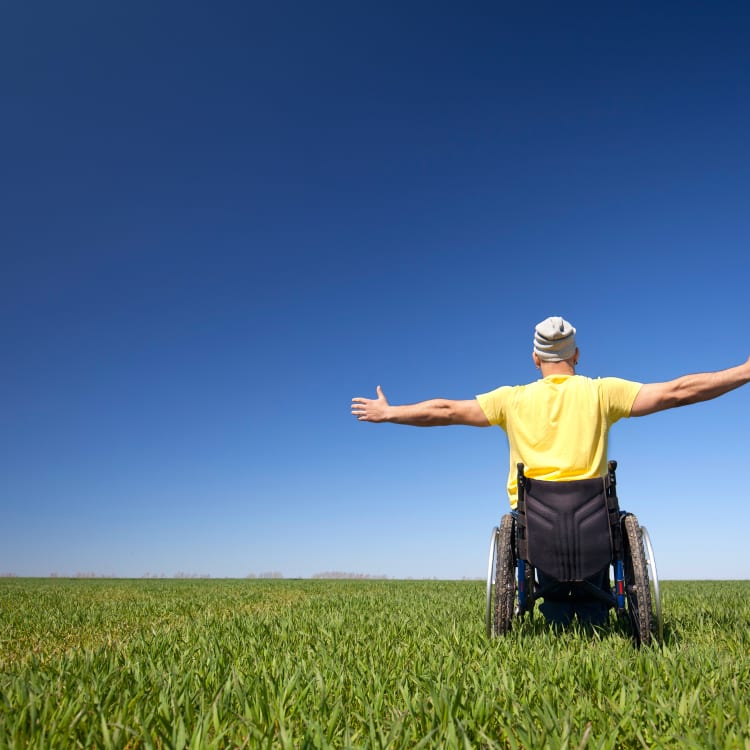 Destinations with accessible sports
Spots with activities that everyone can enjoy
Rediscover Japan as an accessible destination
Work up a sweat like an Olympic or Paralympic athlete! More and more spots for accessible sports are opening up in Japan, making it possible for anyone, from senior citizens to families with young children, to come together and get active. You can go diving or canoeing in the pristine waters of Okinawa or fly across the skies of Tohoku. In winter, grab a pair of dual skis or bi-skis to take on a new challenge. Visit an accessible destination to try new sports and attractions, meet new people and discover the best of Japan!             
Accessibility in Japan                    
A new Barrier-Free Act was enacted in Japan in 2006 to promote changes in public transportation and buildings so that senior citizens and people with disabilities can move barrier-free. Then, the Universal Design 2020 Action Plan was established in 2016 to realize an inclusive and harmonious society in which all people respect each other's rights and dignity, and support one another. The aim is to foster "barrier-free minds" so that each person can have a life filled with joy.
These initiatives have led to the installation of barrier-free toilets, elevators, and ramps that everyone can easily use. Japan is becoming a travel-friendly destination that welcomes people from all walks of life. 
Contact Accessible Japan for support in English about your travel plans in Japan, including transportation, nursing assistance, and activities.
Barrier-Free information for visitors during Tokyo 2020    
Marine activities in Okinawa
Okinawa             
Okinawa is an archipelago of stunning islands located in the southernmost part of Japan. Once known is the Ryukyu Kingdom, the region has a mild climate, beautiful marine landscapes, and its own distinct culture.  In 2007, Okinawa drafted a barrier-free declaration with the aim to welcome all tourists. The area provides support systems such as assistance services and lending of medical equipment as well as a wide range of wheelchair-friendly activities such as diving, seawalking, SUP, canoeing, and even motor paragliding. These are all great ways to enjoy Okinawa's pristine seas and spectacular views. 
The Barrier-Free Okinawa website provides a wealth of information, such activities and itineraries, and you can even consult them about your travel plans. The Barrier-Free Tour Centers located in the arrival lobby of Naha Airport, Naha Bus Terminal, and Kokusai-dori Street, offer help and advice during your visit, and can arrange for assistance and medical equipment rentals.                
Kobe's Suma Universal Beach 
Hyogo                    
The concept of universal beaches have been spreading in Japan over the past few years. They are laid out with special mats so that families with baby carriages and wheelchair users can stroll around the beach and access the shoreline. Suma Beach in Kobe is a pioneer of this concept. It's located just 20 minutes by train from the Sannomiya area in the heart of Kobe and close to the Akashi Kaikyo suspension bridge. 
On weekends through July and August, volunteers from the Suma Universal Beach Project hold various wheelchair-accessible events and beach activities. You can even take a dip in the water with your companion by hopping into a HIPPOcampe, an amphibious outdoor wheelchair—it lets you fully enjoy the sensation of floating on the water and getting rocked by the waves.
The Suma Universal Beach Base, a beach house equipped with a shower space for wheelchair users, is open to the public free of charge. You can also choose to visit the Suma Seaside Park, which has a beach, yacht harbor, aquarium, and BBQ terrace.
*Note that the beach may be closed due to the COVID-19 pandemic. Ensure to check the status beforehand.
Paragliding at Nanyo Sky Park 
Yamagata                    
Mount Jubuichi in Yamagata is located in the northern edge of the prefecture and overlooks the Okitama Basin. The Nanyo Sky Park has a launch area on the 510-m summit, and is known as a mecca for hang gliding and paragliding. 
The facility also offers paragliding for wheelchair users, available from April to November. Paragliding requires assistance during takeoff and landing, and those with limited mobility can use a special paragliding wheelchair to take off. You will take a tandem flight with an instructor to ascend to 300 m in over five minutes for a stunning bird's eye view of the vibrant pastoral landscape below.
To consult or apply, contact the Yamagata Barrier-Free Sightseeing Tour Center. There are plenty of sightseeing spots in the vicinity, including Akayu Onsen,—a hot spring area with footbaths, spots where you go grape or cherry-picking, and up-and-coming wineries.
Yamagata Barrier-Free Sightseeing Tour Center
Accessible Japan Related Article                
Accessible pools around Japan
Kanagawa, Fukuoka, etc.                    
Cool down during the hot Japanese summers at a pool. You'll find plenty of spots around the country with water slides, wave pools and lazy river pools. More and more facilities are becoming barrier-free, and you can rent special wheelchairs and floatation equipment for free to take a dip in the water.
Tsujido Seaside Park in Kanagawa Prefecture has a lawn space where locals come to relax and the entire park has been designed to be accessible. In the pool zone, wheelchair users can get into the wave pool or lazy river pool using a special wheelchair. The area is also equipped with special lifts and rest spaces.
Uminonakamichi Seaside Park in Fukuoka is another great place to visit. The park complex houses flower gardens, an aquarium, a zoo, a day campground, and a hotel. The Sunshine Pool zone, which has six different pools, is designed for wheelchair accessibility and special wheelchairs are available for rent.
Other pools around Japan have also been making efforts to become accessible in recent years, so check in advance about the services they offer.                                       
Accessible ski resorts around Japan 
Nagano, Niigata, etc.                    
Japan's ski resorts have some of the best snow in the world and some of them are great for accessible activities. 
Fujimi Highland near Mount Yatsugatake gives you chance to go hiking using automated carts in the summer. In winter, you can ski using dual skis or bi-skis. Dual skis are attached under a chair with a backrest and you move with an instructor, making it great for children and people with limited mobility. Meanwhile, bi-skis are attached to a wheelchair and operated by an instructor, but if you can stay seated and have enough strength to grip, you can make turns by leaning back and using the outriggers.  Both types give you a chance to ride the lifts and ski long distances.
The Neige ski school for persons with disabilities in Yuzawa Nakazato Snow Resort and the Maiko Snow School in the Maiko Snow Resort in Niigata offer adaptive ski programs which allow students to enjoy skiing tailored to the type and degree of their disability.  
For details on the accessibility services offered at other ski resorts around Japan, check the respective websites.                  
Local sports centers for healthy communities                    
"Sports Centers" are comprehensive sports facilities for local residents, operated mainly by local governments in Japan. Anyone in the community, from children to senior citizens, can use the facilities and take classes at affordable prices to improve their health.
In recent years, special facilities with equipment and support tailored to people with disabilities have been established in various parts of Japan. Yokohama Rapport is known for its wide selection of facilities—it has a gym with a variety of training machines and visitors can receive advice customized to the type and degree of their disability. There is also a swimming pool with a lift for wheelchair access, an underground track with running guidance machines for visually-impaired users, and a bowling alley with guide rails.            
Diversity and inclusion through sports                     
There's a growing movement in Japan to create a more inclusive society free of barriers. The Nippon Foundation Paralympic Support Center is engaged in a wide range of projects to realize Diversity & Inclusion (D&I) in society through parasports. For example, through the Asuchalle school visit program, students get an opportunity to try out and learn about parasports, and listen to lectures from para-athletes. Asuchalle Field Days held throughout the country give companies and organizations a hands-on experience of parasports and provide valuable lessons.
The Nippon Foundation also provides grants, offices, and knowledge to strengthen the management base of Paralympic sports organizations. It has built the Para Arena as a training base dedicated to parasports which can be used for free by para-athletes.
Article about the Nippon Foundation Paralympic Support Center