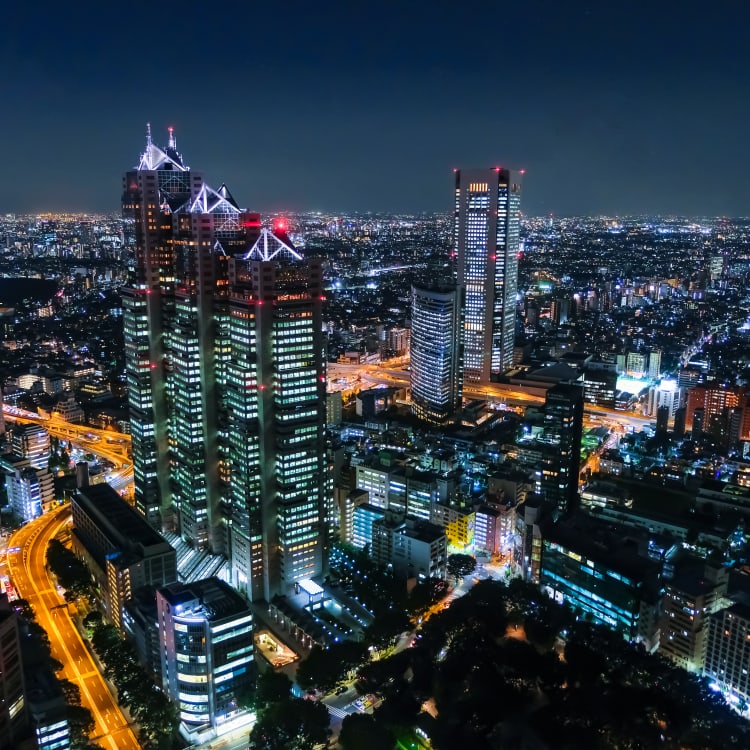 Outstanding Architectural Accomplishments in Tokyo
Outstanding Architectural Accomplishments in Tokyo
Architectural innovation is a trademark of Tokyo's urban landscape. Since the turn of the 20th century some of Japan's finest architects, including Kenzo Tange and Yoshinobu Ashihara, have sought to capture the essence of traditional Japanese architecture and blend it with modern sensibilities. Their designs fuse artistry and functionality, and provide residents with government buildings, commercial centers, sporting stadiums, and sites for arts and entertainment. When visiting Japan, take a trip through Tokyo and take in some of the city's most interesting and beautiful architectural attractions.
Tokyo boasts an impressive array of architectural design. The cityscape is a dense panorama of old and new buildings of both old and modern design. Rows of tiny izakaya and boutique stores balance prominent locations such as the Cocoon Tower in Shinjuku, the temple Senso-ji in Asakusa, or sporting venues like Tokyo Dome in Korakuen. Even if you're not a die-hard architecture fan, the contrasts of traditional and new architecture and surprising hidden gems will give travellers a sense of what makes Tokyo unique. Real estate is at a premium in Tokyo, so architects wishing to challenge their creativity must push the limits of form and function, art and practicality. Architecture typically travels up to make the most of limited space, and is often inspired by designs used throughout Japanese history. Government buildings, museums, business centers, sporting stadiums, and theaters beautify Tokyo and play integral roles in the life of the city. Within Tokyo's borders you can find some truly unique and avant-garde structures. Renowned architects such as Kenzo Tange and Kengo Kuma have left permanent marks on the city in the form of standout structures recognizable from blocks away. Tourists visiting Tokyo can follow a trail of their favorite architect's works from location to location, and spend time examining the nuances of design. The following list of sites represents a thorough, but not exhaustive, sampling of the architectural ingenuity that can be found in Tokyo.
MUNICIPAL BUILDINGS AND BUSINESS CENTERS
Ginza Sony Park (Ginza)
Newly built in 2018 on the site of the demolished Sony Building, Ginza Sony Park represents a reimagining of Sony's role in the Japanese cultural landscape. The former Sony Building focused on technology and contained exhibits of Sony electronics. The new Ginza Sony Park, however, is meant to feel like a natural environment and creative space. It connects to nearby subways, extends five floors underground, hosts live music events, and contains garden-focused shops that sell trees and flowers. Sony Chairman Kazuo Hirai conceived of the project in 2013 on the heels of flagging business performance. The park was built not only to help re-brand Sony, but to pave the way for tourists to enjoy their time in Tokyo. It won the Good Design Award in 2018 for pushing the limits of architectural innovation and challenging preconceptions regarding what a city "park" can be.
Tokyo Metropolitan Building (Shinjuku)
The Tokyo Metropolitan Building is a massive, futuristic structure consisting of three city block-sized buildings. The main, and tallest, building splits at the 33nd floor and extends upwards to floor 48 in twin spires that resemble a Gothic cathedral. Both spires contain a 360-degree, free observation decks on floor 45, and also contain cafes and gift shops. The buildings contain government offices and an assembly hall, and so visitors have to pass through security checks to get inside. Kenzo Tange, a modernist architect who gained acclaim in the 1950s and 60s, designed both the Tokyo Metropolitan Building and its predecessor in Yurakucho. He was an influential figure in urban design and took inspiration from mid-20th century European structuralism. Structuralism is a movement that emphasized utilizing architecture to express culture. For this reason, Tange designed the Tokyo Metropolitan Building to resemble an integrated circuit such as microprocessors found in computers, to depict Japan's focus on technological development.
Shinjuku Park Tower (Shinjuku)
Also designed by Kenzo Tange, Shinjuku Park Tower was completed in 1994 and still ranks as one of Tokyo's most uniquely designed buildings. The structure looks like three stacked blocks, each increasingly taller, and houses a combination of retail stores and offices. The hotel on its top floor, the Park Hyatt Tokyo, was featured in Sofia Coppola's 2004 film "Lost in Translation."
STADIUMS AND ATHLETIC CENTERS
Olympic Stadium (National Stadium)
Tokyo's 60,000-seat National Stadium, which will be the Olympic Stadium during the Tokyo 2020 Games, was completed in November, 2019. It stands ready to kickoff and close the Tokyo 2020 Olympics and Paralympics. The stadium was designed by one of Japan's greatest living architects, Kengo Kuma. Born in Kanagawa, Kuma graduated from Tokyo University, lived in The United States, and founded multiple design studios such as "Spatial Design Studio" and "Kengo Kuma & Associates." Additionally, he has taught architecture at multiple universities both in Japan and abroad, and continues to collaborate with architects and architectural firms across the world. His goal is to reinterpret traditional Japanese architecture for the modern era.
Nippon Budokan (Kudanshita)
The Nippon Budokan, built in 1964, is a respected, historically relevant stadium that represents the spiritual heart of Japanese Budo. It houses events related to martial arts such as judo, kendo, karate, and aikido, and in 2020 it will be the location for karate and judo competitions. Its facilities are often used for regular martial arts training, and for everything ranging from training camps and seminars to events like the opening ceremonies for Tokyo University's academic year. Its design is traditional and practical, and its downtown location near the imperial grounds symbolizes its importance to Tokyo.
Yoyogi National Stadium (Harajuku)
Originally built in 1964 for the Tokyo 1964 Olympic and Paralympic Summer Games, Yoyogi National Stadium will be used again in 2020. The gymnasium has received a lot of media coverage over the years, and has been the site of numerous championships and tournaments, notably 2006's Women's Volleyball Championship. It has also doubled as a hockey rink and venue for World Figure Skating Championships in 1977 and 1985. The gymnasium resembles the roof of a temple, and much like other noteworthy buildings of the Showa era, was built by Kenzo Tange.
Komazawa Olympic Park Gymnasium (Komazawa Daigaku)
Komazawa Olympic Park Gymnasium in residential Setagaya-ku comprises part of a larger complex of athletic facilities that cover nearly 450,000 square meters. The gym houses an archery range, indoor field, swimming pool, tennis courts, and was built in 1964 for previous Olympic events such as wrestling. The adjacent, pagoda-like Control Tower acts as a beacon for people finding their way to the gym, and the nearby stadium, with a capacity of 20,000, is typically used for soccer or American football. Respected architect and Tokyo University graduate Yoshinobu Ashihara designed both the gym, which has a triangular, tent-like appearance, and the Control Tower. Ashihara was one of the most beloved architects of the Showa era, received both the Order of the Sacred Treasure and Order of Culture. He is responsible for developing a number of notable structures across Tokyo, including the Tokyo Metropolitan Theater, Okayama Symphony Hall, the original Sony Building, and the Fuji Film Building.
ARTS AND ENTERTAINMENT
St. Mary's Cathedral (Gokokuji)
St. Mary's Cathedral is both an impressive feat of modernist architecture and the working seat of Tokyo's Roman Catholic Archdiocese. The original church, a wooden structure, was destroyed during World War II and the present design was envisioned by Kenzo Tange. The cathedral and its shimmering surface and sharp edges are an eye-catching landmark in its residential neighborhood of Sekiguchi in Bunkyo-ku.St. Mary's Cathedral is both an impressive feat of modernist architecture and the working seat of Tokyo's Roman Catholic Archdiocese. The original church, a wooden structure, was destroyed during World War II and the present design was envisioned by Kenzo Tange. The cathedral and its shimmering surface and sharp edges are an eye-catching landmark in its residential neighborhood of Sekiguchi in Bunkyo-ku.
Tokyo Metropolitan Art Museum (Ueno)
Designed by famous architect Kunio Maekawa, Tokyo Metropolitan Art Museum opened in 1926 as Japan's first public art museum. The museum is located in Ueno Park, and its low brick buildings were designed to protect the natural beauty of the surrounding environment. The museum hosts lectures, workshops, and rotating exhibits of both classic and modern collections. One gallery provides art associations and local groups the chance to showcase their talents, while the other focuses on a particular theme or era of art history. An extensive gift shop, café, and multiple restaurants on various levels of the museum round out the offerings you can take advantage of when visiting.
Kabuki-za Theater (Ginza)
The modern Kabuki-za, finished in 2013, is the result of reconstruction after reconstruction following earthquakes, bombings, and fires. The theater was built to mimic Japanese castles and temples, and has served as Tokyo's chief kabuki venue for almost a century. Shows change monthly and run nearly every day, giving both locals and visitors the opportunity to experience some of the finest music, dancing, and comedy the city has to offer. If you plan on attending, buy tickets well in advance. Bear in mind that entire stories can reach 6 hours in length. However, you can purchase tickets for single acts, which often run for 90 minutes and can provide a full kabuki experience.