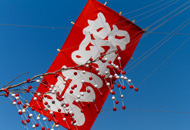 In a country that may be considered the hi-tech wonder of the world, Japan's New Year's holiday is a time when many people return to the traditional. The holidays generally run from about December 29 through January 3, with schools, administrative offices, and many businesses closed during at least part of that time. In recent years, however, some businesses, such as restaurants and department stores, have begun staying open to take advantage of people in their holiday spending mood!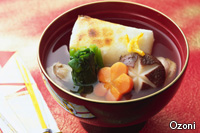 As the old year winds down, preparation for the new begins. Major housecleaning, which includes making your living quarters spic-and-span, tidying up your work space, paying all those unpaid bills, and taking care of any loose ends, takes place on a grand scale. This corresponds to purifying one's environment for a "clean start." Homes and businesses are adorned with special, meaning imbued decorations, and some people enjoying wearing kimono, or other special traditional clothing not usually worn during the rest of the year. And, of course a major highlight of the holiday is the food.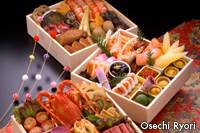 On the last day of the year, called omisoka, many folks enjoy a meal of soba buckwheat noodles, eaten just before midnight and as the New Year is rung in. This soba (udon in some regions), called toshikoshi soba (udon), is eaten in hopes of longevity and prosperity for the future.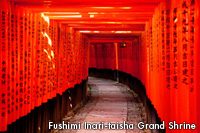 After eating a traditional meal of ozoni (rice cakes in a hot broth whose flavors and ingredients differ considerably from region to region) on the morning of January 1, great numbers of people pay their first visit of the year to a shrine or a temple. This first visit is called hatsumoude. The first sunrise of the new year, called hatsuhinonde, is thought to bestow special energy, so many folk make a point of getting up early to pay their respects at a shrine as the sun rises. Famous shrines, such as Meiji Shrine in Tokyo, Atsuta Shrine in Nagoya and Fushimi Inari-taisha Grand Shrine in Kyoto sees millions of visitors.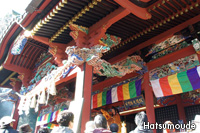 After hatsumoude, most people return home to enjoy their holiday meals. Traditional New Year's food, called osechi ryori, is prepared a few days in advance of the holiday, but since preparation is quite time-consuming, many people nowadays choose to purchase these dishes. Osechi ryori is more strongly flavored than typical Japanese food; the point being that the liberal use of seasonings allows the food to last through the days of the New Year's holiday, thus allowing the cook of the house a few days respite! Osechi ryori consists of a many different types of dishes, each with a special auspicious meaning (good health, good fortune, etc.). Even though osechi ryori is prepared before the New Year, it is not eaten before the first of the year.
For more information about how you can enjoy New Year's in Japan, please visit here.