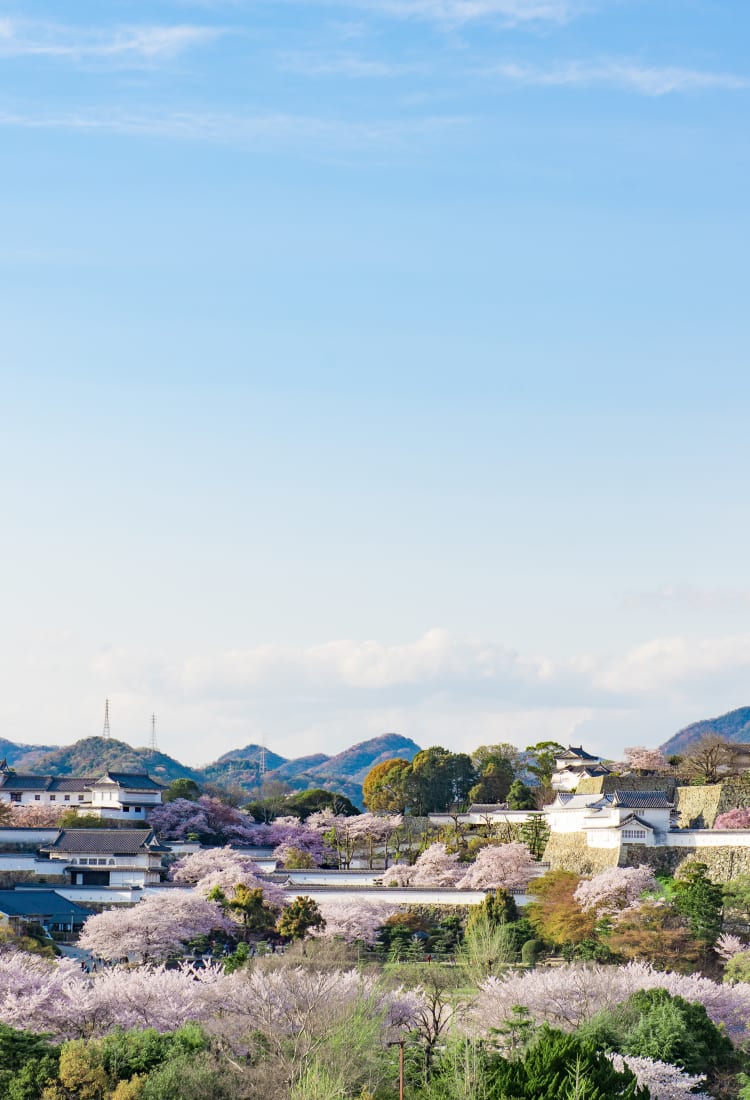 Himeji Castle (UNESCO)
A striking white castle dominating the landscape
Step foot inside this castle of classic Japanese design
Explore the expansive grounds of this imposing yet beautiful structure and climb up the steep and narrow staircases to the top of the castle.
Highlights
Climb to the top of the castle to view the surrounding scenery
Spot the castle's hidden defense systems
Take a dramatic photograph of the towering white walls from below The white-walled castle
The castle's pure white-plastered walls resemble a dancing white heron—known locally as a Shirasagi—with wings outstretched, earning it the nickname Shirasagi-jo Castle. It is remarkably preserved compared to other castles having been spared from damage during WWII and from many other disasters.
Seventy-four structures within the castle site including a tower and gate are designated as Important Cultural Assets of Japan. A notable aspect of Himeji Castle


is the thick coating of white plaster on its surface, giving it excellent resistance to fire and bullets, as well as its beautiful appearance. The castle's establishment
The castle was first established in 1346. Later, the warlord Toyotomi Hideyoshi (1536-1598), who ruled over most of Japan went on to build a full-scale castle wall, which became the base for present-day Himeji Castle


. At the start of the Edo period (1603-1867), the castle underwent considerable renovation over a nine-year period, creating the magnificent appearance you see today. Confusing the enemy
If you are confident in the strength of your legs and back to climb up and down stairs, you should take a look around the inside of the castle.
The castle's complicated structure, particularly the three tall watchtowers connected by columns and winding maze-like passages, functions well as a fortress, halting the invasion of enemies and throwing them into confusion. The design is intended to prevent access to the tallest watchtower and castle keep, situated at the heart of the castle. Be warned; going there without a map may mean you get lost.
Defense traps and kitchens
Spot the remains of gate mechanisms for dropping stones on any enemy that managed to make it close to the castle. If an enemy did manage to enter, he would find himself in an extremely narrow passageway trapped in the space.
There are numerous holes in the castle wall to shoot from, and there are windows from which to drop gigantic stones on potential enemies. There is a kitchen in the inner court, just in case the castle fell under siege or an attempt was made to starve out the occupants. Castle standing tall
The castle keep rises from the peak of Mt. Himeyama standing 32 meters high. The view from the top of the keep is spectacular. Take in the surrounding landscape and imagine the thoughts of a feudal warlord with his ambitions to dominate the whole country. At night, the entire castle is lit up. A visit after sunset is highly recommended.
How to Get There
Access the castle by a 15-minute walk from Himeji Station or from Sanyo Himeji Station.