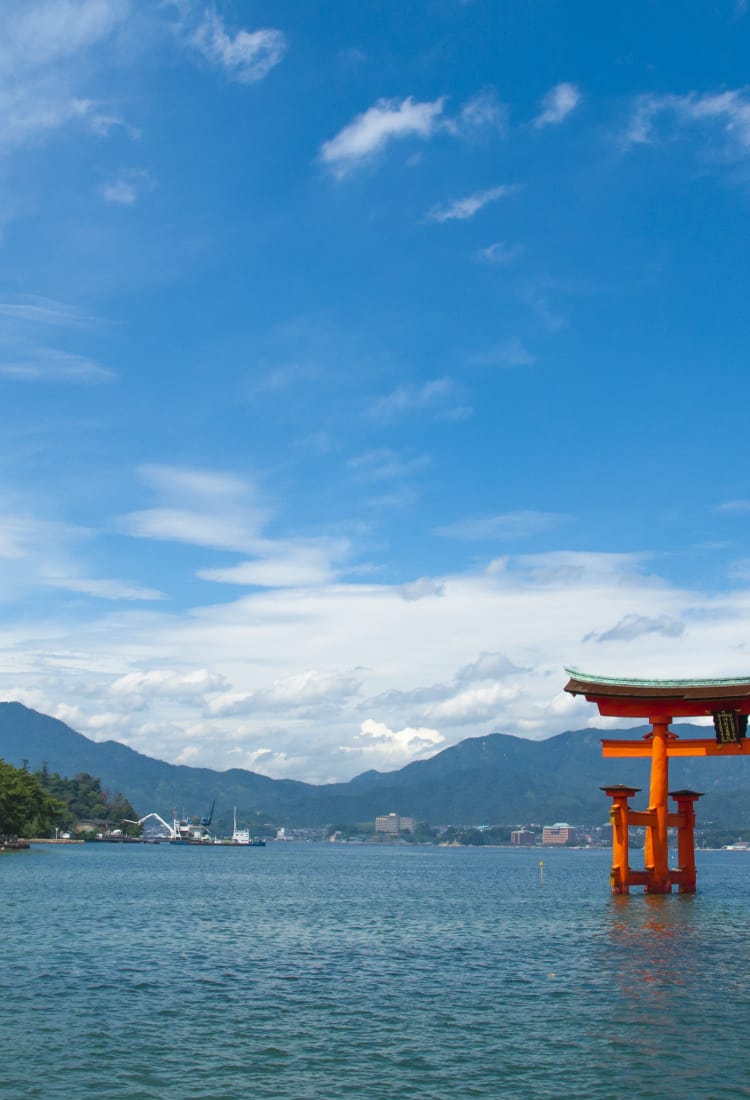 Itsukushima Shinto Shrine (UNESCO)
A shrine set out at sea
A striking red shrine set out to sea off an island judged one of Japan's most scenic
A short ferry ride from Hiroshima is Itsukushima-jinja Shrine


—a collection of sacred buildings standing on stilts and drawing crowds who flock to see the iconic floating gate.
Highlights
Waiting until low tide to walk up to the shrine's gate
Catching a rare performance of a Noh play on a floating stage Shinto shrine on a scenic island
The island of Miyajima


—located just off the coast of Hiroshima


in the Seto Inland Sea—is counted as one of the three most scenic spots in Japan, and its jewel in the crown is the World Heritage site Itsukushima-jinja Shrine


. Dedicated to gods that protect people from sea disasters and wars, the shrine was thought to have been built in 593. After the warlord Tairano Kiyomori (1118-1181) rebuilt it in 1168, it became the magnificent vermillion-lacquered building you can see today. Floating gates and stages
A distinctive feature of this shrine is the towering torii gate and the shrine pavilion that are positioned in the sea. Both are cut off by the water at full tide, but wait until the sea retreats and you can walk out to them. For fans of the traditional Japanese performing arts, Itsukushima-jinja Shrine


offers you a rare opportunity. The shrine has a floating stage constructed for Japanese Noh plays, and you can sometimes catch a nighttime performance where plays are staged by lamplight.
Note that the gate is currently undergoing renovation and is covered in a mesh sheet.
How to Get There
Access the island by ferry. You can access Miyajimaguchi Station by a 30-minute train ride on the JR Sanyo Honsen Line from Hiroshima Station. Take a ferry from Miyajimaguchi Pier to the island for 10 minutes, and the shrine is a further 10-minute walk.
The latest information may differ, so please check the official website