2020 commemorative
Lake Hamana gastronomy tour
Special Deals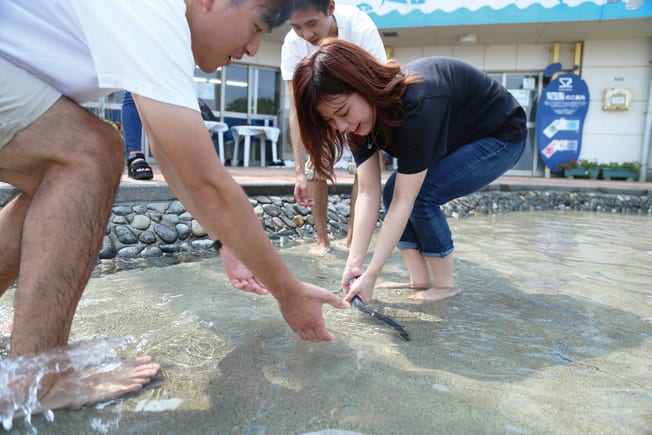 Duration:
April 1 to October 31, 2020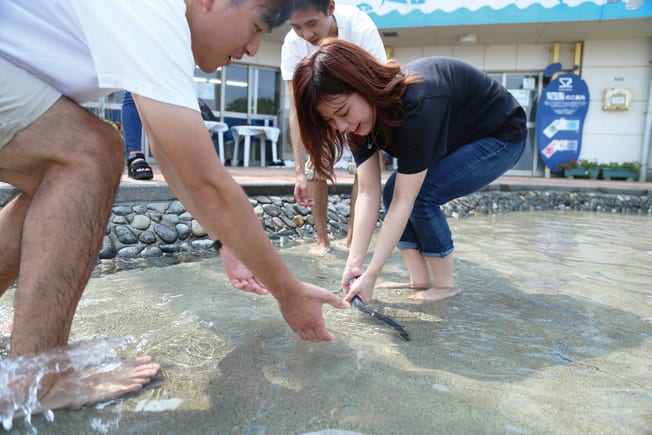 Overview
Activity one: Eel catching Experience
Try catching eel, one of the specialties of Lake Hamana. This activity gives you the skills to catch then baste, grill and eat your eel after it has been cleaned and baked for you.

Activity two: Seine fishing and BBQ
Seine fishing is a traditional fishing method at Lake Hamana in which a large fishing net is brought out by boats and dragged back to the shore to catch shoals of fish in shallow water. Join in with the fishing and indulge in a barbecue afterwards of the day's catch.

Activity three: Ebisuki Fishing Activity
Catch Japanese tiger prawn (kuruma ebi) and fish in Lake Hamana with a net. This nighttime activity takes advantage of the ebbing tide after high tide to maximize your catch. You can take whatever you catch home, free of charge, to eat later. You will be picked up from your hotel or other lodging and taken to Arai Fishing Port by boat.
This program has been canceled.

Note that special benefits will be available for those who sign up for one or more activities.
Benefits
Activity one: A popular activity that can only be had in the birthplace of eel aquaculture.

Activity two: An original plan for groups that includes popular activities, BBQ and accommodations as a set.

Activity three: An original plan that includes traditional Lake Hamana fishing activities and accommodations as a set.
This program has been canceled.

Anyone who signs up for one or more of the activities will receive a complimentary gift (exclusive for 2020) of a 300 ml bottle of Hanonomai Junmai Ginjo Sake and square sake cup set. Junmai sake (junmaishu) is produced solely from rice and water without any chemical additives.
How to get involved
Present the page for this campaign on the JNTO website on the screen of your smartphone or other mobile device, or print the page out and bring it with you.
Eligibility
No restrictions.
Conditions
Activity one: Minimum 1 person / maximum: 20 people.
Hosted weekends and holidays during the event period.

Activity two: Minimum 20 people maximum 50 people.
For fewer than 20 people, arrangements will be made through consultation.
For more than 50 people, arrangements will be made through consultation.

Activity three: Minimum 1 person maximum 30 people.
Disclaimer
The Company is not responsible for any damages suffered by travelers due to natural disasters, wars, riots, suspension of transportation, accommodations, or other travel services, government orders, or other reasons not caused by the Company or our agents.
Information
Venue Name and info
Activity one: Imagire Activity Village "Kaikokan"
Activity two: Kanzanji Sun Beach
Activity three: Arai Fishing Port (Hamana Fishery Cooperative)
Venue Address
Activity one: 3268 Kibi, Kosai-shi. Activity two: 1832-1 Kanzanjicho, Nishi-ku, Hamamatsu-shi. Activity three: Arai, Arai-cho, Kosai-shi.
Inquiries
Inquiries: iN HAMAMATSU.COM
Email: info@inhamamatsu.com
Languages supported: Japanese, English, Chinese (Traditional/Simplified), Indonesian
Site URLs