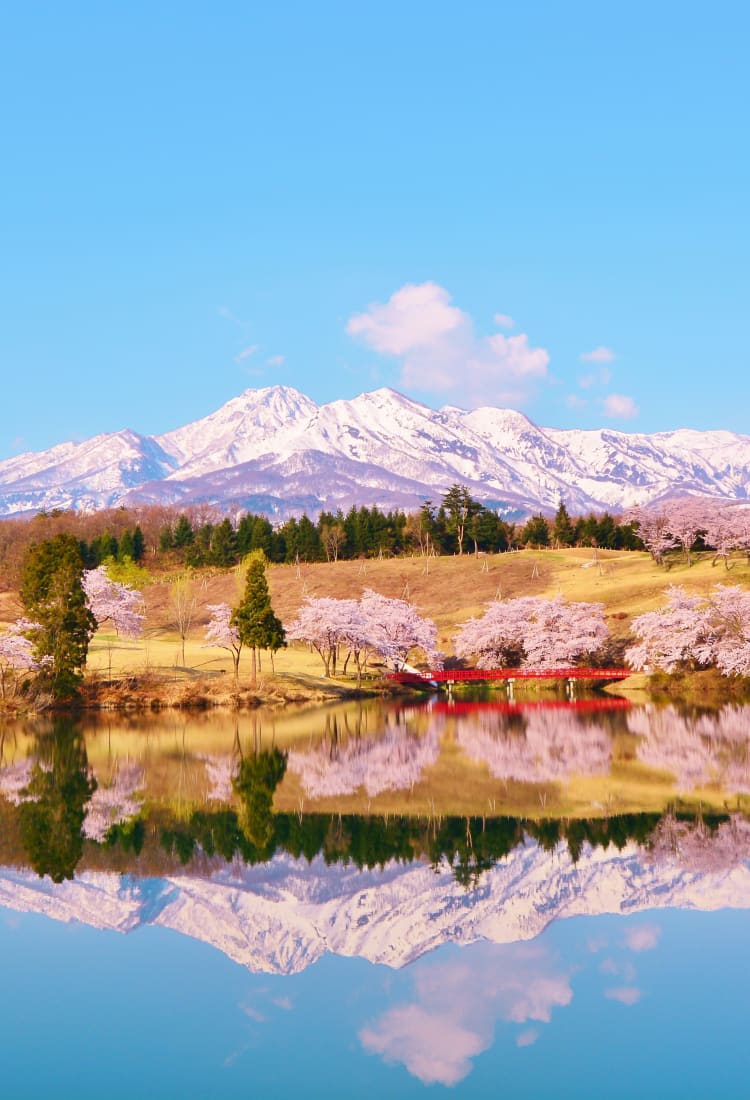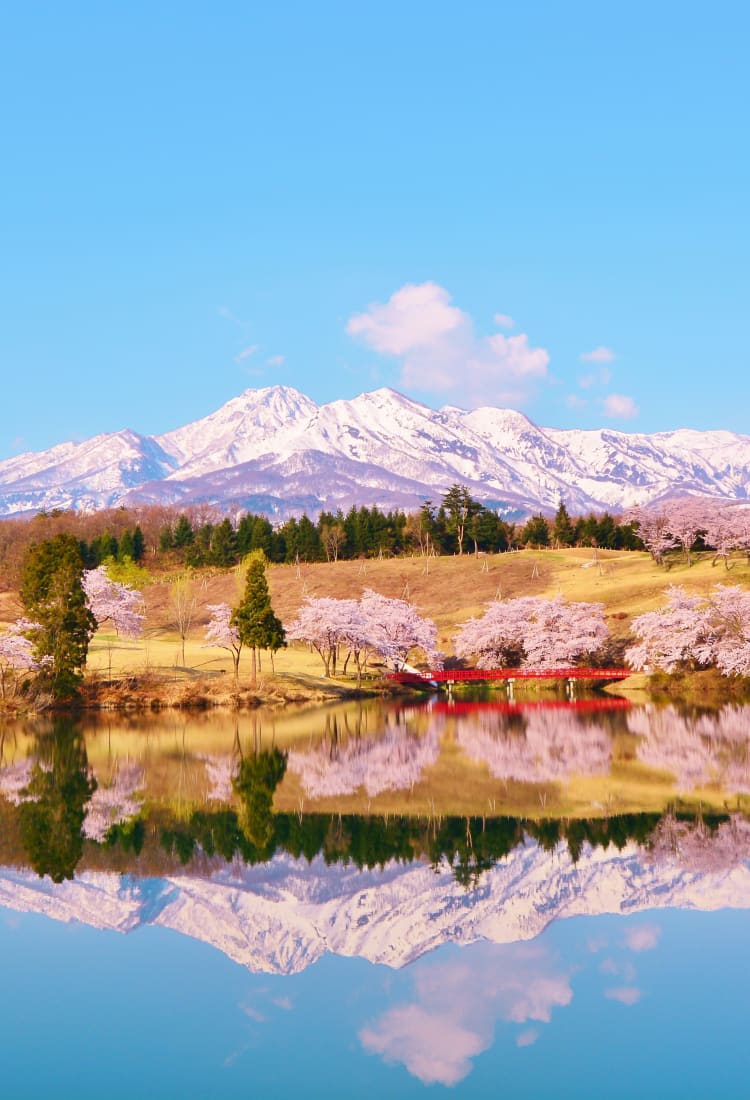 Hokuriku Shinetsu
Niigata
Snow, rice and sake
Snow sports reign supreme in Niigata, but the prefecture's hiking, hot springs, seafood, rice and sake are major draws in their own right
Just over an hour from Tokyo by bullet train, Niigata is a natural delight, from the popular ski resorts of
Echigo-Yuzawa
to the terraced rice paddies of
Hoshitoge
. Beyond the mountains, scenic beaches stretch along the coast and ferries operate to rustic
Sado Island
. Seafood, rice and sake are local specialties. If you visit in season, you will be able to see fireworks and cherry blossom festivals that rank among some of the best of Japan.
You can reach various parts of Niigata Prefecture on the JR Joetsu or Hokuriku Shinkansen from Tokyo. The Joetsu Shinkansen serves Echigo-Yuzawa and Niigata City, and the Hokuriku Shinkansen serves Myoko. You can also reach Niigata by highway bus or car, or fly into Niigata Airport from most domestic airports.
Visitors coming from Osaka, Kyoto or Nagoya by train need to transit through Tokyo or Kanazawa. Highway buses run mainly between Niigata and Tokyo (about five hours), Kyoto (about seven hours) and Osaka (about nine hours). Niigata Airport handles flights to both domestic and international destinations.
Don't Miss
Skiing and snowboarding at Echigo-Yuzawa ski resorts
Tokamachi's colorful rice terraces
Sake "theme parks" with sake vending machines and a sake hot bath
The Nagaoka Fireworks Festival and Takada Cherry Blossom Festival
Trending Attractions in Niigata
Koshihikari Rice

Koshihikari is one of Japan's premier varieties of rice, and is said to taste different from region to region. Niigata is a prime grower of this strain, which is famous for its pearly look and rich aroma.

Sake

Japan's national beverage, known locally as nihonshu, has a rich history and a spectrum of flavors similar to wine. With its cold winters and temperate summers, Niigata produces some of Japan's finest nihonshu.

Tokamachi Textiles

Long known for its silk and hemp production, Tokamachi in Niigata continues to create high-quality textiles today. Using a special technique known as nenshi, the raw silk is tightly twisted to even out their texture. The threads are then dyed and woven into subtle, elegant geometric patterns the naturally fuse the past and present.

Sasa Dango

Sweet red beans inside a delicious, sticky rice cake. Sasa dango are wrapped in bamboo leaves and steamed, giving them a faint aroma of bamboo.

Hegisoba

A type of soba with seaweed blended into the dough, hegisoba is served in mouthful-sized portions on a wooden tray called a hegi. This is a good dish to share, and a must for any noodle lover.

Kakinotane

These small crescent-shaped rice crackers resemble persimmon seeds. Kakinotane are Japan's go-to bar snack, typically mixed with peanuts. It is rare to see this salty snack being eaten without beer nearby.

Murakami Carved Lacquerware

Kibori tsuishu is lacquerware made using urushi varnish that is applied to a meticulous wood carving. Made from softwoods, the iconic motifs used include peony flowers, peacocks and landscapes—a pictorial language sourced from its Chinese Song Dynastic roots.

Ojiya Hemp Textiles

Ojiya chijimi fabric gained popularity in the 17th century. Made from ramie, also known as Chinese nettle, this textile's weave has distinctive creases called shibo. Traditional summer kimono made out of this moisture-wicking fabric became a Japanese favorite.

Shiozawa Pongee Silk

Shiozawa tsumugi is a woven silk textile used exclusively for kimono. Applying techniques developed for linen, dyed yarn is woven into fabric that is a sophisticated balance between soft colors and minimal patterns.
Spring

Cherry blossoms bloom across the area in early April, followed by tulips and roses. Join the locals in rice planting, or taste the elegant brews at the Niigata Sake Fair.

Summer

In summer, the prefecture's precious rice paddies turn a lush green. It's prime time for outdoor activities, including the Fuji Rock music festival and many fireworks displays.

Autumn

Visitors flock to Yahiko Park to see the vivid maple leaves. It's time for the rice harvest and to slip into one of the prefecture's many natural hot springs.

Winter

Snow lovers flock to Niigata's ski resorts. After a day on the slopes, relax in one of the many hot springs or enjoy the twinkling snow lanterns at the Yasuzuka Snow Festival.