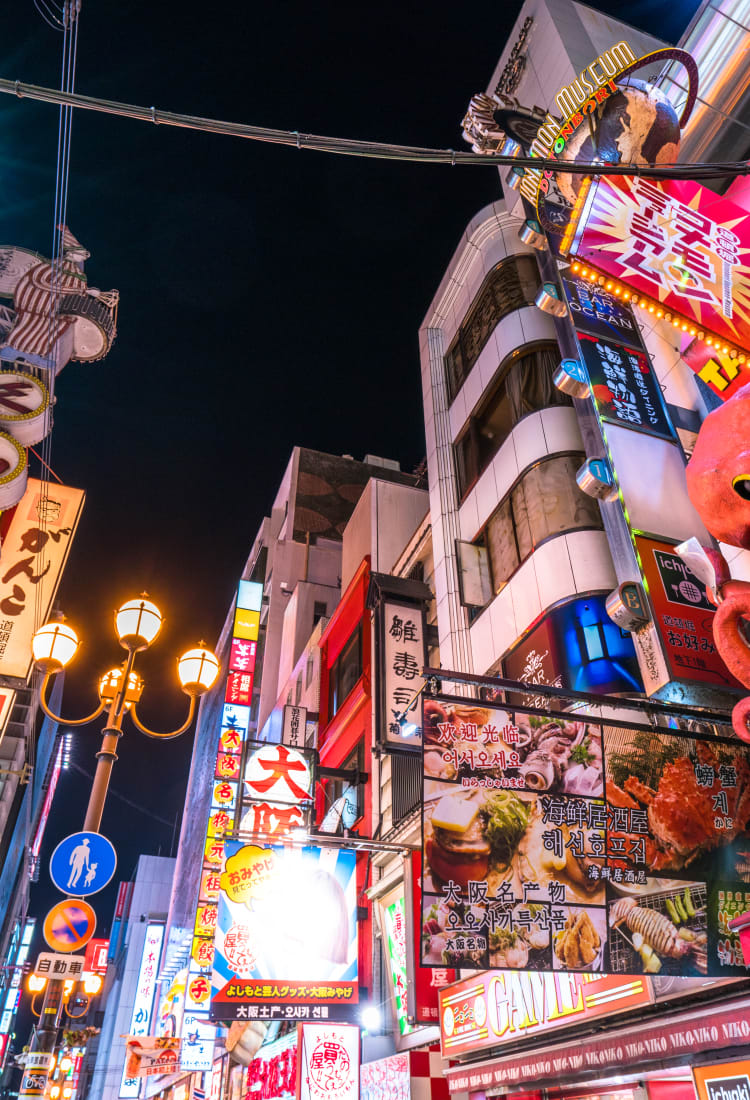 Kansai
Osaka
Bright, gaudy and playful: Osaka provides ample amusement with little pretension
Osaka is a charming, relaxed city best known for its food, fun and nightlife—with some history and culture peeking through
Osaka is only a short shinkansen ride from Tokyo, but has a very different personality to Japan's capital city. Hop off the bullet train into an area of exciting nightlife, delicious food and straight-talking, friendly locals. Along with plenty of shopping and modern attractions, Osaka also has a historical side, the highlight of which is
Osaka Castle
. The castle is a great place to discover more about Japanese history and to wander the beautiful grounds, especially during cherry blossom season in April when the sakura blooms and the weather is often at its best.
From Tokyo, take the Tokaido-Sanyo Shinkansen to Shin-Osaka Station. The trip takes approximately two and a half hours. From Shin-Osaka Station, transfer to the JR local line and ride to Osaka Station. From Kansai International Airport (KIX), take the Nankai or JR lines to Tennoji or Namba stations.
Osaka is an excellent base for exploring the greater Kansai region, which includes Kyoto, Nara, Kobe and Wakayama. Each of these areas is a one-hour train ride from Osaka's central transportation hubs (Osaka Station in the north, and Namba Station and Tennoji Station in the south). Kansai International Airport (KIX) is rivaled only by Narita Airport in Tokyo in size and scope, and is serviced by all major airlines. There are many direct flights between KIX and many major cities in the US, Europe and Australia.
Don't Miss
The neon lights of Dotombori Bridge and Osaka's Minami area
Exploring Osaka Castle Park and Expo Memorial Park, the site of Expo '70
Partaking in major seasonal festivals including Tenjin Matsuri, Kishiwada Danjiri and Ebessan
Indulging in famous culinary delights, particularly in neighborhoods such as Tenma and Ura Namba
Trending Attractions in Osaka
Iwa Okoshi

Iwa okoshi are candied puffs made from millet. They've been produced in Osaka since 1185. Think of them as cereal bars with eight centuries of history behind them.

Okonomiyaki

Okonomiyaki are savory pancakes made with shredded cabbage, flour, egg and dashi, and either cooked at your table for you or left for you to cook yourself. The latter option is much more fun. A long list of toppings and combinations are available, with some of the more common ones being pork, shrimp, octopus and cheese.

Takoyaki

Bits of octopus combined with pickled ginger and green onions, mixed in a batter and grilled in a special mold. The resulting spheres are crispy on the outside and tender on the inside. An Osaka classic topped with Worcestershire sauce, ginger and seaweed flakes.

Osaka Kongo Bamboo Blinds

Bamboo blinds predate the Heian period (794-1185), and were first used inside the Imperial palace and the residences of nobles. Finely crafted and elegant Osaka Kongo sudare, made of quality bamboo from the foot of nearby Mt. Kongo, have a beauty and ambiance that is quintessentially Japanese.

Sakai Forged Blades

Sakai hamono are hammer-forged blades from Sakai and Osaka. Crafted using traditional blacksmithing techniques, these cutting utensils are prized for their strength and edge geometry.
Spring

A sea of pink fills the prefecture's parks and boulevards, and the city comes out in full force to celebrate the gorgeous views at Osaka Castle, Yodogawa Riverside Park and the Osaka Mint.

Summer

Festive spirits and outdoor amusements take everyone's minds off the stifling heat. Osaka's foremost festival, the Tenjin Matsuri, thrills the crowds and many head for the prefecture's southern beaches. Frequent firework displays brighten the night.

Autumn

As summer's humidity dissipates, the leaves turn fiery red and provide a striking backdrop for outdoor adventure. The Midosuji Parade brings a vibrant procession and marching bands down Osaka's grand boulevard.

Winter

Holiday illuminations light up the urban areas and end-of-year festivities get into full swing. Runners from all over the world gather for the Osaka International Women's Marathon.