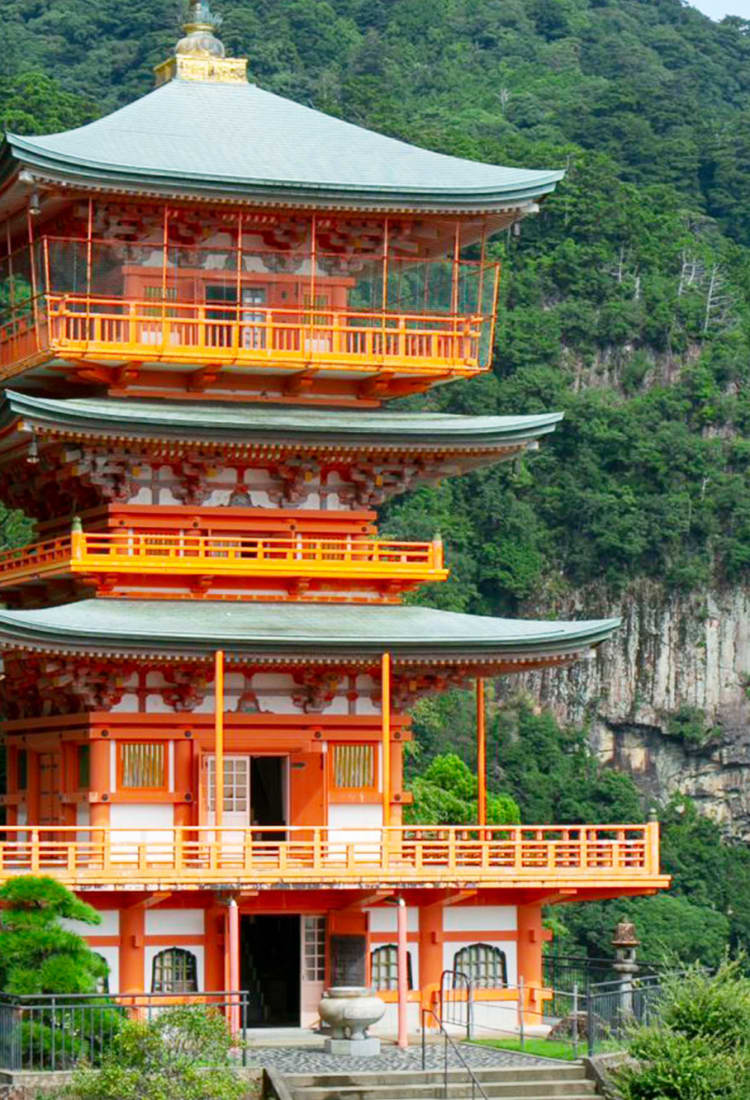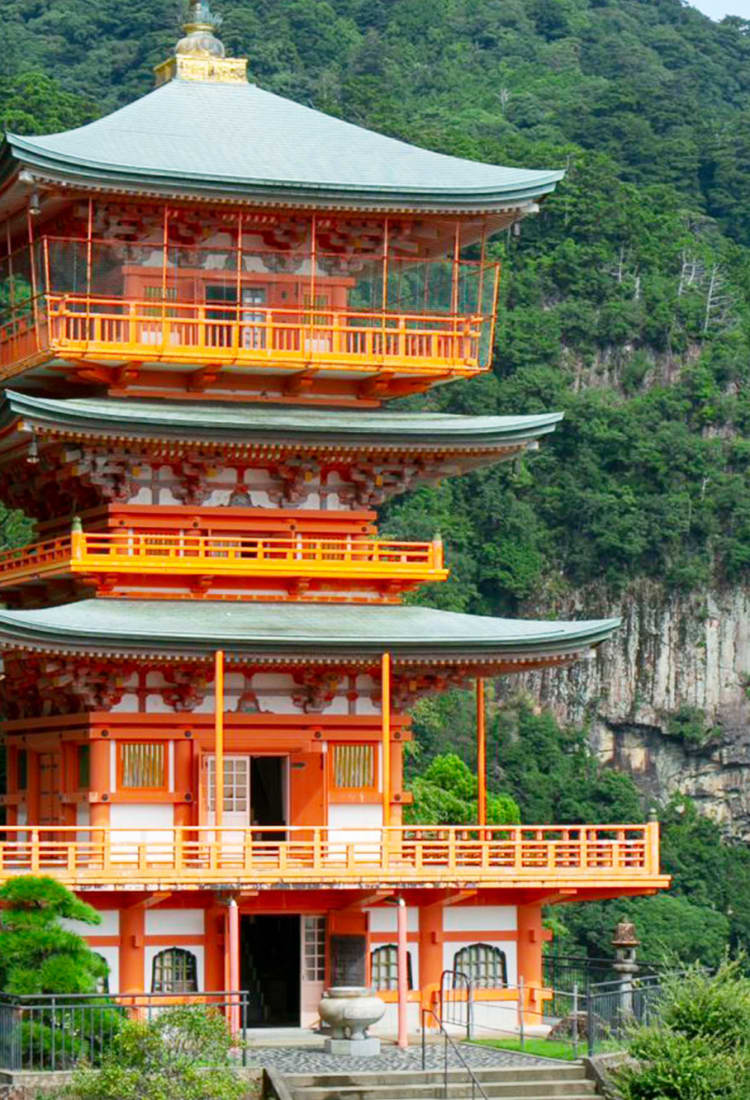 Kansai
Wakayama
Reboot body and soul in Japan's spiritual heartland
Wakayama offers the natural and spiritual sides of Japan with the ancient temple complex of Koyasan, the Kumano Kodo pilgrimage route, and a picturesque coastline
Wakayama is home to some of Japan's most sacred sites and beautiful beaches, attracting enlightenment-seeking pilgrims and beach-bound sun worshippers in equal measure. From the World Heritage listed Kumano Kodo Pilgrimage Route and the temple complex of Koyasan to the sparkling white sands of Shirarahama Beach. Wakayama City is home to an impressive castle and a delicious local ramen with its own style.
Wakayama can be accessed by limited express trains from Kyoto, Osaka and Nagoya. There are regular train and bus services from Osaka and Nagoya and easy connections for flights into Kansai International Airport. From Tokyo, you can reach the area via Osaka or Nagoya by train, or fly into Wakayama's Nanki-Shirahama Airport in just over an hour.
Most visitors access Wakayama Prefecture via Wakayama City on the JR Kuroshio Limited Express from Shin-Osaka Station, a major bullet train stop. To visit Wakayama's southeast coast approaching from Mie or Nagoya, take the JR Limited Express Nanki Express. The journey from Nagoya takes three and a half hours and is not fully covered by the JR Rail Pass. If you don't have a rail pass, a less expensive alternative to air and rail is express bus. These run from Tokyo, Kyoto and other major cities. From Tokyo, expect the journey to take 10 hours.
Don't Miss
The calm, spiritual atmosphere at the ancient temple complex of Koyasan
Wakayama Castle perched upon a mountaintop
Jagged natural rock monuments seen from picturesque beaches in Kushimoto
Follow the ancient Kumano Kodo pilgrimage route through dense and misty forests
Trending Attractions in Wakayama
Kishu Lacquerware

Made in Kuroe, Kishu shikki is lacquerware known for its simplicity, durability and practicality. The ever-popular negoro-nuri is finished in vermilion lacquer but with use, the black lacquer undercoating comes to the surface. Embracing modernity, this lacquerware now includes plastic versions as well.

Kishu Paulownia Chests

Paulownia wood gives Kishu tansu their unmistakable warm hue. Each chest of drawers is crafted with seamless precision and exacting detail, with tongue and groove joinery, wooden nails and custom hardware.

Wakayama Maguro

Wakayama catches more "nama maguro" or never-frozen tuna than anywhere else in Japan. From decadent tuna sashimi rice bowls to deep-fried tuna burgers, the possibilities for tuna are endless in Wakayama. There's even a tuna festival in late January.

Wakayama Umeboshi

Wakayama grows more plums than anywhere else in Japan. The pickled ume (Japanese apricots) they produce, called umeboshi, are acidic and have a distinctive flavor. Umeboshi are often eaten with white rice. Umeboshi made from Nanko ume are especially popular.

Koyadofu

Commonly referred to as either koyadofu or koridofu, this shojin-ryori staple is tofu prepared in a traditional method that dates back centuries. First frozen to remove excess water and then dried, it is often simmered in broth and served individually, garnished with sliced carrots. This tofu differs from regular tofu in that it absorbs the flavor of anything it is cooked with. Try it at Koyasan in Wakayama Prefecture or anywhere else where shojin-ryori Buddhist cuisine is served.

Wakayama Ramen

Wakayama ramen is distinguished by its rich pork and soy sauce broth, also referred to as tonkotsu-joyu. You should also order some hayanare sushi (pressed mackerel sushi) on the side. (Photo: ©Wakayama City Tourist Association)

Wakayama Mikan

Wakayama farmers have been cultivating mikan since the 1600s. These tangerine-like citrus fruits are a vibrant orange and very sweet. Many local souvenir shops offer fresh squeezed mikan juice and even liqueurs made with Wakayama mikan.
Spring

Mild temperatures and low rainfall offer ideal conditions for trekking the Kumano Kodo Pilgrimage Route. Head to Kimiidera Temple for some of the earliest-blooming cherry blossoms in Wakayama and the Kansai region—full bloom is usually early April.

Summer

Beachgoers flock to the picturesque and dramatic coastline to soak up the sun when beach season gets fully underway in July. Through July and the first half of August, the Wakayama night sky fizzes with firework displays.

Autumn

Blazing red maple leaves transform the gardens of majestic Wakayama Castle in late November. Shingu City celebrates its local festival in early October, in which divine spirits are transported along the Kumano River.

Winter

Warm up in historical hot spring resorts in the mountains and along the coast. Enjoy Wakayama's sweet, juicy mikan oranges when they are in season between October and January.