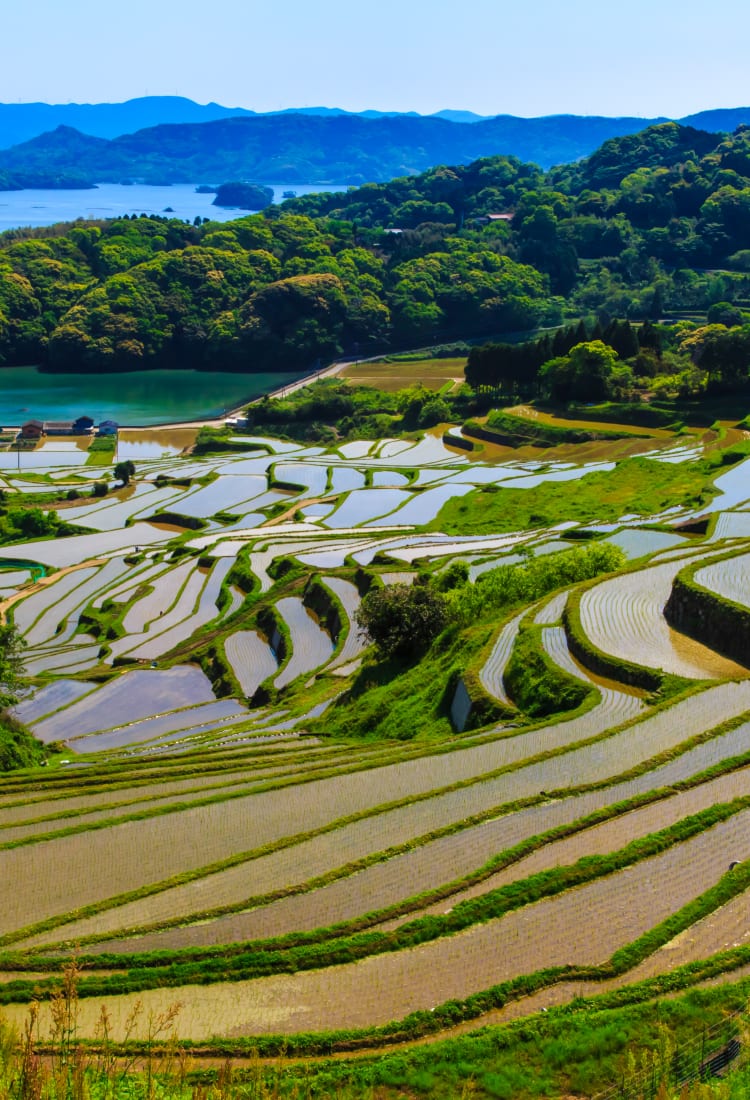 Kyushu
Saga
Feudal castles, historic pottery villages, and restorative onsen
A coastal prefecture dotted with islets and facing the Korean Peninsula, Saga was once a key trading center and home to many of Japan's pottery traditions
Located in Kyushu's northwest, Saga offers plenty of natural wonders, history and artistry. It's famous for being the birthplace of ceramics in Japan, chiefly in the historic pottery towns of
Karatsu
, Arita and Imari, and has been influenced by Chinese and Korean culture. Saga Castle and
Nagoya Castle
hint at Saga's feudal past, while natural attractions include the sea caves of Karatsu, and Rainbow Pine Grove, a Japanese black pine forest stretching five kilometers from east to west along Karatsu Bay. Hot spring areas include
Takeo Onsen
and
Ureshino Onsen
, prime spots for mental and physical relaxation.
Saga is accessible from JR Hakata Station via the JR Kamome or JR Midori-Huis Ten Bosch line. A highway bus travels directly from Hakata Bus Terminal to Saga Station. Saga also has its own airport, with flights directly to and from Haneda Airport in Tokyo, as well as Shanghai, Taipei and Seoul.
Saga is an easy trip within Kyushu if you are based in Fukuoka. The local JR trains will get you from Hakata Station to Saga Station in around 35 minutes. There is plenty of lodging around the station. From Saga Station, you can take a number of local lines for easy access to the surrounding areas such as Takeo, Arita and Karatsu. Saga Airport (also known as Kyushu Saga International Airport) is the fastest way from Tokyo, with the flight taking under two hours.
Don't Miss
Vast carpets of flowers and trees at Mifuneyama Rakuen in Takeo
The sacred temple and waterfall setting of Kiyomizunotaki in Ogi
The soothing waters of Ureshino's hot springs
Remnants of Saga's samurai heritage at Saga Castle
Trending Attractions in Saga
Ureshino Tea

Saga Prefecture is the birthplace of green tea in Japan, spurred when the monk Eisai brought tea leaves back from China in 1191. Cultivation began in 1440 in the town of Ureshino, which is now the center of tea in Saga. The tea produced in Ureshino is smooth and light in taste.

Saga Beef

Saga beef is relatively new to the scene, appearing in 1983, but has already established itself as a mouthwatering alternative to more famous brands such as Kobe and Matsusaka. From the Japanese wagyu breed, the meat is known for its glossy marbling and depth of flavor.

Karatsu Ware

The Japanese concept of wabi sabi, or imperfect beauty, runs through every facet of the culture, including 17th century Karatsu-yaki. Originally produced in Saga, not far from Nagasaki, Karatsu is a robust pottery that marries a rough beauty with hand-painted designs to create plates, vases, and tea ceremony bowls.

Imari Ware

Exquisitely decorated and delicately crafted, imari yaki fine china is named after the seaport town of Imari but made in Arita—the birthplace of Japanese porcelain painted with colored overglaze. Imari ware dates back to the 17th century, and is thin and light yet solid and durable.
Spring

Spring in Saga brings out awe-inspiring cherry blossoms, carp streamers along the Kawakami Ravine, spring hiking in Mitsuse, and the Arita Ceramics Fair.

Summer

Time for fireworks festivals at Kawakamikyo and Nouryou. Visit one of Saga's waterfalls to escape the heat, or enjoy the hydrangea festival, which peaks during the rainy season in June.

Autumn

Revel in the seasonal color changes at Daikozenji Temple and Kunenan, attend events like the Karatsu Kunchi Festival and Saga International Balloon Fiesta, soak in an onsen, or enjoy a lighted bamboo lantern festival that creates an ethereal setting.

Winter

Enjoy winter sports such as skiing and snowboarding on Mt. Tenzan in Ogi. Take a stroll through downtown Saga during the Saga Light Fantasy display. Feel the warmth of the Ureshino Hot Spring Matsuri.