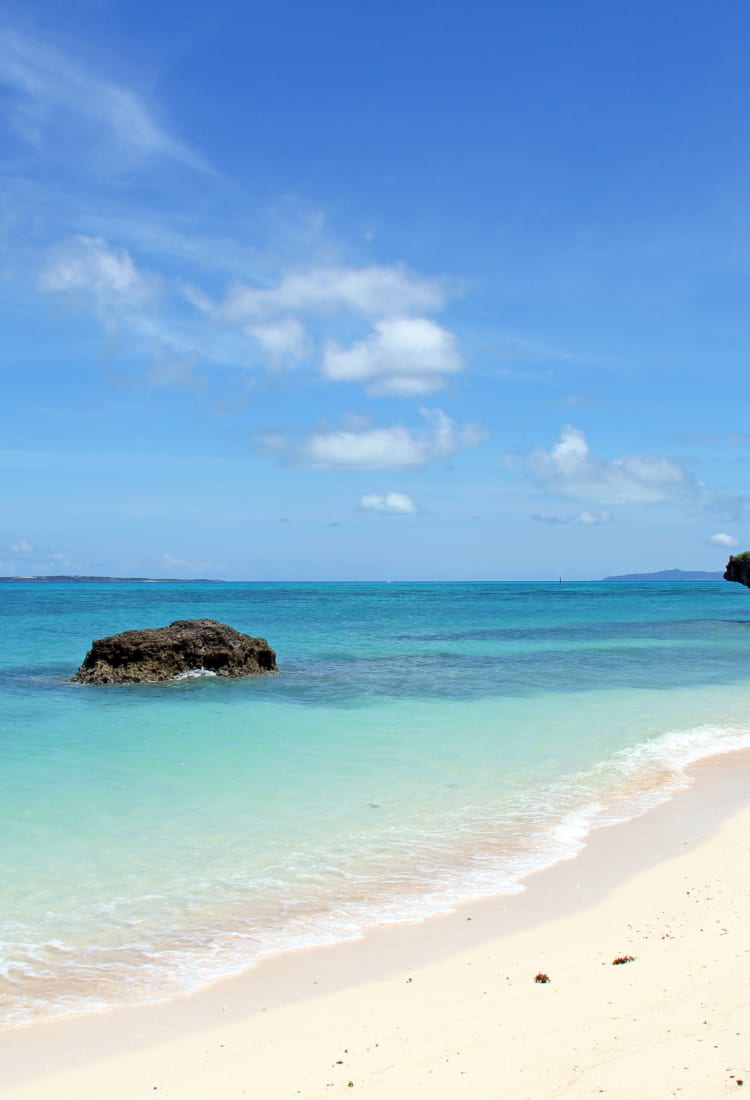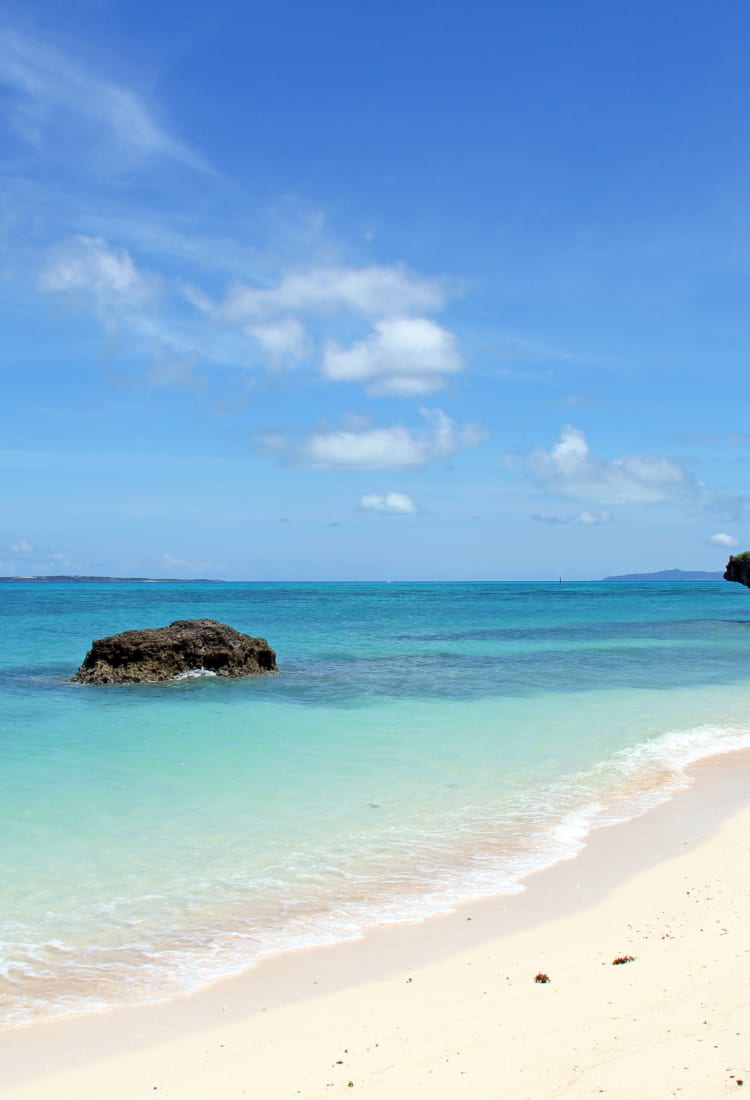 Okinawa
Okinawa
Pristine beaches, colorful coral reefs and sub-tropical jungle
Discover a distinct island culture born of subtropical sun, white sand, mangrove jungles and the age of the Ryukyu Kings
Japan's southernmost prefecture, Okinawa is a chain of islands with its own history as an independent kingdom and a distinctly subtropical climate, as well as the birthplace of karate. Explore the ruins and restored castles of the Ryukyu kings, and visit magnificent beaches and coastlines with an amazing array of coral and undersea life. Come for whale watching and dragon boat races, rare flora and fauna, and an island mindset that makes you forget the clock and follow the sun.
From mainland Japan, most flights to Okinawa's Naha Airport depart from Tokyo or Osaka. If you're coming from China, South Korea, Singapore, Taiwan or Hong Kong, there are direct international flights to Okinawa.
There are frequent flights from Tokyo to Naha on Okinawa's main island every day as well as direct flights to the outlying island of Ishigaki. There are also seasonal direct flights to Miyako Island. You can also catch connecting flights to the outlying islands of Miyako, Ishigaki, Yonaguni and Kume from Naha Airport. The best way to get around Okinawa is by rental car, or by bicycle or scooter in some areas. If you prefer public transportation, there is a monorail running from Naha Airport through Naha to the old capital of Shuri. There is also a comprehensive bus service on the main island, and ferry services run between nearby islands.
Don't Miss
UNESCO World Heritage sites on the main island, including Shuri Castle and the ruins of Tamagusuku area. Shuri Castle was destroyed by fire in 2019, but visitors can see the valuable reconstruction of the castle until its completion in 2026.
Whale sharks and the fascinating, diverse sea life at Okinawa Churaumi Aquarium
Relaxing on white sand beaches and swimming in clear blue ocean waters
Enjoy the beautiful nature of Yanbaru and Iriomote Island, both World Natural Heritage sites
Trending Attractions in Okinawa
Awamori

A liquor unique to Okinawa made from Indica long-grain rice and aged in clay pots to mellow its fire. Awamori is most commonly served with water and ice, but it can also be enjoyed straight. A distinctive characteristic of Awamori is that the ingredients continue to mature over time, changing the flavor, and the aroma and taste become more mellow. Awamori that has been aged for more than three years is called kusu.

Traditional Textiles

The textiles of Okinawa are known for their high-quality craftsmanship. More than 10 traditional dyeing and weaving techniques have been handed down through generations. Materials like ramie plant fibers, cotton and silk are used for weaving, and kasuri ikat dyeing and "hanaori" weaving styles are used to create precise patterns. Each area of the prefecture has its own distinctive textiles. Bingata, produced in the southern region of the Okinawa main island, is known for its bright colors. Remote Miyako Island and the Yaeyama Islands produce Jofu ramie fabric with ikat patterns, while Kumejima Island produces Kumejima Tsumugi silk textiles. During the reign of the Ryukyu Kingdom (from the 15th century to the 19th century), "tribute cloth" was paid to the government as a form of tax from outlying islands, including Miyako, Yaeyama, Kume. These superior textiles were also used for trading with other kingdoms and ruling dynasties at the time. Okinawa is one of the largest producers of these fabrics in Japan today.

Okinawan Raw Sugar

A mineral-rich brown sugar made from Okinawa sugar cane, with a mellow sweetness and a rich molasses flavor. The raw clumps of sugar are often eaten as a sweet treat during teatime.

Shiquasa

The shiquasa is Okinawa's answer to the lime. Rich in vitamin C and refreshingly tart, this citrus fruit is squeezed over grilled fish, blended into smoothies and even mixed into local awamori cocktails.

Goya Chanpuru

Bitter melon, as goya is known in English, packs a powerful punch. Eaten raw, goya can be overwhelming, but when mixed with egg, tofu, and Spam in the dish called goya chanpuru, it elevates a simple stir-fry to a culinary delight.

Soki Soba

Soki are pork spare ribs simmered in awamori (a strong type of shochu), soy sauce and sugar. They are placed in noodle soup topped with scallions and pickled ginger. Call it ramen for the tropics.

Ryukyu Glass

Vibrantly colored Ryukyu glass has been around since the 19th century. Okinawan glassmakers first used broken glass pieces from foreign ships, sake and soy sauce bottles to produce unique designs. Ryukyu glass reflects natural colors—ocean blues and greens, sunrise oranges and yellows—and Okinawan values: don't waste, be adaptable, and value imperfection.

Sanshin

A long-necked instrument that resembles a banjo, the sanshin has three strings and was once covered in snakeskin (newer instruments use nylon cloth). The sanshin has a distinctive sound that creates a perfect island mood.
Spring

Spring comes early in Okinawa. Cherry blossoms bloom in late January and February and azaleas, irises, lilies and hydrangeas follow in April and May. Early spring is also the best time for whale watching off the coast of Zamami Island.

Summer

Okinawa's subtropical summer stretches from June to October, an open invitation to go waterfall trekking and explore the beaches, coral reefs and mangrove glades of these islands. Go snorkeingling, diving, kayaking and more.

Autumn

The humidity drops after the early fall typhoons, making this a great time to explore the islands while it's still warm enough to enjoy sand and sea. The Naha Giant Tug-of-War Festival and Shuri Castle Festival are autumn events that you won't want to miss.

Winter

Winter in Okinawa is a comfortable 15°C. Divers can still explore the ocean in December, while January brings the whale-watching season. Take a scenic hike on Cape Manza or enjoy the illumination festivals during the holiday season.