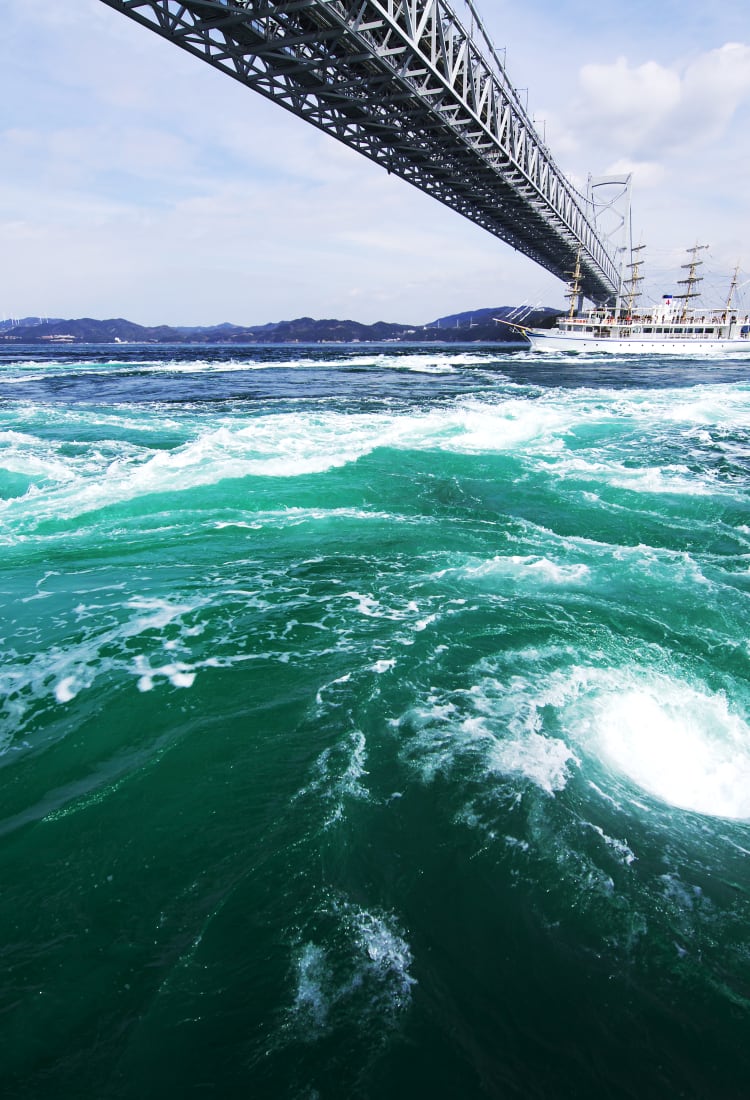 Shikoku
Tokushima
Whirlpools, watersports and a major dance festival
Many descend on Tokushima City every August for the large-scale Awa Odori dance festival, but the prefecture offers outdoor fun in every season
Tokushima is most famous for the
Awa Odori Festival
, which brings hordes of tourists during the Obon holiday period in August. But the prefecture, located on the eastern corner of Shikoku, offers beautiful nature and outdoor thrills all year round. Try out white-water rafting in spring or surfing in summer. Enjoy locally brewed sake in the town of Awa Ikeda during cooler months, or trek part of the Shikoku Pilgrimage Route. Off the coast lie the
Naruto whirlpools
, best viewed from sightseeing cruises.
Tokushima Prefecture is served by nearby Tokushima Airport and is connected to the rest of Japan by a network of train and highway bus services. Ferries also operate from Wakayama.
If departing from Tokyo or other distant Japanese cities, the easiest way to reach Tokushima is to fly into nearby Takamatsu Airport. The JR Uzushio Limited Express train connects Takamatsu City and Tokushima City. For rail travel from Tokyo, Kyoto, Osaka or Hiroshima, take the Tokaido-Sanyo Shinkansen to Shin-Kōbe Station and transfer to a highway bus. From Matsuyama, the JR Yosan Line Limited Express runs to Tokushima Station. Ferries from Wakayama are operated by Nankai Ferry and take two hours. Driving in Tokushima is relatively stress-free compared to more developed regions. A rental car is a good way to get around, and bridges connect Shikoku with the main island of Honshu.
Don't Miss
The famous Awa Odori folk dance festival, which takes place in August
Outdoor adventure opportunities, including white-water rafting and surfing
A sightseeing cruise around the Naruto whirlpools
Tokushima's loggerhead turtles, which visit Ohama Beach to lay eggs from May to August
Explore Tokushima by Area
Trending Attractions in Tokushima
Naruto Kintoki

A local sweet potato grown in sandy soil, Naruto kintoki is famous for its vibrant red skin and sweetness. Locals use it to make savory beer snacks, sweet desserts and a number of side dishes.

Handa Somen

Somen noodles are usually quite thin, but this Tokushima version is thick. The dough of wheat flour and salt water is matured, stretched and separated manually by chopsticks. The result is a smooth, mildly salty noodle that's often eaten cold in a simple soy sauce-based broth.

Wasanbon

Tokushima grows sugar cane, and this delicate, fine-grained sugar is often used to make wagashi, traditional Japanese confections.

Tokushima Sudachi

A Japanese citrus fruit that looks similar to a lime but has a tart taste like a grapefruit. While too sour to eat on its own, it adds a fresh citrus tang to grilled fish and hot pot dishes.

Yusan Boxes

Yusan bako are three-tiered boxes from Tokushima on Shikoku. Children in Tokushima once carried their lunches in them when hiking and on special occasions. A popular custom was to give a yusan bako as a gift to wish for a child's healthy growth. Yusan bako are perfect for holding jewelry and accessories.

Otani Ware

Otani yaki is an iconic Shikoku island pottery with a history of more than 200 years. The pottery style is famous for water jars, pots, and other large items. Using the nerokuro technique, one artisan stands and throws clay, while another lies below and kicks the wheel.

Indigo Dyed Crafts

Garments and other cloth items made with natural indigo dye in Japan are known as aizome seihin. The deep blue hue, known as Japan blue, comes from leaves fermented for around 100 days. Wheat bran and sake are then added to the dye. The varied shades of blue are distinctive and rich.
Spring

Cherry blossoms bloom in late-March and the white-water rafting season begins. The mild temperatures are perfect for enjoying Tokushima's great outdoors.

Summer

The beaches come alive in summer as surfers share the shores with the local sea turtles that come to lay their eggs. August brings the Awa Odori festival, a major folk dance event.

Autumn

November brings spectacular fall foliage to Tokushima. The remote, forest-like Iya Valley and striking Oboke Gorge are some of the best spots to enjoy the seasonal colors.

Winter

Winter in Tokushima means glittering illuminations, locally brewed sake and relaxing in one of the prefecture's many hot spring resorts.