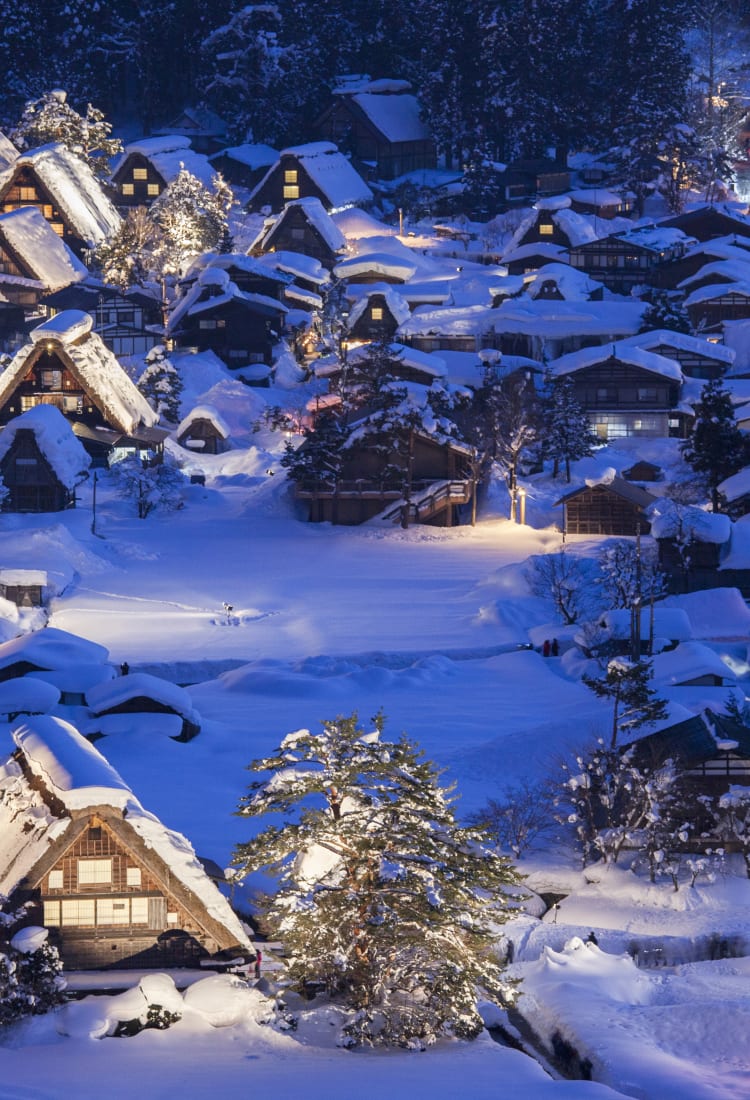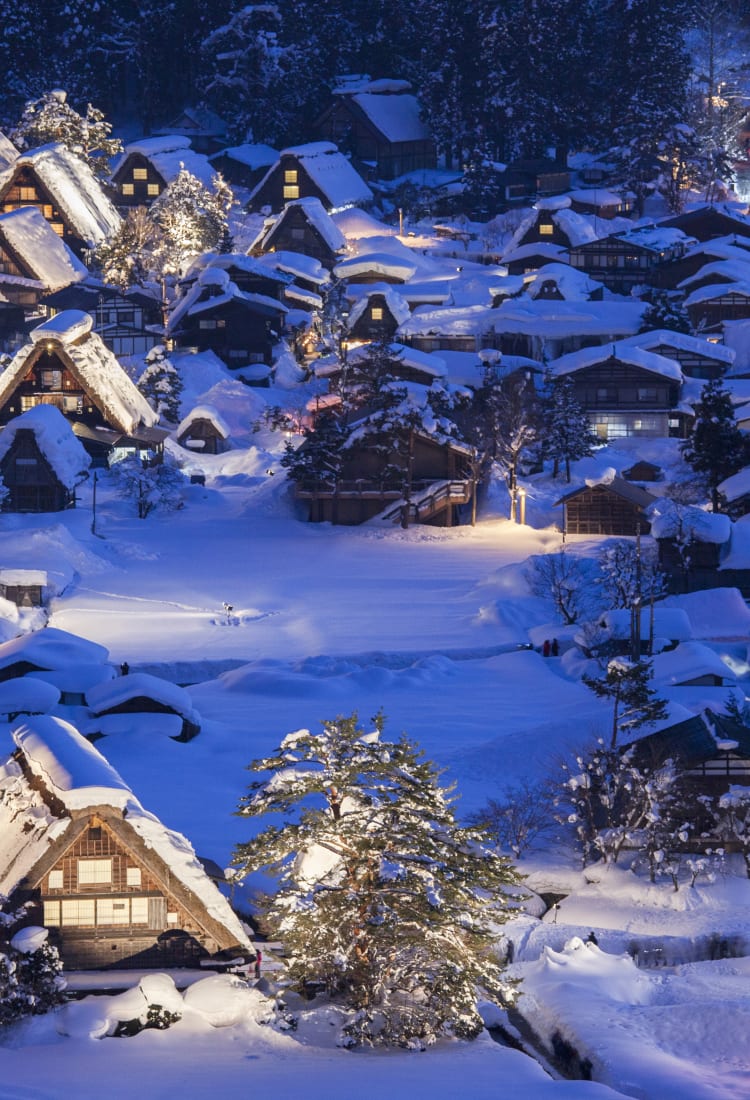 Tokai
Gifu
Ancient thatched-roof houses and centuries-old artisanal crafts
Gifu is Japan's literal and figurative heart, with untouched traditional villages nestled in picturesque mountain ranges
Gifu Prefecture is steeped in history, and its significance shines through to this day. The pivotal battle that united the nation took place at
Sekigahara
, and you can visit the battlefield today. Swordsmiths practice their craft in Seki, and traditional cormorant fishing is still alive along the Nagara River. The town of
Takayama
has gone mostly untouched by time, while the nearby villages of
Shirakawa-go
and
Gokayama
are one of the few places where thatched-roof houses remain in Japan. The dramatic mountains, pure rivers and snowy winters create a remarkably picturesque setting.
Gifu is easily accessible by JR Tokaido Shinkansen from Tokyo, Osaka and Nagoya. The prefecture is served by local JR trains and highway buses as well. There are many domestic and international flights to Chubu Centrair International Airport for easy access to southern Gifu, and some domestic flights to Toyama Airport for service to the northeast.
Nagoya is the main jump-off point for Gifu Prefecture, with the JR Takayama Line providing service to Gifu City, Gero, Takayama and most of the other key places in Gifu. Southern Gifu is centered around Gifu City, a 20-minute train ride from Nagoya. Trains and buses connect to Sekigahara in the east and Tajimi in the west. An excellent bus network loops to smaller sites outside the city as well as Gifu Castle and other regional attractions, all from JR Gifu Station. Hida in Northern Gifu is on the JR Takayama Line. The main hub is Takayama, and buses run from here to local towns and onsen resorts, as well as into the mountains. Highway buses run from Tokyo and Osaka to Takayama Bus Center.
Don't Miss
The riot of color and music during Takayama's spring and autumn festivals
Thatched-roof houses in Shirakawa-go and Gokayama
The soothing waters of Gero Onsen, considered one of Japan's best
The world-renowned swordsmiths of Seki and the ancient tradition of cormorant fishing on the Nagara River
Trending Attractions in Gifu
Hida Shunkei Lacquerware

The natural beauty of wood grain is preserved using the 400-year-old technique known as Shunkei lacquer. Cypress and horse chestnut are often used to create an array of utilitarian objects. Once coated in Shunkei lacquer, they become both beautiful and durable, granting them a long life that only serves to enhance their appearance.

Gifu Paper Lanterns

Paper, bamboo, wood and patience: the materials needed to create the beautiful Gifu-chochin lanterns designated as a national craft for over 20 years. Hand-painted on delicate washi paper, fitted to a weightless bamboo skeleton, the decorative lanterns emit a warm and welcoming glow.

Ichii Wood Carving

Made from yew, the prefectural tree of Gifu, ichii ittobori is a traditional form of carving in Hida, crafted using only chisels and left unstained. Master sculptors hew objects that delicately bring attention to this wood's fine grain.

Kuri Kinton

Kuri kinton is a dish of boiled chestnuts that are greated, booked, and candied with a little sugar. After cooking, the chestnuts are squeezed one by one. The dish itself has a mild sweetness.

Ayu

The ayu or sweetfish can be found in the waters of the Nagara River in Gifu, and a traditional method of catching them is to use cormorants. In season from summer to autumn, ayu are best eaten after grilling over an open flame with just a sprinkling of salt.

Fuyu Persimmons

Fuyu persimmons have no core, seeds or tannins, a texture similar to a pear, and the subtle flavors of dates, brown sugar and cinnamon. You can peel and slice these vibrant orange fruits just like an apple.

Keichan

The seasoning for this dish can be miso, soy sauce, or salt-based depending on the region. It features chicken thighs stir-fried with cabbage. Often served on a bed of pan-fried noodles, keichan is a warm and comforting dish.

Hida Beef

Hida beef is known for its marbling and a layer of fat that retains the aroma and juices of the meat when grilled. You'll know that the meat is tender and well marbled because you can separate it using only chopsticks.

Seki Blades

Seki hamono are forged blades produced in Seki. Bladesmithing there dates back to the 13th century, when craftsmen began making swords. When the end of the feudal era ushered in a new age, those craftsmen began producing kitchen knives and other cutlery instead of samurai weaponry.

Mino Ware

Mino yaki is porcelain made in Tono. There are fifteen different types, with the most popular styles being oribe, shino and kizeto ware. This tradition, which likely dates back to the 7th century, now produces over 50 percent of Japan's porcelain ware.

Mino Handmade Paper

Mino washi is a traditional papercraft in Gifu. The ancient technique used produces a fine paper that balances thinness with strength and beauty. During the Edo period (1603-1867), this paper was regarded as high-grade shoji paper, and was favored by the shogunate, the last samurai government of Japan.
Spring

Boasting one of the finest displays of cherry blossoms in the country and a spectacular spring festival, Takayama attracts visitors from across Japan and around the world during springtime.

Summer

Watch ukai or cormorant fishing on the Nagara River, camp at the Tsukechi Gorge or hike through some of the most stunning mountains in Japan, including Mt. Hakusan and Mt. Norikura.

Autumn

Take in Takayama's autumn festival and the autumn leaves in the mountains, particularly around Gujo Hachiman. October's Mino Washi Akari Exhibition draws artists from all over to create art using Mino's famous handmade paper.

Winter

Winter in Gifu is all about snow sports, with Gujo and Takayama the main destinations. Shirakawa-go is especially gorgeous when the traditional thatched houses are blanketed in snow.