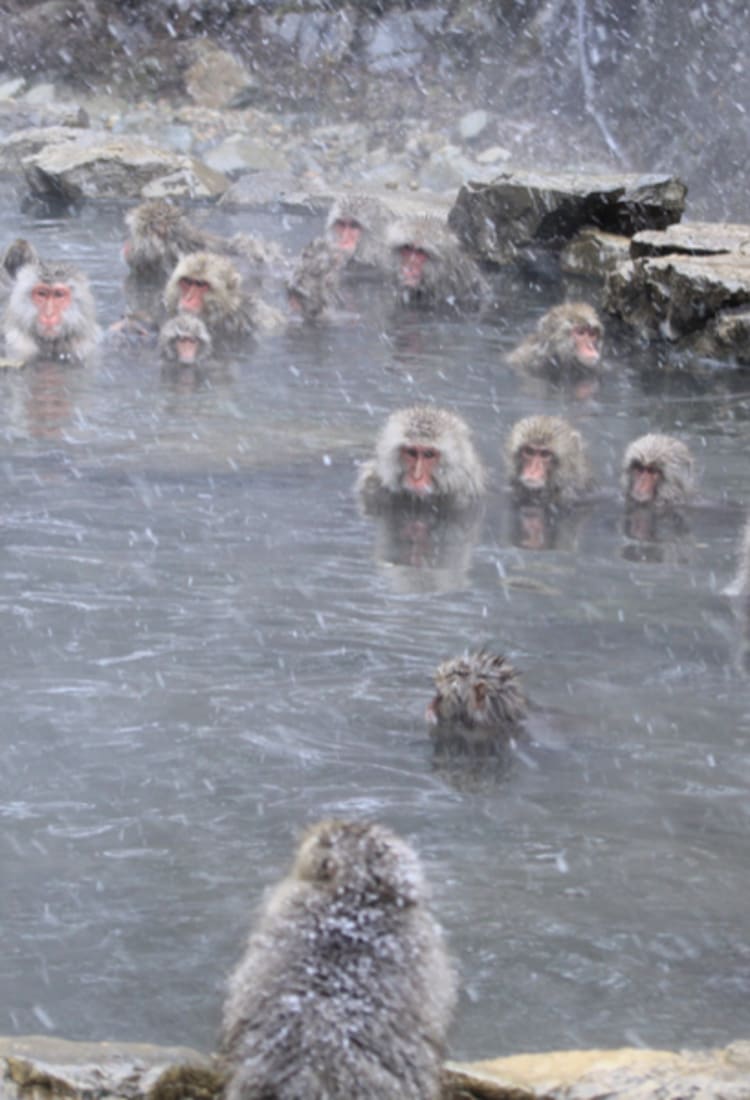 Delight in hot springs and have fun in the snow! Enjoy the two best forms of winter excitement in Nagano
Delight in hot springs and have fun in the snow! Enjoy the two best forms of winter excitement in Nagano
One of the true pleasures of Japan in the wintertime is its hot springs. In addition to its hot springs, which will physically warm you to the core, the town of Yamanouchi in Nagano Prefecture also features a chance to get a glimpse of adorable monkeys that will warm your heart as well. Take a stroll around the town enjoying hot spring baths large and small, or get outside and enjoy snow activities featuring a wide variety of trails for everyone from novices to advanced athletes. Nagano offers every kind of winter pleasure you could want!
Head out to a hidden hot spring and if you're lucky, you might even catch a glimpse of wild monkeys enjoying a hot soak!
---
You may see one monkey or sometimes groups closing their eyes in delight as they warm up in the hot water. At Jigokudani Monkey Park(English available) you might be lucky enough to see Japan's hot-spring-loving "snow monkeys" in their natural habitat! Just one glimpse of these monkeys is so heartwarming that people come from all over the world just to see them here. The monkeys are just living out their lives as they do in the wild, and enter the hot springs whenever they feel like it. All you have to do is wait for the right moment!
The park is located deep in the snow-covered mountains, and the only way to get there in the wintertime is to walk about 30 minutes from the free parking area or bus stop at Kanbayashi Hot Springs. If you come during the heavy winter snows, you need to come prepared with proper winter shoes and clothing.
To get to Kanbayashi Hot Springs, take the bullet train from Tokyo to Nagano Station. The fastest train takes 79 minutes. From Nagano Station, it's about an hour via express train followed by bus. If you use the express bus once you get to Nagano Station, you can get to Snow Monkey Park Station in about 45 minutes.
If you manage to see the monkeys relaxing in the hot springs, you'll definitely want to follow suit by visiting Yamanouchi's renowned hot spring village after the long trip.
Of course, just one hot spring is never enough. You've to get out and go bath-hopping to compare them!
---
Yudanaka-shibu Hot Spring Village in Yamanouchi offers nine bathhouses in one place. One of them, Shibu Hot Spring(English available) has more than 30 Japanese inns and all of the public hot spring baths (with no accommodations) are free-flowing*1.
There are 37 hot spring sources in total, some of them orange-brown from the high iron content, some milky white, others perfectly clear. With so many colors and components to choose from, you also get all kinds of benefits–everything from soothing eczema to beautifying skin, soothing the stomach, easing nerve pain, and more. Guests who stay at one of the inns in the Shibu Hot Spring area can get exclusive access to a special package that allows them to go bath-hopping at the nine public baths to experience and compare the differences between them.
There is no shampoo or soap available at the public baths, so people wash off where they're staying and then bring their towels out to the baths.
*1 A free-flowing hot spring is one that is fed by a natural source that bubbles up into the bath without being diluted or altered. These hot springs are said to have the most beneficial effects
In Japan, hot spring customs dictate that you enter the baths in the nude. Swimwear of any kind is not acceptable. It is also extremely dangerous to enter the baths after you've been drinking. Make sure to wait until after you've had your soak to drink.
Many of the baths are quite hot, so it's much better if you pour the water over your arms, legs, chest, and stomach before actually getting in. It's also important to stay quiet and respectful of others while you bathe. Never run, swim, or jump in the baths, and keep your voices low. It's also proper etiquette to keep your towel out of the bathwater. Wait until you get out of the bath to use it.
While you're between hot springs on your bath-hopping adventure, stroll along the cobblestone streets of the hot spring village, which boasts more than 1,300 years of history. It's lined with places to eat, drink, buy souvenirs, and more! You can also strike up conversations with the local people.
Enjoy every possible kind of ski slope during a longer stay
---
Nagano Prefecture is one of Japan's premier winter sports destinations, and was the site of the 1998 Winter Olympics. Located in the center of Joshinetsu Kogen National Park, the Shiga Kogen ski area(English available) boasts 18 ski slopes of all different sizes, making it one of the largest ski areas in Japan.
You can take a bus directly there from Nagano Station, making it convenient to get to. There are also plenty of accommodations and hot springs nearby to choose from. There are even slopes that are lit up at night, so it's possible to keep playing in the snow from morning until night.
The elevation is over 1,500 meters, and the slopes are covered with high-quality powder. Visitors can choose the runs they like in each ski area based on their preferences and level of experience.
The Sun Valley Ski Area features an extensive variety of trails, ranging in difficulty from novice to expert. If you want to take on the most challenging run at Shiga Kogen, head to the Maruike Ski Area. All of these different locations are part of the larger Shiga Kogen ski area.
The different ski areas of Shiga Kogen are linked via shuttle bus, so it's easy to get around. You can also travel via the gondolas and lifts to the different areas, so buying an all-area pass is definitely a great idea. If you want to enjoy the different ski areas and trails throughout the winter, you can also buy a Shiga Kogen season pass. Take on the trails of Nagano and have a blast staying active all winter long!
For more information
Nagano Tourism Organization
Yamanouchi Tourist Federation

Shiga Kogen Tourist Association