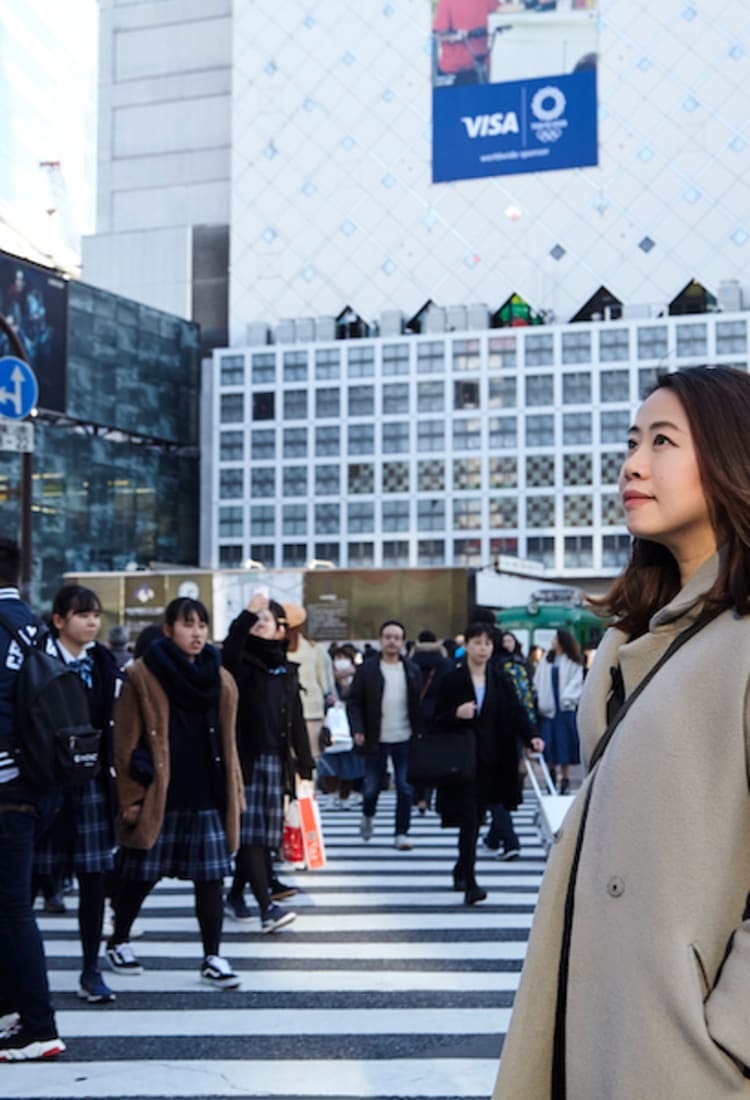 Checking Out Tokyo's Art Destinations with Chinese Photographer Yan Lee C – Part 2
Checking Out Tokyo's Art Destinations with Chinese Photographer Yan Lee C – Part 2
Tokyo is one of the world's largest metropolises with a population of over 13 million people. For 400 years, since the Edo Shogunate was inaugurated in 1603, the city of Tokyo has continued to develop as the cultural, political, and economical center of Japan, cultivating a diverse art scene along the way. Passion, wonder, excitement, euphoria — join us and Yan Lee C, a photographer out of China, as we explore different art destinations around Tokyo that stimulate the mind and move the heart.
5. teamLab Planets Tokyo 
---
If you want to see the best art spots in Tokyo, then you can't pass up a visit to teamLab Planets in Shin-Toyosu. The space, which opened in July of 2018, is only open for a limited time until Fall 2020.
This space was created by the world famous art collective teamLab, known for their interactive art pieces using modern technology. teamLab Planets TOKYO is a massive art space filled with immersive works of art for guests to explore.
Following the staff's instructions, visitors are to take off their shoes and socks and store their belongings in a locker before becoming "immersed" in the exhibition.
Visitors then enter a dark, sloped hallway where water trickles under your feet. The surprising feeling of walking through a shallow river has the effect of sharpening the senses.
Proceeding one step at a time against the current guests finally reach the top to find a glistening, bright water fall. The sight of this will make you forget that you're actually indoors in the center of Tokyo.
Proceeding into the next part of the exhibition, Soft Black Hole – Your Body Becomes a Space that Influences Another Body, requires visitors to use all of their muscles and balance in order to move forward.
Finally out of the darkness, visitors find themselves in a room completely enveloped in light. This is The Infinite Crystal Universe, a space that feels as if it expands infinitely in every direction. In this space, visitors can affect their surroundings using a smartphone application.
Drawing on the Water Surface Created by the Dance of Koi and People – Infinity is another expansive room where guests stand in what resembles a shallow pool of water.
In the dark space, the surface of the water glows with a spectrum of glimmering light. Projected into the "water" are hundreds of koi fish that swim around your feet.
When one of the koi comes in contact with a human it bursts into a beautiful formation of flowers, dispersing into the water.
Floating in the Falling Universe of Flowers invites visitors to stand in a planetarium-like space and look up at colorful flowers suspended in the air as their petals fall and float gently down.
Yan: Everything around you is constantly moving, so it sort of makes you lose your sense of equilibrium — it's hard to tell which way is up and which is down. Not long after that you start to get the sensation of forgetting where your body ends and the space around it begins. It's a really strange feeling.
teamLab Planets TOKYO
Address: 6 Chome-1-16 Toyosu, Kōtō-ku, Tokyo
Exhibition Period: July 7, 2018 – Fall 2020
Hours: weekdays 10:00-22:00 (last entry 21:00), Sat, Sun, Hol 9:00-22:00 (last entry 21:00) *hours may vary by season
Regular Holiday: first Thursday of every month
6. Sumida Hokusai Museum
---
When it comes to famous Japanese artists, there is likely none more world-renowned than ukiyo-e artist Katsushika Hokusai (1760-1849).
Hokusai was the only Japanese person to be featured in LIFE magazine's 'Life's 100 most important people of the second millennium'.
His design, The Great Wave off Kanagawa from the series Thirty-six views of Mount Fuji, which depicts a large wave with Mt. Fuji in the distance, had a major influence on many 19th century Impressionist painters like Monet, Renoir, Degas, Van Gogh, and changed the history of Western art altogether.
The Sumida Hokusai Museum is located in Tokyo's Sumida Ward, where Hokusai was born and raised. Also nearby is Ryōgoku Sumo Hall, where the traditional Japanese sport of Sumo is held.
The museum contains a permanent gallery featuring replicas of Hokusai's paintings and woodblock prints including his most famous work The Great Wave off Kanagawa. The selected works showcase the various episodes of Hokusai's life's work. 
Yan Lee C: Katsushika Hokusai is well-known in China as well — even by those who aren't particularly interested in art.
What I learned from my visit to the Sumida Hokusai Art Museum was that painters and engravers worked together to create a single ukiyo-e print. I was really surprised, I thought that Hokusai worked alone from start to finish.
The museum was designed by Kazuyo Sejima, an architect whose other works include the Louvre-Lens Museum in France and the 21st Century Museum of Contemporary Art in Kanazawa. Sejima designed the Sumida Hokusai Art Museum to be "a museum opened to the city, familiar to local residents."
Yan: Despite the garish silver design, the surface of the walls reflect the downtown area and allow the building to seemingly blend in with the surrounding townscape.
In addition to the permanent gallery, the museum also has a large and small exhibition room, library, lecture room, and gift shop. Some of the more popular items sold at the gift shop are postcards of Hokusai's artwork.
"This will be perfect to hang up at home," says Yan as she picks out a large postcard of The Great Wave off Kanagawa.
Sumida Hokusai Museum
Address: 2 Chome-7-2 Kamezawa, Sumida-ku, Tokyo
Phone Number: 03-6658-8936
Hours: 9:30-17:30 (last entry 17:00)
Regular Holiday: Monday (closes the following day if Monday is a holiday), closed for New Years holiday
*museum may close at times other than described above
7. Celaravird
---
As we make our way from one spot to the next, the photographer in Yan Lee C sees even the mundane details of Tokyo as captivating subject material. Take for example, the hilly roads that are prevalent throughout the city.
Tokyo's terrain runs from mountainous in the west and gradually declines toward the ocean in the east. The land, along with the coastline, have been developed by human hands since the area was originally known as Edo.
Yan: It may seem like just another unassuming hill, but if you really look closely, there's culture there. Stone steps like these are inspiring.
In a quiet residential area about a 10 minute walk from Yoyogi-Uehara Station, we come across the inconspicuous restaurant Celaravird.
The restaurant's entrance is surrounded by green plants and although it looks like a stand-alone house restaurant, it's actually part of an apartment complex.
Beyond the lush green entryway, the interior has a casual feel and is tied together with a Nordic style.
One of the places where owner/chef Hashimoto Koichi gained his experience was in Spain's legendary restaurant El Bulli, which is strongly associated with the popular cooking term "molecular gastronomy".
Hashimoto's multicourse cuisine is a work of art that pursues quality in carefully selected ingredients while using the latest methods of "modern gastronomy" such as instant smoking and vacuum-sealed cooking.
Chef Hashimoto: People may perceive words like "cutting-edge" and "technology" as being apart from the idea of "natural", but that's just not the case.
All cooking deals with ingredients, so everything starts with your relationship to the producers — the growers. The story is important in cooking. I'm always thinking about how each ingredient will play an important part of the story.
Chef Hashimoto's ethos permeates through every aspect of his cooking.
Yan: The origami crane made of thinly sliced celery root was so elegant that I felt bad eating it. The quince puree spread at the bottom of crane had a refreshing smell, the whole concept was very interesting.
Chef Hashimoto's cooking is delightful, not only in terms of taste, but for his breathtaking ideas and use of ingredients as well. The sight of Yan Lee C extending her arm to shake Hashimoto's hand and saying, "I'll definitely be back!" was more than enough to tell us that she was satisfied.
Celaravird
Address: 2-chome 8-10, Kamihara, Shibuya-ku, Tokyo
Hours: dinner 18:30 open, 19:00 course starts / lunch 11:30 open, 12:00 course starts (reservations required on Saturday only)
Regular Holiday: Sun, Mon
Phone Number: 03-3465-8471
URL:https://www.celaravird.com/
Reservations:https://yoyaku.toreta.in/celaravird/#/