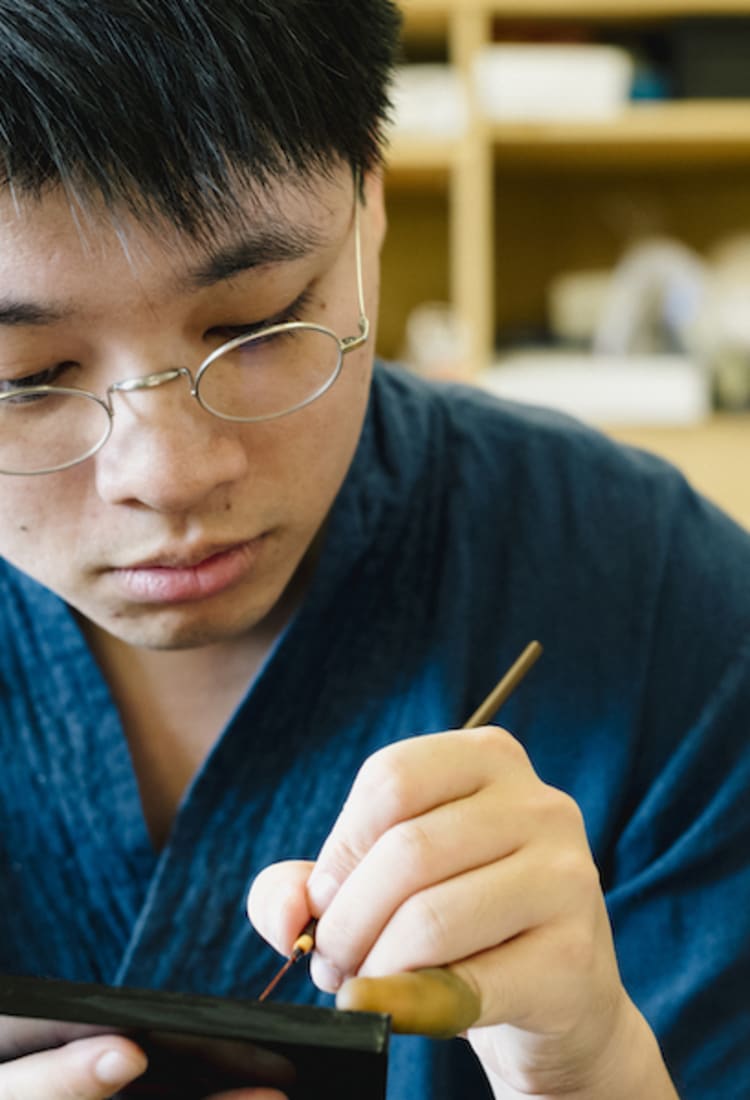 Lacquerware: embodiment of delicate Japanese craftsmanship, seen through the eyes of a Taiwanese apprentice in Wajima
Lacquerware: embodiment of delicate Japanese craftsmanship, seen through the eyes of a Taiwanese apprentice in Wajima
Two to three hours by train from Tokyo or Kyoto, then two hours by bus from Kanazawa, Wajima is a small town set in beautiful natural surroundings at the tip of the Noto Peninsula in Ishikawa, on the Sea of Japan, and known for its delicious seafood. Wajima lacquerware has been made here as a traditional craft for some 500 years, and the outstanding skills behind it are still being passed down.
Li Bo Yi, from Taiwan, fell in love with Japanese lacquerware while at art school in Tokyo, and came all the way to Wajima to learn how to make it.
From dishes that set off the food served on them to accessories in which the natural warmth of the wood feels wonderful on the wearer's skin, lacquerware can last a lifetime. Mr. Li says it's the skill and dedication of the artisan that give lacquerware its special, inner beauty.
He talked to us about the wonders of lacquerware, and the attractions of Wajima and its beautiful natural surroundings.
Painstaking work gives lacquerware its refined beauty
---
— What exactly is Japanese lacquerware?

Li: It's a craft product made by applying many layers of lacquer, made from tree resin, to a wooden base. It's given as a gift for weddings or births, but is also used as day-to-day tableware and has a special place in the hearts of Japanese people.
Lacquerware bowls and multi-tiered food boxes are used on special occasions such as the New Year (Photo provided by: Ishikawa Prefectural Tourism League)
— What attracted you to Japanese lacquerware?

Li: For me, the word that best expresses the wonder of Japanese lacquerware is nairen. Rather than obvious, in-your-face glamour, it has an inner beauty.

Lacquer is sometimes used as a coating material in Taiwan, too. But Japanese lacquerware, which has been refined over thousands of years and has acquired a wealth of expression, is something special.
Li Bo Yi
It's a delicate process: Mr. Li bans other people from entering the room while he is working
---
— There are several areas in Japan that produce lacquerware, but what distinguishes Wajima lacquerware?

Li: A feature of Wajima lacquerware is the division of labor into making the wooden base, applying lacquer, and painting pictures or patterns. These processes are all handled by specialized artisans who are continually refining their skills.

The Ishikawa Prefectural Institute of Wajima Lacquer Arts, where I study, was set up to pass on the skills of a holder of an Important Intangible Cultural Property — a human national treasure. I finished the 2-year basic course this spring, and now I'm specializing in maki-e decoration.
Assignment pieces created by Mr. Li at the Institute
— What kind of process is maki-e?

Li: Maki-e means creating a picture or pattern with gold or silver powder. It's called maki-e [sprinkled pictures] because you "sprinkle" the powder over a pattern drawn on the lacquer.
Before applying gold or silver powder, Mr. Li draws a delicate pattern with a fine brush
To keep the lacquer soft and workable, Mr. Li warms it by resting the dish on his thumb
Li: There are many ways to create patterns, but my favorite is raden, which means inlaid mother-of-pearl. I love its natural sheen, which reminds me of the sea and sky.
A raden (inlaid mother-of-pearl) ring created by Mr. Li (Photo provided by: Li Bo Yi)

— What is the most difficult aspect of lacquerwork?

Li: What you need most is perseverance. Applying the lacquer, wiping it, drying it… repeating the same tasks, day after day, can get boring sometimes. But it's that day-to-day repetition which results in a movingly beautiful finished product.
A lacquerware dish in the making. Mr. Li trims any protrusions and puts the finishing touches to the pattern
Li: The properties of lacquer are affected by changes in temperature and humidity, and change every day. If you don't take account of those conditions, the top coat of lacquer can shrink or become wrinkled, and all the work you have done is wasted.

You have to be extra careful when applying the final coat of lacquer. You can't allow even a tiny speck of dust to stick to it, or it will be ruined. It's such delicate work that I sometimes ban other people from entering the room while I'm working.

— What's the best part of learning to make lacquerware?

Li: I guess it's the depth of the craft: the more I learn, the more I want to know. Just in maki-e decoration, one of the teachers told me that in three years at the Institute, you only learn about 20%.

— There are many tools on your table.

Li: Some of these tools are made of strange things. There's one brush that's made from the hair of female shell divers. Tools like this are really expensive, and there are fewer and fewer people making them. Day-to-day maintenance, to keep your tools in good condition, is part of the job.
— What is the attraction of using lacquerware in everyday life?

Li: Lacquer is not just beautiful, it's very practical. Though it's made from a natural substance, it's strong and heat-resistant, and also has great antibacterial properties.

As you use it, day by day, its distinguished aura grows. And even if it develops cracks, or breaks, in some cases it can be repaired by an artisan, so a piece you really like can last a lifetime.

— Isn't it difficult to use and look after?

Li: Basically, you don't have to be too nervous about using lacquerware. But it's vulnerable to ultraviolet light, so it should be stored away from direct sunlight. And you can't put it in the microwave or the dishwasher, but it's fine to put it in the refrigerator.
The beautiful aura of lacquer sets off the beauty of food and sake (Photo provided by: PIXTA)
Wajima also has great seafood from the bountiful Sea of Japan
---
— Where should you go if you are interested in Wajima lacquerware?

Li: First of all, you need to see the Wajima-nuri Kaikan, especially the exhibit that explains all 124 processes in the making of the wooden base, using 133 bowls. And you mustn't miss the Wajima Museum of Lacquer Art, the world's only specialized lacquerware museum.

And there are many shops selling Wajima lacquerware in the city, so you shouldn't have any problem buying gifts.
On the 1st floor of the Wajima-nuri Kaikan, there's an exhibition of lacquerware you can buy as gifts (Photo provided by: Wajima City Tourism Department)
— Besides Wajima-nuri, what else is there to see in Wajima?

Li: One of Wajima's greatest attractions is the Sea of Japan, which has a stark beauty. I go running on Kamogaura Beach every morning. It's a unique landscape: the mountain trail suddenly arrives at the beach, and there is the beautiful sea, right in front of you. It changes from season to season, but I like the stormy sea in winter best.
The swimming beach at Sodegahama, next to Kamogaura beach. We visited in August, and as Mr. Li said, "In summer, the sea sparkles in the sun."
Li: The great local specialty in Wajima is seafood from the Sea of Japan. For restaurants, I recommend Tsushima, which is listed in Michelin's Bib Gourmand. It serves not only local seafood, but wild vegetables that the chef picks in the mountains himself. Lunch prices are reasonable, and you get plenty to eat. Another place I like is an Italian restaurant called Aiuto, which uses local ingredients.

— It's a place you can really sense the bounty of nature, isn't it?

Li:It's a great place for people who love the sea and sky. I'm sure it's the beautiful natural surroundings that produced Wajima lacquerware: it's a craft that's closely linked to nature. Enjoy the sea breezes, breathe the clean air, look up at the starlit sky, and feel the history of this place!
Wajima City Tourist Association
Address: 20-1-131 Kawai-machi, Wajima-shi, Ishikawa
Access: About 20 minutes by taxi from Noto Satoyama Airport, or two hours by express bus from JR Kanazawa Station, getting off at Wajima Eki-mae. You can catch community buses serving Wajima city from Wajima Station, or rent a bicycle from the Tourist Association.
Wajima-nuri Kaikan
Address: 24-55 Kawai-machi, Wajima-shi, Ishikawa
Wajima Museum of Lacquer Art
Address: 11 Shijugari , Mitomori-machi, Wajima-shi, Ishikawa
Tsushima
Address: 4-66-1 Hori-machi, Wajima-shi, Ishikawa
Aiuto
Address: 3-158-1 Kawai-machi, Wajima-shi, Ishikawa