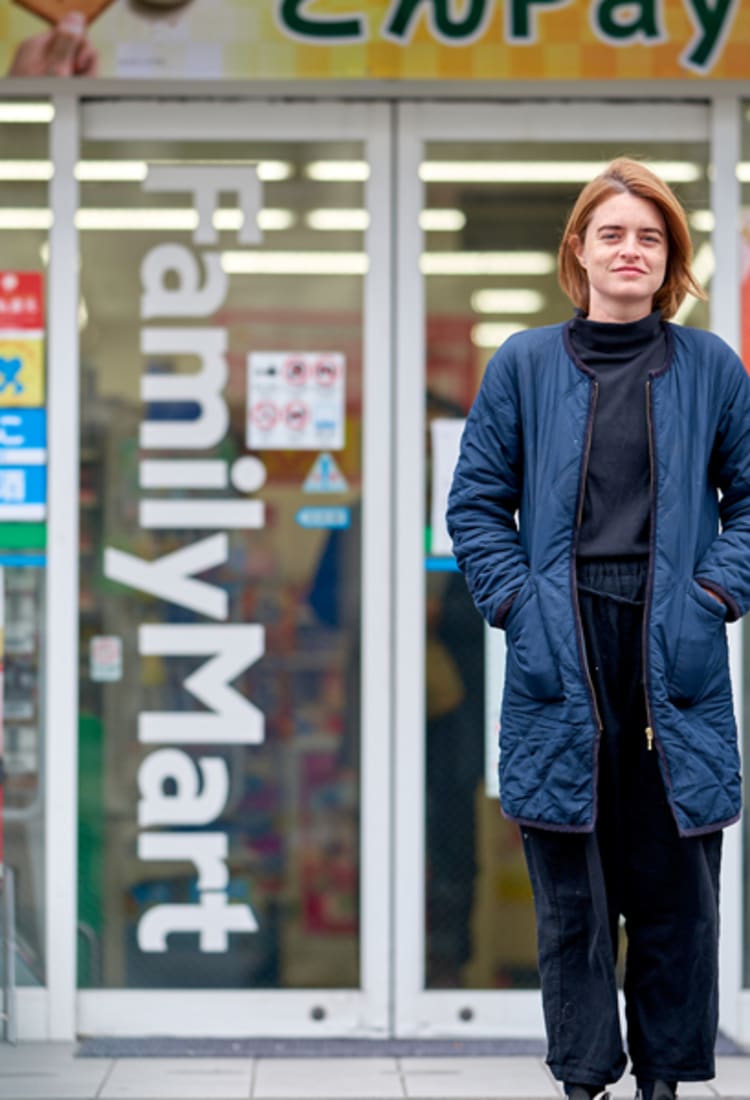 How to get the most out of konbini; Japanese convenience store
How to get the most out of konbini; Japanese convenience store
---
For locals, the Japanese convenience store – known in Japanese as konbini – is just another fact of life, but for visitors, it can be a source of endless wonder and unexpected surprises. Stocked with almost all the daily essential imaginable, equipped with wifi, ATMs, dining spaces, and clean bathrooms they're a far cry from what many folks are used to. Lucy Dayman is an Australian born, now Tokyo based journalist who has lived in Japan for the past three years. Lucy works as a travel writer and is the co-founded the creative communications agency Y+L Projects. Her work means that she's often exploring the different sides of Japanese culture and dishing out travel tips for tourists coming to Japan. While she's seen so many sides of the country there's one topic that people still want to know more about, and that is the Japanese convenience store scene.
Where everyday convenience meets ingenuity
—While convenience stores are ubiquitous all over the world, can you tell us what is special about the ones in Japan?
Lucy: I think Japan has managed to perfect the art of the perfect convenience store, no question! When international guests visit, they're often surprised by the incredible cleanliness, accessibility, diversity, quality, and quantity of what the local konbini has to offer. Whether you want to grab a little fried chicken, a cold beer, or a bowl of spaghetti or a fresh pair of socks, you can get it from a konbini relatively cheaply 24 hours a day.
The term konbini – also sometimes spelled as 'conbini' – is that Japanese name given to the nation's ubiquitous convenience stores. These Japanese stores, more than most other countries in the world, are the center of daily life, especially in the city.
A guide to the different konbini chains
—There seems to be so many different types of konbini in Japan. Are there differences between the stores?
Lucy: There are so many chains! The three major ones are Lawson, Family Mart, and Seven Eleven. But if you visit more local areas or regional places, you might find some rarer chains like Mini Stop, Daily Yamazaki, Seico Mart, and Poplar. While in general, most outlets are similar, everyone does seem to have a preference and an opinion on which outlet does what best.
Lucy: Family Mart is known at least in unofficial circles to have the most famous fried chicken, cleverly branded as 'Famichiki.'. If you're craving soft-serve ice cream, try and find a Mini Stop. It's one of the few stores to serve fresh soft serve, which they offer in a variety of rotating seasonal flavors, like mango and apple pie.
Lucy: Most stores also offer seasonal items like Halloween theme treats in October, and cherry blossom themed everything in spring. They even have items exclusive to specific locations; for example, in Hokkaido, many stores will sell Royce Chocolate, a nationally famous chocolate brand based in Sapporo.
The variety of food available in konbini is just amazing. In many other countries picking up dinner from a convenience store would be your last resort, but in Japan, getting a delicious quality meal. Rice and vegetables, or pasta or gyoza, or even ramen is an everyday offering.
—There seems to be a lot of choice in konbini but what should konbini beginners start with?
Lucy: Onigiri is one such foundational product, and also one of the most diverse. An onigiri is a fist-sized rice ball, covered in dry seaweed (known as nori), and often stuffed a delicious filling. You can get ume (salty plum) onigiri, tuna and mayo onigiri, chicken, even omelet rice versions! There's something for every taste.
Cup noodles are another konbini icon, in my opinion. While outside of Japan instant ramen seems to have a reputation for being the domain of the poor and culinary challenged college student, Japanese cup ramen is as diverse as it is delicious. Whether you want spicy Korean soup, shrimp and seafood noodles, or a bowl of comforting miso soup with mushrooms, the instant ramen aisle is practically an (abet salty) food pyramid in itself. You'll find hot water dispensers where you can add boiling water to your noodles and make them in-store.
Lucy: Bento boxes; Japanese lunch boxes, are endlessly fascinating to me too. While I don't eat them that often – because I'm always going for the onigiri – they're a great budget-friendly alternative to going out for lunch. In a bento box, you'll typically get a bed of rice and a cluster of sides, including fish, meat, vegetables, and the occasional mystery offering, but it's always tasty and fresh.
On the drinks side of things, canned coffee is like energy fuel for hard-working Japanese businessman. There are so many different types of coffee, from sickly sweet milky mixes and pure black blends, to in-store cafe style coffee machines that make a pretty great iced latte. It might take some trial and error to find your favorite, but trust me, it's out there!
Lucy: While beer is always accessible, the chu-hi selection is incredible. Chu-his are alcoholic drinks made from shochu (a Japanese spirit) and flavored mixer. They come in a variety of alcohol strengths ranging from 3% alcohol to 12%. You can get green tea flavored chu-hi, lemon chu-hi, and so many endless fruit-flavored types. There are always seasonal options, too, like apple flavor in the colder months and salty watermelon in the summer.
The konbini is a treasure trove of lifestyle goods
—Is there anything else that is worth checking out in konbini?
Lucy: The service that most visitors will probably use at least once in a konbini is the ATM. Major stores – Seven Eleven's most predominantly – in metropolitan areas have multilingual ATMs that accept foreign cards. Most stores also have a printing and photocopying machine which is useful if you need physical copies of flight tickets. You can easily upload the documents onto a profile on the Network Print website and print out the documents by entering your personalized code.
Lucy: Wifi is another essential service available; all the major three chains offer free wifi which is relatively easy to access, all you have to do is be within the vicinity of an outlet and follow the wifi login prompts.
Also a lot of bigger stores have tables and chairs and dining space too.While they may not be the most ambient of spaces, they're incredibly convenient places to rest your legs while you grab a snack and drink that you've purchased at the store.
Konbini offer lots of services you won't find elsewhere. You can pay your bills, post mail and buy concert tickets at many stores.
Lucy: While I'm inclined to say you can find everything at the konbini, I think one of the best uses or at least personally practical experiences I've had with the konbini is making short day trips, impromptu overnight trips.
If you're bad at packing or want to pack light, you can pick up all the toiletries like toothpaste, soap, face wash at deodorant you'd need.All of this is especially useful if you're taking a trip to the public hot spring (onsen). You can also grab stockings, socks, t-shirts.
They also sell clothing and lifestyle goods, as well as medicine and things you never knew you needed, like temporary heat packs to keep your hands warm.
—Can you tell us about some of the most unique items you could purchase in konbini?
Lucy: I think the most unique item that is also one of the most useful is the Japanese energy health and energy drinks, and anti-hangover potions. You'll find these drinks in an open-faced fridge near the counter. They look super medicinal but are usually just a blend of spices and flavors. I don't drink them a lot personally, but I do like Ukon No Chikara, which is the most famous anti-hangover drink. It's small and comes in a shot sized gold-bronze bottle with a green rim.
There is a vast variety of health drinks for when you're feeling flat or sick too. When I'm sick, I like to drink the warm lemon and honey drinks which you find in the warm drinks section, whether they actually help I'm not sure, but they definitely sooth a dry scratchy though if even for a moment.
—Are there any useful tips or phrases tourist should know?
Lucy: If you want to pick up a unique gift, you can ask the store clerk about 'Shin Hatsubai' (新発売), which means new release items. For a seasonal item or limited edition items, you can use the term 'Kikan Gentei' (期間限定). Keep an eye out for this sign in store to find the seasonal items.
Another phrase you might see is 'go jiyū ni o tsukai kudasai' (ご自由にお使いください). The phrase essentially means, "feel free to use it" – you might see this above the hot water dispensers where you can access the boiling water for your noodles, or maybe help yourself to an extra pair of chopsticks.
The konbini is like a microcosm of Japanese life. From local cuisine to strange, quirky items, hard-working staff displaying the typical 'omotenashi' (welcoming) hospitality and the incredibly thoughtful, but tiny innovations that make Japan such an endlessly exciting and fascinating place.