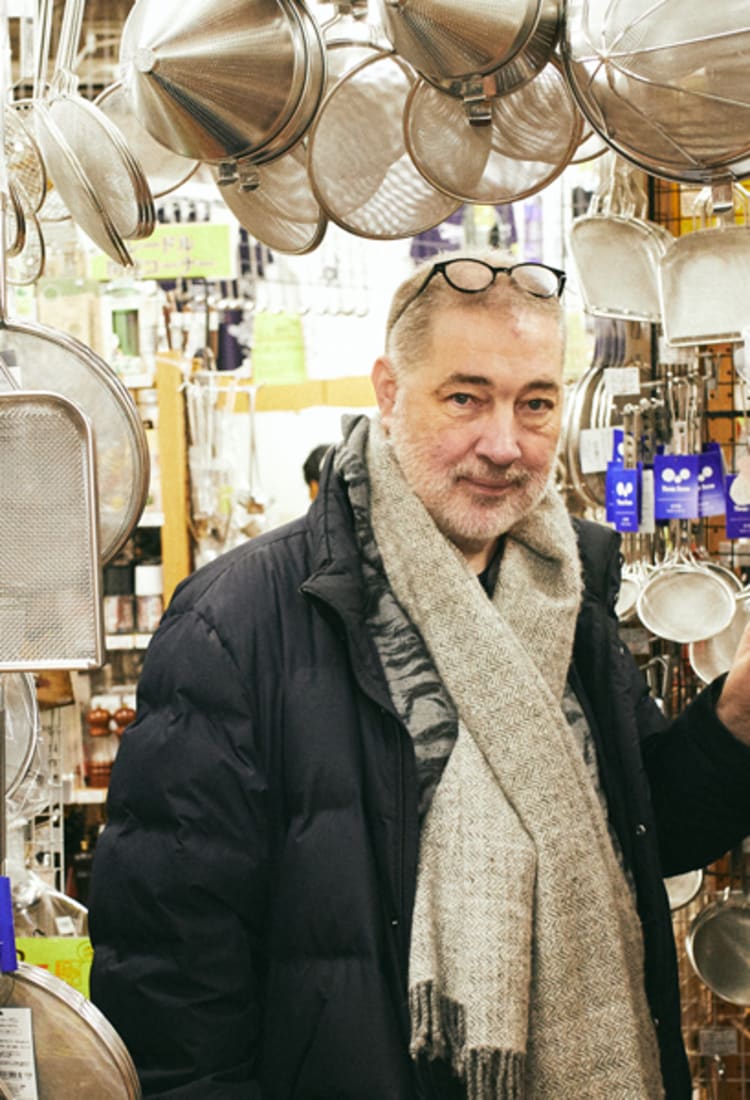 Even this French chef is impressed by Tokyo's Kappabashi Kitchenware Street
Even this French chef is impressed by Tokyo's Kappabashi Kitchenware Street
Tokyo's Kappabashi Kitchenware Street is famous for having everything you could possibly need for cooking, from utensils and clothing to the food models used in shop window displays. Thanks to its great location between the tourist destination of Asakusa and Ueno (which is the last stop on a train that comes directly from Narita Airport), it's frequented not only by professional chefs looking for specific tools, but more recently by foreign travelers as well. For this article, we asked Dominique Corby to give us a tour of Kappabashi from a professional's perspective. Corby arrived in Japan in 1994 as the executive chef for the Japan location of the exclusive French restaurant La Tour d'argent, and now runs his own restaurant in Tokyo.
Kappabashi is a wholesale district frequented by food professionals. What kind of place is it?
---
Corby: I run a restaurant called French Kappo Dominique Corby, and I insist on good cooking equipment to prepare our delicately seasoned dishes, which are a mixture of French and Japanese cuisine. I've been coming to Kappabashi Kitchenware Street for many years because they have exactly the tools I'm looking for. I often bring my friends here when they come to visit from France, and they always end up buying so much that their suitcases are filled to bursting when they go home. The chopsticks and fake food make great souvenirs, so even people who aren't interested in cooking have a great time here.
The first place Corby took us was a kitchen goods and tableware store called Dr. Goods, which he strolled into as if he'd been there many times before. Because the shop insists on stocking full product lines for every brand they carry, particularly from popular Japanese brands like Nodahoro and Sori Yanagi, it makes a perfect first stop. The items here are exceptional in both form and function, making them attractive décor pieces as well.
Dr.Goods
The first thing Corby showed us in Dr. Goods was a pair of tongs.
Corby: All of the tongs made overseas are huge, but you can get Japanese-made tongs in almost any size or shape. The ones with narrow points like chopsticks in particular are extremely handy for fine plating work.
The next item Corby showed us was an oroshi-gane grater, which he said was made a great souvenir. In Japanese cuisine, things like wasabi, ginger, or daikon radish are grated and used to flavor food. Oroshi-gane are not only made of metal, but also from plastic and sharkskin. Because grated foods have a different flavor and consistency depending on the material and shape of the grater as well as the fineness of the grate, you can use different tools for different purposes.
Corby: Japanese-style graters can be used for Western ingredients like garlic and radishes—not just for Japanese dishes. They're small, compact, and the cheaper ones only cost a few hundred yen, making them the perfect souvenir as well. No doubt someone would be delighted to get one along with some fresh wasabi root as a gift.
Wasabi is a huge favorite overseas as well, thanks in part to the skyrocketing popularity of Japanese food in recent years. Corby told us that he uses it to accent the flavor of the dishes at his restaurant, French Kappo, as well.
Japanese-made kitchenware is user-friendly and painstakingly designed
The next place Corby took us was a place called Iida-ya, about a five-minute walk from Dr. Goods. It's well-known for having innovative, highly practical finds—so much so that it's often featured in the Japanese media. Corby showed us a rubber spatula at Iida-ya that he himself loves to use.
Corby: Rubber spatulas can be extremely easy or extremely difficult to use depending on their size and rigidity. The ones made overseas tend to be big and hard, but I love using the smaller, more flexible Japanese ones. They're indispensable when you want to mix small amounts of flavoring ingredients like hot mustard paste.
Corby made his way to the back of the crammed shop to discover cooking trays of all sizes.
Corby: Japan has full of small metal cooking trays. A lot of them are designed to be stacked, too, which means they're great for effectively using space when you store them.
The trays can be used for almost anything, and Corby has more than fifty of them at his restaurant that he uses for different things. Larger ones can be filled with ice water, and smaller ones can be used to let cooked meat rest or store ingredients, for example.
Corby: Japan also sells ladles that are smaller than the ones you can get overseas. A French chef I know bought thirty of them at once to take home. Metal measuring cups are also great for making a single serving of sauce. If you cover a burner with a metal plate and then put the measuring cup on top, you can heat the sauce up directly.
Corby continued to take us around the store, showing us one kitchen utensil after another—but there was still something he hadn't found yet. He finally found it on the second floor of the same shop: a forked sponge.
Corby: This sponge is essential for washing wine glasses or other glasses. You can wash the inside and outside of the glass at the same time, and the sponge gets all the way into the bottom. It's awesome because it doesn't just get the glasses cleaner, it also makes the work go faster. They're so important to me that I buy about five of them a month.
Fish descalers and other innovative tools that are unique to Japan
After leaving Iida-ya, Corby took us to our final stop. Kama-asa Shoten is a longstanding shop that has been around since 1908—but it's so chic-looking both inside and out that you'd never guess it's more than a century old. On the first floor are about a thousand knives in 80 different varieties, for preparing both Western and Japanese cuisine, and come in all sizes and materials. Just looking at them in the cases is fascinating, but the shop will let you actually handle them if you're selecting one to purchase.
Corby: The best thing about Japanese knives is how easy they are to take care of. Western knives get dull if you don't sharpen them with a steel rod every day, but a Japanese knife will stay sharp if you use a whetstone on it once every two or three months. Actually, the Japanese knife I use hasn't been sharpened in a year, and it still hasn't lost its edge.
Kama-asa Shoten always has English- and French-speaking staff on site, so you can talk to them about which knives are best for what you want to do with them. They'll also engrave any knife you purchase there for free. You can write a short message or get a person's name in kanji, katakana, or English letters for a truly special gift.
Next we headed to the kitchenware area on the second floor, where Corby picked up a strainer.
Corby: Most strainers overseas are made of plastic, but plastic easily warps and cracks when it's gets hot. I love that Japanese shops have so many metal strainers to choose from. They're great for straining sauces, for example.
The next thing Corby showed us was something quintessentially Japanese—a fish descaler. Japan is surrounded by water, so fish have always played a huge role in sushi and other Japanese dishes. So it's not surprising that the Japanese have developed tools specifically for preparing it.
Corby: When I was in France, I used knives to scale fish, but Japan makes specific tools for that purpose. They come in all kinds of different varieties for different applications, and make scaling fish so much faster.
One of the products that's particularly popular with overseas tourists at Kama-asa Shoten is Nambu ironware. It's a traditional handicraft out of Iwate Prefecture in northeastern Japan, and it's known for being thin and durable with excellent heat retention and burn-resistance. It can also be used with induction heat.
Corby: Rice tastes amazing when you cook it in a rice pot. People don't pay much attention to rice in Western cuisine, but I'd like to try making rice from Camargue (France's largest rice-growing region) in this Nambu ironware rice pot. Incidentally, cooked rice will keep its flavor for a long time if you transfer it from a kettle to a wooden ohitsu rice tub.
There were countless more shops on Kappabashi Kitchenware Street aside from those that Corby took us to, and all were packed with cooking items. He peeked in several of those as well. We ended by asking him what his secret was for getting the most fun out of the area.
Corby: There are so many shops here that you have to stop yourself from buying right away when you find something you like. Look around to see if you can find something that's cheaper or easier to use. There are also a lot of really small shops, so pack and dress as light as you can so you can move around in them more easily.