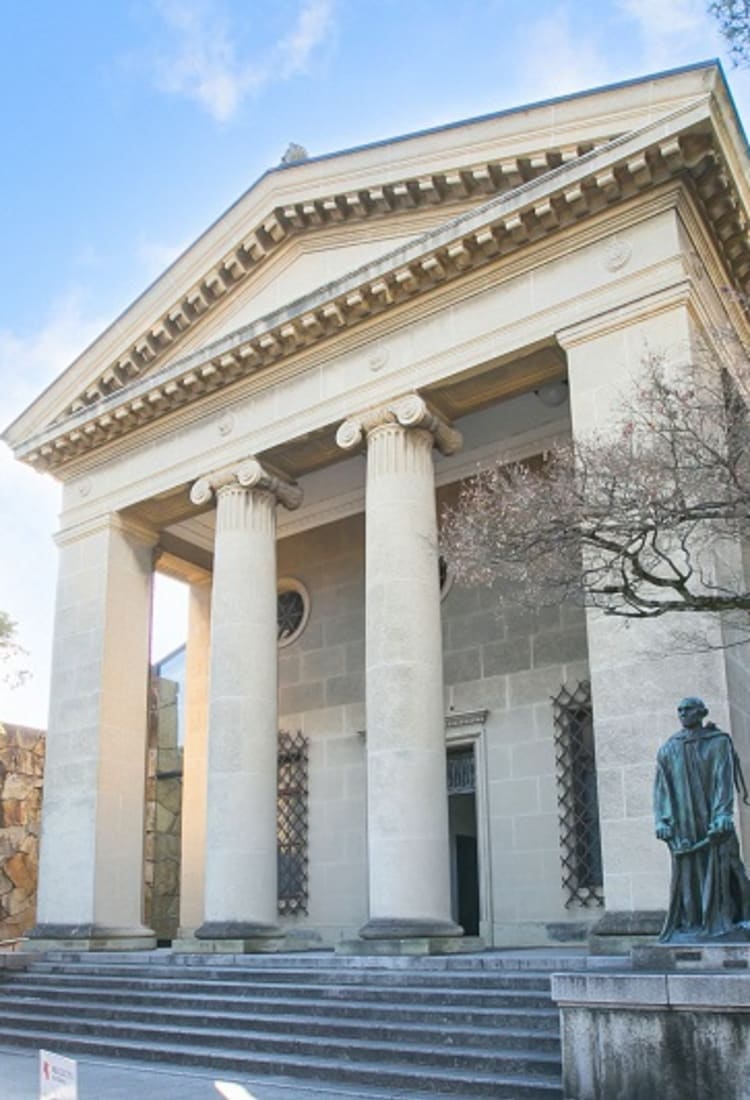 2021.12
Discover Masterpieces of Western Art in the Historical Quarter of Kurashiki
Step into the first privately operated museum featuring Western art in Japan
Key Image Photo credit: Kurashiki City Tourism Division
Famed for its period streetscapes, the historic town of Kurashiki, Okayama Prefecture, is also home to a gallery with a pivotal place in Japanese art history: The Ohara Museum of Art.
A historical museum focused on Western art set in the historical quarter of Kurashiki 
For centuries, traditional Japanese arts have been admired around the world. During the national isolation of the Edo period (1603–1867), Japanese porcelain and lacquerware were among the country's few exports, prized by European elites. And as Japan reopened to international trade, gradually during the Kaei era (1848–1854), then rapidly from the Meiji era (1867–1912), the distinctive aesthetics and subtle refinement of Japanese paintings and woodblock prints had a seismic impact on Western artists and artistic movements including impressionist and post-impressionist titans such as Degas, Monet, Gauguin and Van Gogh. 
But this influence was far from unilateral. As well as scientific and technological innovations, the rapid modernization of the Meiji era opened the floodgates for Western art and artists to enter Japan. Dubbed "Yōga" (Western-style painting, in contrast to "Nihonga," Japanese-style painting), foreign artistic concepts and approaches were enthusiastically embraced by the nation's creatives. Some, such as Kuroda Seiki immersed themselves mainly in imported painting techniques, while others, such as Hashiguchi Goyo and Léonard Tsuguharu Foujita created a unique fusion of Western and Japanese methods and sensibilities.
Photo credit: Ohara Museum of Art
Since those days, the Japanese public have emerged as some of the world's most passionate and discerning art consumers. Visiting exhibitions of works by Western masters draw incredible crowds, with Japanese museums and galleries also holding some of the crown jewels of international art in their permanent collections. And while many may be familiar with Tokyo's National Museum of Western Art, part of a cluster of world-leading museums and galleries in the Ueno area, some may be surprised to learn that the nation's oldest institution with a permanent collection of Western art is found not in the capital, but amid the historic streets of Kurashiki, Okayama Prefecture, western Japan, home to the Ohara Museum of Art. 
Ohara Magosaburo's vision and the museum's founding
Though no longer among Japan's major urban centers, Kurashiki was once a key mercantile and industrial hub for cotton and textiles, and the Ohara Museum of Art fits into a proud heritage of outward-facing entrepreneurialism rooted in the surrounding community. Its founder was Kurashiki-born businessman and philanthropist Ohara Magosaburo (1880–1943), son of a local textile magnate. 
Magosaburo's lifelong love of the arts can be traced back to his father, who inspired his appreciation of art, and the Yōga painter and fellow Okayama native, Kojima Torajiro. Similar in age, the pair became firm friends, remaining in contact throughout Torajiro's studies at the prestigious Tokyo Fine Arts School (now Tokyo University of the Arts). 
Torajirō Kojima self-portrait, part of the Ohara Museum collection but currently on long-term loan to the Museum of Fine Arts Ghent
Photo credit: Torajirō Kojima, Public domain, via Wikimedia Commons
 
After graduation, Torajiro traveled to Europe and enrolled at the Royal Academy of Fine Arts in Ghent, Belgium. Besides his own painting skills, this period saw Torajiro cultivate a keen eye for works that would appeal to a Japanese audience.
Sadly, Torajiro died in 1929 at the age of just 47, exhausted by his work on an important commission for the imperial household. And in 1930, to honor his friend's memory, Magosaburo founded the Ohara Museum of Art as a forum for local people, regardless of their means, to experience the wonders of art. 
The museum's current collection
Along with the Ohara Museum's fabulous array of Western masterpieces, Torajiro also assembled a treasure trove of traditional craft and art pieces from across Asia and beyond. Further bolstered by works from the creme of Japanese artists, including Torajiro's own paintings inspired by Belgian luminism, this ever-expanding collection is split across several themed, wheelchair-accessible facilities (with wheelchairs available on site if required).
The pond on the Ohara Museum of Art's grounds contains lilies brought from Monet's garden in Giverny, France. 
Photo credit: Ohara Museum of Art
 
The original building, now known as the Main Gallery, was designed by another Kurashiki native, architect Yakushiji Kazue (1884–1965). With imposing Grecian columns befitting its standing as a temple to artistic excellence, the structure cuts a striking presence among the traditional, white-walled merchant houses of Kurashiki's Bikan Historical Quarter.
The Main Gallery showcases the Ohara Museum's remarkable collection of Western art. 
Photo credit: Ohara Museum of Art
 
The Main Gallery displays the Museum's Western art collection. After passing the Rodin bronzes that flank the entrance, visitors will find a sumptuous collection of impressionist works, including one from what is perhaps that movement's most iconic series, Monet's Water Lilies. Post-impressionists like Segantini, Toulouse-Lautrec and Munch are also well represented, along with works by maestros of modern art such as Picasso, Kandinsky and Pollock. 
Monet's Haystacks series was pivotal in the artist's explorations of the effects of light. 
Photo credit: Ohara Museum of Art
The adjoining Annex, opened in 1961, showcases the work of Japanese artists drawing on Western traditions. These include paintings by Léonard Tsuguharu Foujita and fellow luminaries Fujishima Takeji, Aoki Shigeru, and Kishida Ryusei; and sculptures by Takamura Kotaro and Ogihara Morie. The basement, meanwhile, boasts modern works by the likes of Yoshihara Jiro, Yamaguchi Takeo and Saito Yoshishige. (Due to the Annex being currently closed, a portion of these works are currently available in the Main Gallery.)
Photo credit: Ohara Museum of Art
Craft Art and Asian Art Gallery
Beside the Main Gallery is the remodeled granary building that houses the Craft Art and Asian Art Gallery. This repurposing of a functional space resonates strongly with a craft art philosophy that sees aesthetics and artisanship as indispensable to everyday life. 
While the Craft Art and Asian Art Gallery exclusively exhibits the traditional crafts of East Asia, such ideals—famously espoused by the progressive Arts and Crafts and Mingei movements that emerged from Britain and Japan in the 19th and early 20th centuries—align perfectly with Ohara Magosaburo's own mission of making art accessible to all.
Not only were Arts and Crafts pioneers like Walter Crane and William Morris strongly influenced by Japanese aesthetics and woodblock printing, their disciple, potter Bernard Leach spent many years in Japan, helping to shape the Mingei movement alongside his friend the philosopher Yanagi Soetsu. 
The regular exhibition includes ceramics by Leach, along with peers like Hamada Shoji, Tomimoto Kenkichi, and Kawai Kanjiro, as well as woodblock prints by Munakata Shiko, and stencil dyeing by Serizawa Keisuke. The Asiatic art collection meanwhile includes antiques collected by Kojima Torajiro in China and Korea. 
The surrounding area of the Kurashiki Bikan Historical Quarter
Beyond the Ohara Museum, Kurashiki has a wealth of sights and attractions to satisfy the most demanding visitor. The town began to flourish some 300 years ago, when the Edo Shogunate seized control of the area, established a magistrates' office, and developed canals to carry goods to and from the Seto Inland Sea. 
A boat ride through the Bikan Historical Quarter is a popular photo opportunity. 
Photo credit: Kurashiki City Tourism Division
 
The Bikan Historical Quarter preserves the atmosphere of those times, more than living up to its name (which literally means "beautiful view") with willow-lined waterways flanked by row upon row of white-walled, black-tiled buildings that were once rice store granaries and merchants' offices. Though these now contain a range of gift shops, galleries, cafes, craft workshops, and confectioners, all renovations have been conducted in harmony with the surroundings.
The Bikan Historical Quarter is beautifully illuminated in the evenings. 
Photo credit: Kurashiki City Tourism Division
 
The area's textile heritage is reflected in indigo dying workshops and Kurashiki's famous Denim Street. There are also stores offering the chance to rent traditional kimono for an even more period-perfect stroll around the town (with professional assistance when it comes to the famously difficult task of putting them on). And if you find it tough to walk in your wooden geta sandals, you can always take a ride on a canal boat instead. For those staying longer, make sure to book yourself into one of the old traditional Japanese houses available for overnight guests.
The white walls and black tiles of the Bikan Historical Quarter are characteristic of this Edo-period mercantile district. 
Photo credit: Kurashiki City Tourism Division
 
Other attractions include the Archaeological Museum, the Japanese Folk Toys Museum, the historic Achi Shrine, and the old-fashioned residential vibes of the Honmachi and Higashimachi areas. And no trip to Kurashiki would be complete without trying kibi dango. These sweet millet dumplings are associated with the folk tale of Momotaro, whose protagonist is also commemorated in the quirky surroundings of the Momotaro Karakuri Hakubutsukan Museum.
Information
Ohara Museum of Art (Web Gallery)
Kurashiki Visitors' Guide