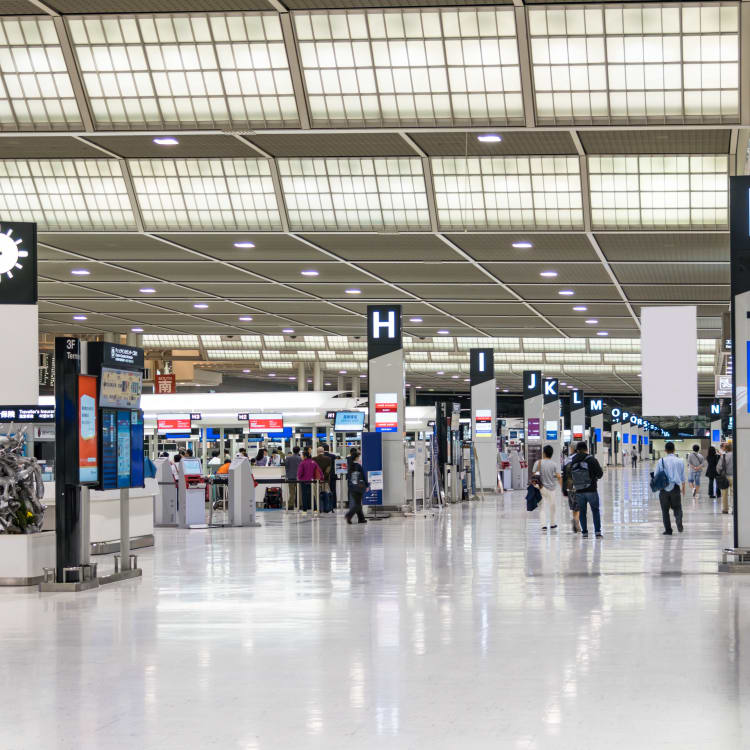 Narita Airport
Narita Airport
Narita Airport is one of two airports serving Tokyo handling both international and domestic flights. Most international flights go through Terminal 1 and Terminal 2. Low Cost Carriers (LCC) use Terminal 3 for international and domestic flights.
Narita Airport (NRT), 60 kilometers east of central Tokyo in Chiba Prefecture, handles most of the city's international flights and some domestic flights. Tokyo's other airport, Haneda Airport (HND) handles most of the city's domestic flights as well as a growing number of international flights.
Despite its location outside the city, Narita Airport is within easy reach of central Tokyo by train, bus or taxi.
How do I get from Narita Airport to Tokyo?
Train
The Narita Express (N'EX)


runs about twice an hour during the day between the airport and major urban destinations such as Tokyo, Shinagawa, Shibuya, Shinjuku, Ikebukuro and Yokohama stations. The Narita Express will get you to Tokyo Station in just under an hour. All seats are reserved. You can buy tickets at the JR ticket window on the underground floor below the arrival area. If you hold a Japan Rail Pass, your Narita Express ticket is issued free of charge. The Keisei Skyliner


is convenient for the north of Tokyo, reaching Nippori and Ueno in around 40 minutes. From there you can connect to the Yamanote Line that circles central Tokyo. Note that as this is not a JR-run service, Japan Rail Passes cannot be used.
Bus
Keisei


and Airport Limousine


buses pick up at each terminal. This is a good option if you have a lot of luggage. You can buy tickets at the bus tickets counter in the arrivals hall. The vast network of routes across the metropolitan area allows you to travel to major hotel destinations, sightseeing areas and other transport hubs. There are direct bus services to Tokyo Disney Resort. Taxi
There are taxi ranks in front of each terminal. Flat-rate taxi fares are available to most central destinations. Transferring by taxi is more expensive than other options, but can be a reasonable choice if you are in a group.
Rental Car
If you're planning to explore beyond Tokyo, a rental car is a cost-effective option. There are several car companies with desks in the arrivals hall at Terminal 1 and 2, including Nippon Rent-A-Car, Toyota, Nissan, Times and Orix. Many cars have English GPS systems, making navigating easier.
What if I have an early departure or late arrival?
The earliest N'EX train to Narita arrives a little after 7 a.m. and the last train departs the airport before 10 p.m. The first Keisei Skyliner arrives around 6:20 a.m. and the last one departs around 11:20 p.m. The Airport Limousine bus has a similar schedule to the Skyliner. If you have an earlier flight or late arrival, you can stay at one of the nearby hotels, including a capsule hotel directly connected to Terminal 2.
Services at Narita Airport What is NariCo?
One unique feature of Narita International Airport is its NariCo app. NariCo is like Siri, but she's designed just for NRT. Ask NariCo and she'll tell you what services the airport offers and where to find them. NariCo is in English and available for both Android and iOS.
Where can I eat at Narita Airport?
All terminals have restaurants ranging from traditional Japanese to popular fast food chains and casual cafes. Terminal 3 is designed like a food court, with restaurants around a seating area. Airside, there are more restaurants and snack options, though the choices in Terminal 3 are limited.
Are there vegetarian or halal restaurants?
Sojibo in Terminal 2 is a certified halal restaurant serving traditional Japanese dishes including soba noodles and tempura. Kineya Mugimaru in Terminal 1 is a certified halal restaurant serving udon noodles and tempura. T's Tantan is a vegan ramen restaurant in Terminal 1 and Terminal 2.
Where can I stay near Narita Airport?
The closest hotel for international flights is Nine Hours Narita Airport


, a capsule hotel which is connected directly to Terminal 2. There are several hotels within a 10-minute, free shuttle bus ride from the airport, including major chains like Hilton and Hotel Nikko.
What can I buy at Narita Airport?
You can buy souvenirs, traditional crafts, fashion items and electronics at all terminals. There are duty free stores airside at all terminals. Narita Anime Deck in Terminal 2 sells items related to popular animation characters and has a maid cafe.
Where can I get a SIM card or pocket Wi-Fi device?
You can get a prepaid SIM card or rent a pocket Wi-Fi device from the counters in the arrival areas in all terminals. These stores are generally open from around 7 a.m. to 9 p.m.
Where can I change money or find an ATM?
If you need to change currency, there are several banks offering exchange in each terminal, before and after passport control. You can withdraw Japanese yen with an overseas issued card at Seven Bank ATMs and JP Bank ATMs in each terminal.
Where can I pick up my Japan Rail Pass?
You can pick up your Japan Rail pass or buy tickets for JR trains at the JR East Travel Service Center


, near the ticket gates under Terminal 1 and Terminal 2.
Where can I buy a Suica or Pasmo card?
You can buy a card from machines at most train stations, with instructions in English and other languages.
Where can I buy a N'EX or Skyliner ticket?
You can buy Narita Express (N'EX)


tickets at the JR East Travel Service Center. You can buy Skyliner


tickets from the Skyliner Ticket Counter and the Skyliner & Keisei Information Center, near the ticket gates under Terminal 1 and Terminal 2. You can also buy them from the ticket machines near the entrance to the station.
What can I do if I have a layover at Narita Airport?
If you have a long layover, you can visit Narita City or an outlet mall. Narita Airport Transit & Stay Program


offers free guided tours. You can book a tour in the arrivals area in Terminals 1 and 2. There are also free shuttle bus services to Narita. If you are staying in the airport, there are massage chairs close to many of the gates. There are shower rooms in Terminals 1 and 2, and day rooms with beds. Nine Hours Narita Capsule Hotel is also available for short stays.
What can I do with my luggage?
You can store your luggage at the airport in a coin locker, or a storage facility, which can handle larger luggage. In the arrivals area, there are several companies who will deliver your luggage to your hotel or residence.
How do I transfer between terminals?
There is a free yellow shuttle bus, which takes passengers between the three terminals. You can also walk from Terminal 2 to Terminal 3. Just follow the signs; the walk takes around 15 minutes.
What other facilities are there at Narita Airport?
You can find prayer rooms in all terminals, smoking areas and children's play areas. Ask at the information desks if you need to use a wheelchair within the airport or need assistance to get to your destination.
For more information on facilities and services, check the Narita Airport website


.
Last updated: 24 Dec 2019
Did this information help you?
out of found this information helpful.